A beautiful blouse can elevate the look of any saree. Be it for a plain saree or a kerala saree or even a heavy designer saree, if there is one blouse style that we always swear by it is the kalamkari blouse. Kalamkari work blouses or even a simple kalamkari blouse work wonders to your saree look. Kalamkari blouses are extremely versatile and easily accessible too. Online shopping helps one shop numerous different styles of readymade kalamkari blouses in just one click. Checkout our handpicked kalamkari blouse designs and the links to shop them in just one go.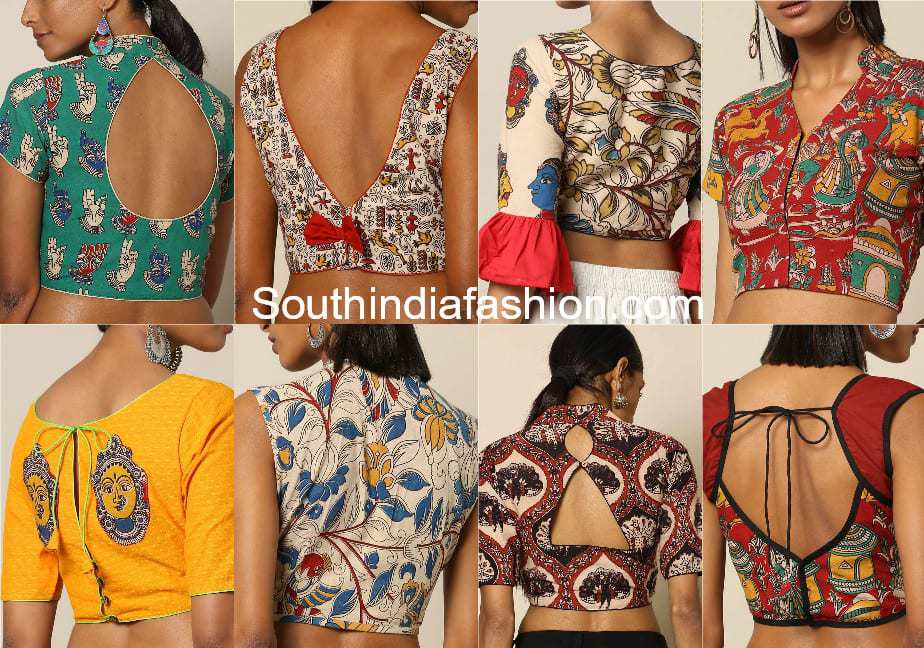 1. Kalamkari print full length sleeveless blouse featuring mandarin collar, contrast piping and potli button details. (BUY HERE)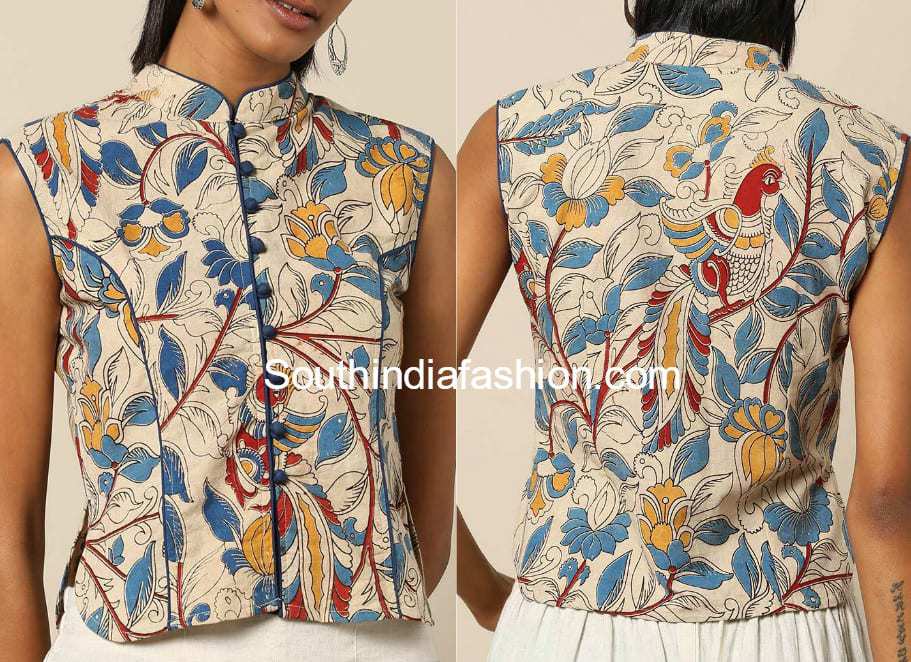 2. Stylish kalamkari print sleeveless front open blouse featuring collar neck and V-shaped front neck. (BUY HERE)
3. Boat neck kalamkari readymade blouse with cap sleeves, contrast piping and keyhole back opening. (BUY HERE)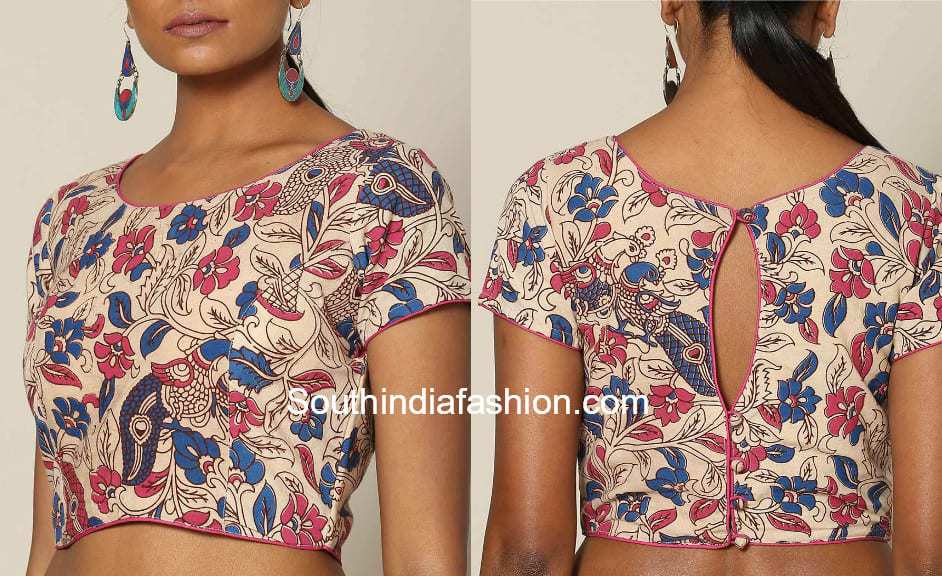 4. Boat neck Kalamkari blouse with keyhole detail and tie-ups on the back.The motifs in this blouse are inspired by traditional kalamkari painting technique used in Srikalahasti and the printing is done with traditional methods. (BUY HERE)
5. Elbow length sleeves readymade Kalamkari blouse enhanced with key hole back opening and contrast color piping. (BUY HERE)
6. Bird printed kalamkari blouse with contrast piping and potli buttons on the back. Buy this readymade kalamkari blouse online HERE!
7. Sleeveless kalamkari blouse with V-neck , contrast red piping and contrast bow detail on the back. (BUY HERE)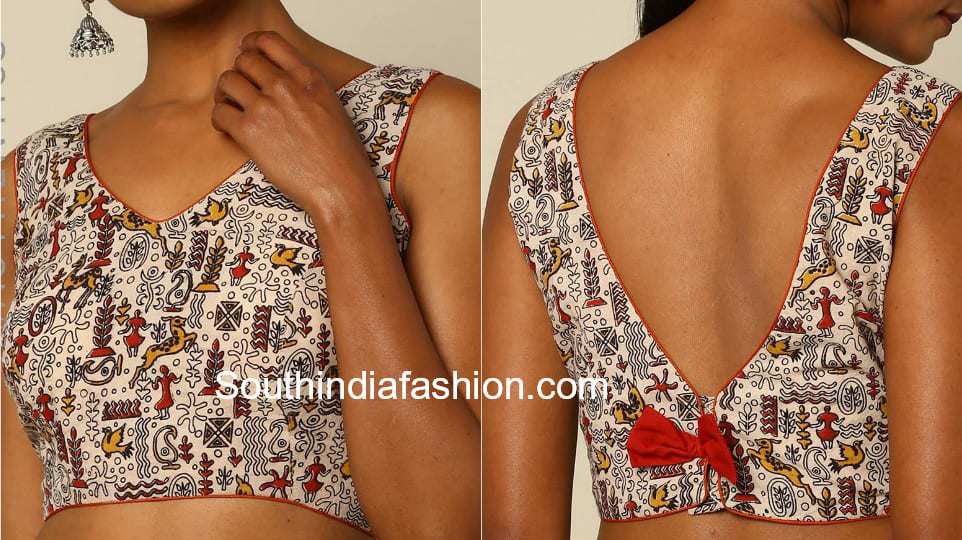 8. Blue color cotton elbow length sleeves readymade blouse featuring Kalamkari motifs all over with contrast piping and loop closure on the back. (BUY ONLINE)
9. Beautiful kalamkari blouse design with flounce sleeves and contrast piping. Buy this readymade kalamkari blouse online HERE!
10. Sleeveless back open Kalamkari blouse with contrast black piping.(BUY HERE)
11. Blue and white kalamkari print boat neck elbow length sleeves blouse with keyhole back opening. (BUY HERE)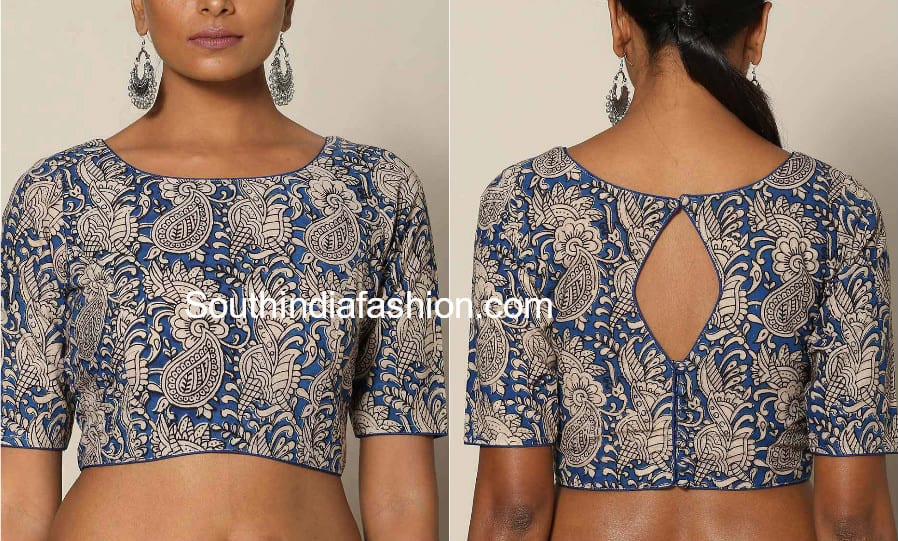 12. High neck kalamkari blouse with hand motifs all over featuring potli buttons on the front and tear drop shaped back neck. (BUY HERE)
13. Beautiful collar neck short sleeves multi color kalamkari blouse with front opening. (BUY HERE)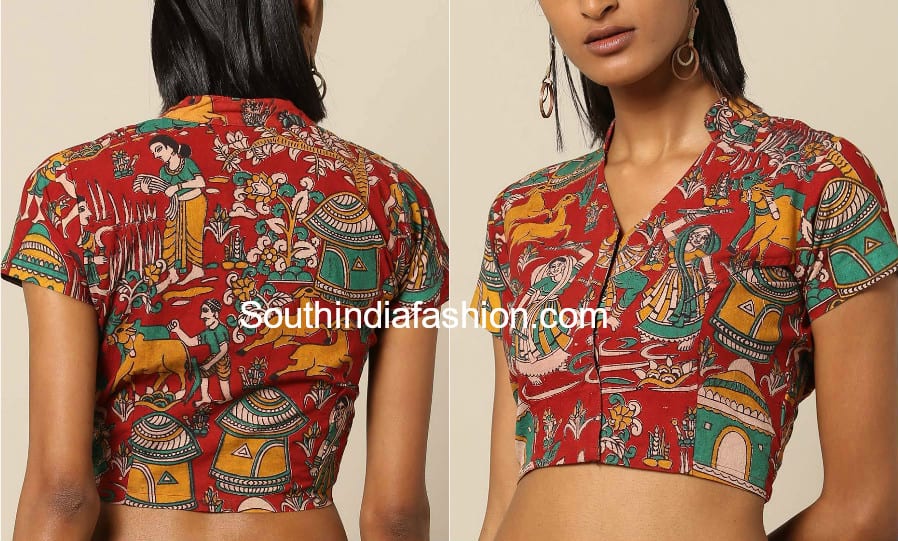 14. Red color kalamkari blouse with ruffle sleeves. (BUY HERE)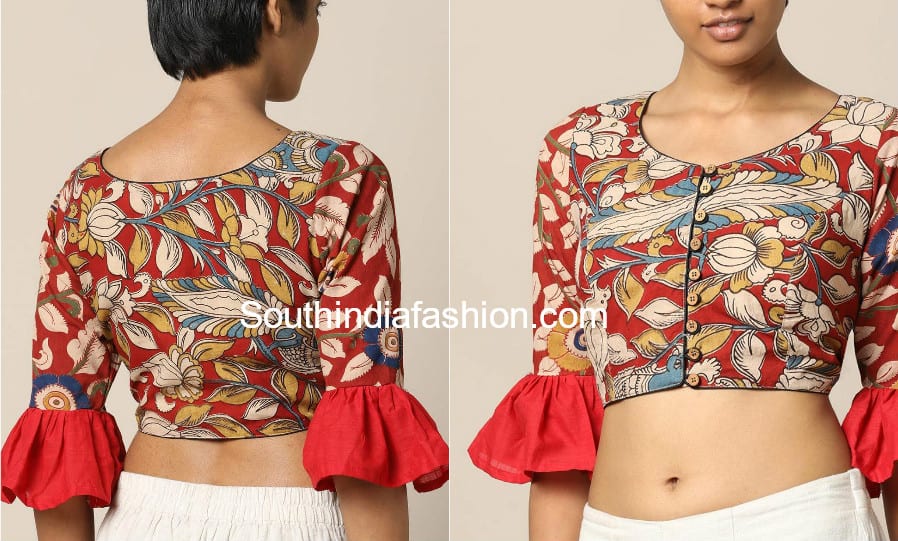 15. This sleeveless front-open blouse is flanked by an eye-catching all-over Kalamkari print and a high neck collar. (BUY HERE)
16. Bright yellow boat neck cotton blouse with kalamkari patch work on the back. It has contrast green piping and matches perfectly with green printed cotton sarees or plain sarees. (BUY HERE)
17. Mandarin collar kalamkari print blouse featuring flamingo motifs all over and zipper detail on the front. (BUY HERE)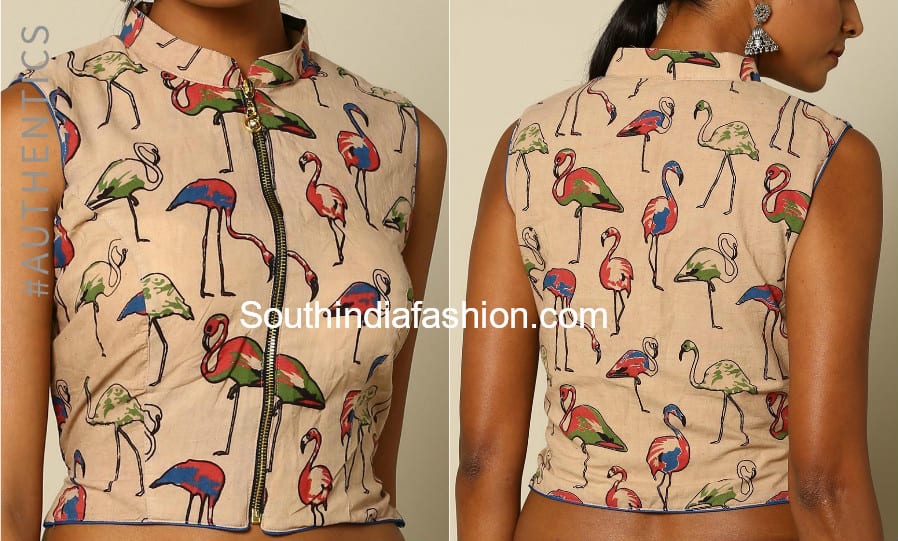 18. Readymade Kalamkari blouse featuring peacock motifs all over and stylish cut outs on the back. (BUY HERE)
19. Full length kalamkari blouse with collar neck. (BUY HERE)
20. Sleeveless v-neck readymade kalamkari blouse with contrast bow detailing on the back. (BUY HERE)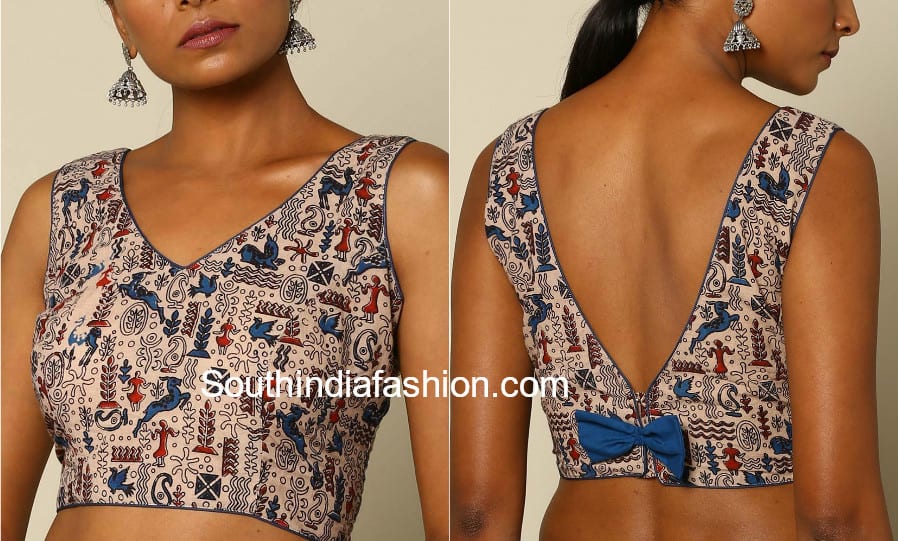 Shop more readymade Kalamkari blouses online HERE!!
Keywords: kalamkari work blouses, kalamkari blouses with plain sarees, kalamkari blouse with kerala saree, plain saree with kalamkari blouse online shopping, kalamkari blouse with saree online, kalamkari blouse piece, kalamkari blouse neck designs, kalamkari readymade blouses online