We all wait for the season of wedding, parties and festivities as we get to flaunt out stylish saree looks. A saree always gives a feminine and a graceful touch to a woman's look. However, it has to be styled with the right blouse design and if not, any beautiful saree may look dull and boring.
If you are tired with your same old saree blouse design and want to add an edge to your latest saree look, then look nowhere as we bring you latest cut-out blouse back neck patterns for your trendy designer sarees. Designer blouses have their own uniqueness and make a lasting impression. So take a look at the trendiest patterns.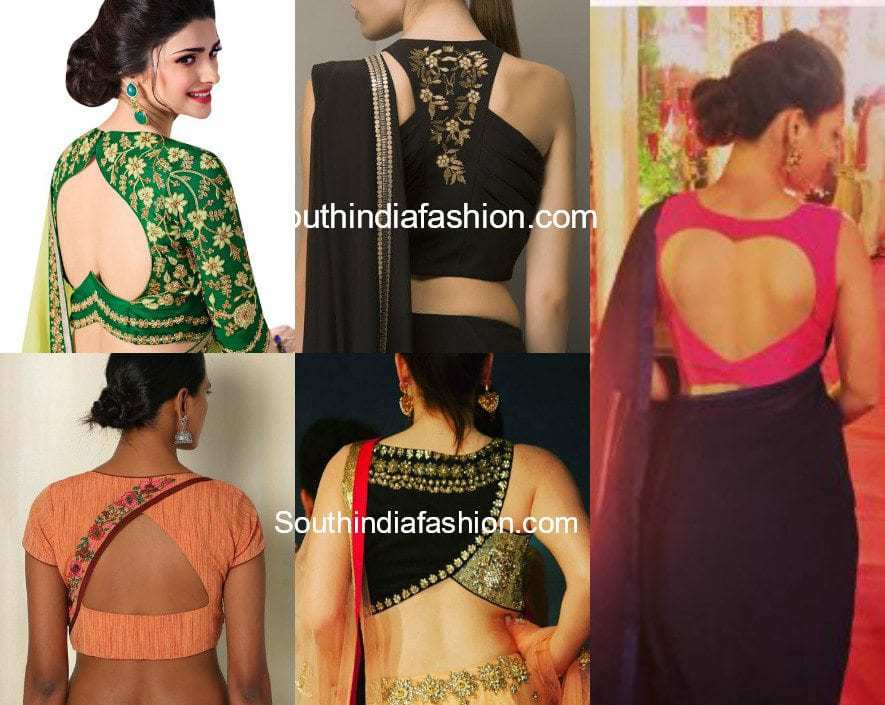 If you want to flaunt a cut out pattern but have very narrow shoulders then go with T shaped cut-out or high neck cut-outs. This style will not only give you a good grip at the shoulders but will also help you to flaunt big cut-out designs confidently.
Concept embroidery on the back-neck designs or patchwork with contrast fabrics can instantly grab all the attention. Mix and match of fabrics and minimal embroidery detailing on the blouse  add a finishing touch to your trendy designer sarees. 
Try cut-out blouse designs in edgy different shapes and sizes.  Triangles, hearts, inverted hearts and such different geometric shapes look very edgy and stylish on saree blouses.
Cut out saree blouse designs and trendy back neck blouses can elevate the look of any saree. Be it any age, there is a suitable stylish design for everyone and for every sarees. From simple plain sarees to silk saree, the designer blouse will set you to rock. So before you rush to the tailor, make sure you decide your stylish back neck design and flaunt them. Designer blouses are a top pick for any occasion and we are sure that you will never go wrong in them.