Pattu sarees in it selves hold an ancient charm and royalty which makes them look extremely beautiful. The grace of silk sarees increases when they are paired up with the trending blouse designs for pattu sarees. This traditional saree gets a contemporary touch when it is teamed up with latest silk blouse designs. In this blog post we will share some stunning silk saree blouses which you can try and get a different look in a pattu saree.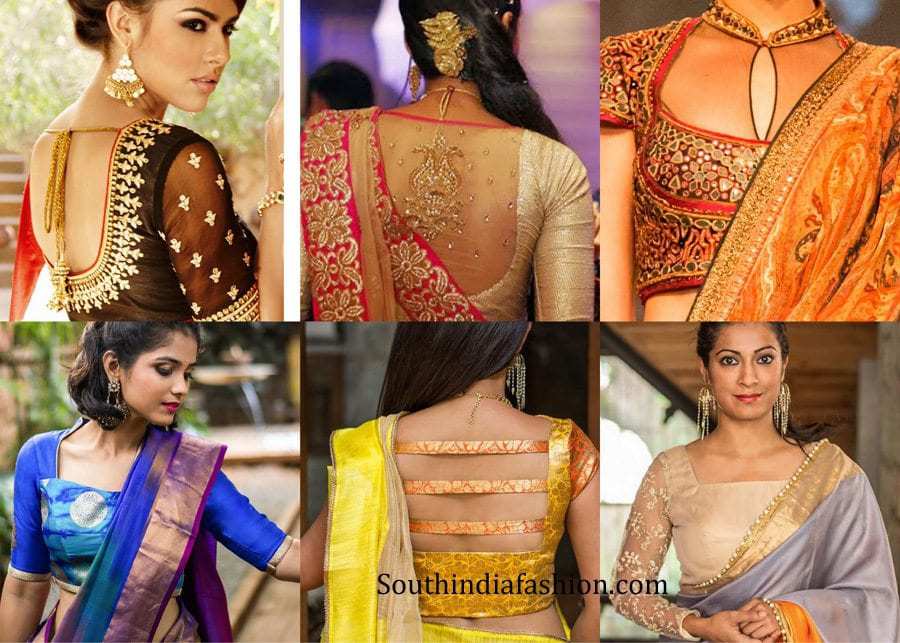 Button Row Back Silk Saree Blouse Designs
This is one of the most latest trending blouse designs for pattu sarees. In this pattern there is a series of buttons added in the back of the blouse which gives an interesting makeover to the simple blouse. Depending on the individual choice one can add the button in a series or can add buttons with a gap in between.
Off Shoulder Blouse Designs for Pattu Sarees
To create a balance of traditional and modern outfit, you can pair your traditional pattu saree with an off shoulder blouse. Off shoulder is one of the most trending silk saree blouses these days. With the off shoulder silk blouse design, you can also go for a cut out back pattern as it looks amazing.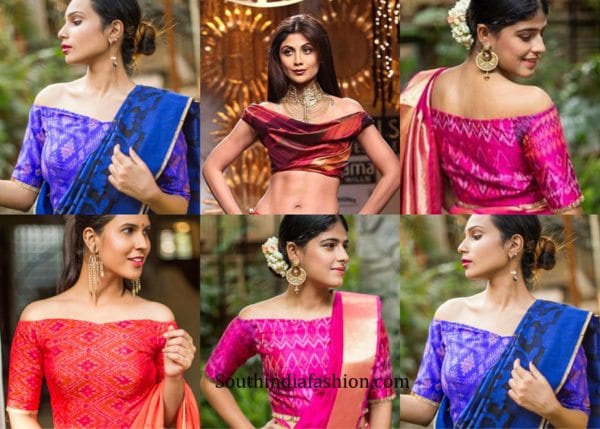 Elbow Length Maggam Work Silk Blouse Design
Maggam work blouse designs look perfect with the pattu and kanjeevaram sarees. The elbow length sleeves add to the beauty of maggam blouses. Here are some of the best designs of maggam work blouses for silk sarees. Most of the South Indian Brides prefer wearing this blouse with their bridal saree.
Full Sleeves Blouse Designs for Pattu Sarees
With heavy pattu sarees you can always pair the trending plain solid color full sleeve blouses. Even if you want work on your blouse then you can add some embroidery in the sleeves part or the back part. Net full sleeves also looks stunning with silk sarees.
Brocade Blouse Designs for Pattu Sarees
For events like weddings and festivals, brocade blouse designs goes well with the pattu sarees. High on trend these days, you can see all the top celebs flaunting their brocade blouse designs. These self printed brocade blouses can be mixed and matched and a single blouse can be teamed up with so many sarees. So, you see this blouse pattern is not only trending but is budget friendly as well.
Net Blouses for Silk Sarees
Net is one such fabric which has been ruling for a long time in Indian fashion. It doesn't look like the trend is going anywhere anytime soon as the net blouse trend is here to stay. You can use net in blouses like in the sleeves part, back portion or on the front and create a classy look. With silk sarees also net blouses are highly trending.
These are some of the trending blouse designs for pattu sarees these days. Have a look at all the above latest silk saree blouse designs and team up your silk sarees with these blouse patterns.