Half sarees are so interesting. They show a fun spirit and channel young vibes. Half sarees are one of the "wanted" ensembles when a wedding is mentioned be it for a bride as a grand bridal half saree for one of her pre wedding functions or be it for the bride squad. So when you start thinking of how a grand half saree should look we feel you should look no further than these opulent half sarees by Kavitha Gutta.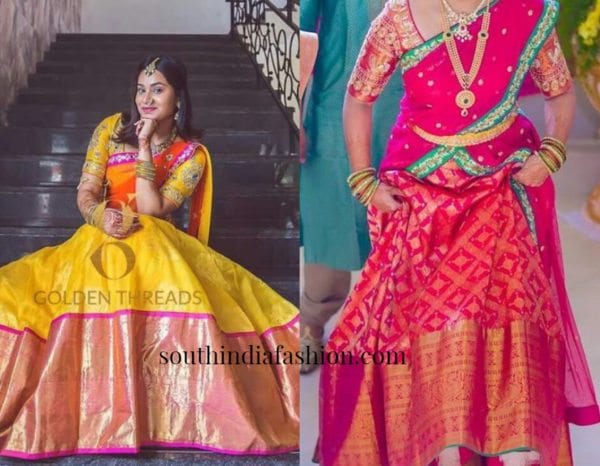 Golden threads- the brand by Kavitha Gutta has such a beautiful collection of half sarees among other equally beautiful clothes. Her half sarees are extremely eye catching and interesting. Best thing about Kavitha Gutta half sarees is that they are trendy and gives one a royal aura when we wear it. Her use of the win-win combination of tradition mixed with the right amount of modern never ceases to amaze us and it can never be a failure.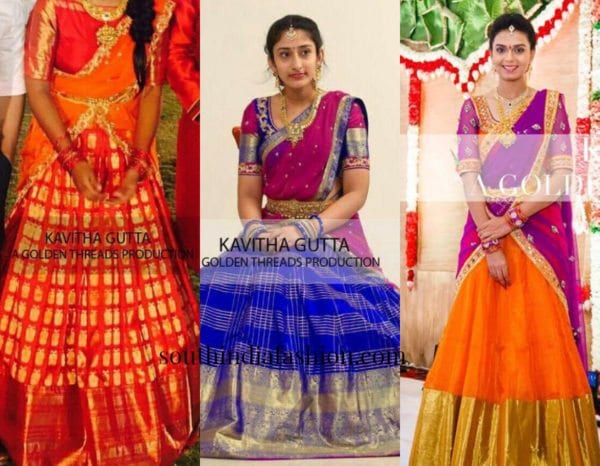 Kavitha Gutta half sarees predominantly are heavy, and uses a mix of fabrics like Kanjeevaram silk, Ikkat with heavy borders. The borders are either the heavy gold zari borders or that of contrast. She also elevates the half saree by giving it a different flare and cut, that gives a ball gown or a princessy feeling to the wearer. Whilst the blouse and skirt be of silk the dupattas are of lighter fabric, and is taken care of well by adding work or a border to it. These half sarees are perfect for grand events and you will be a looker for sure.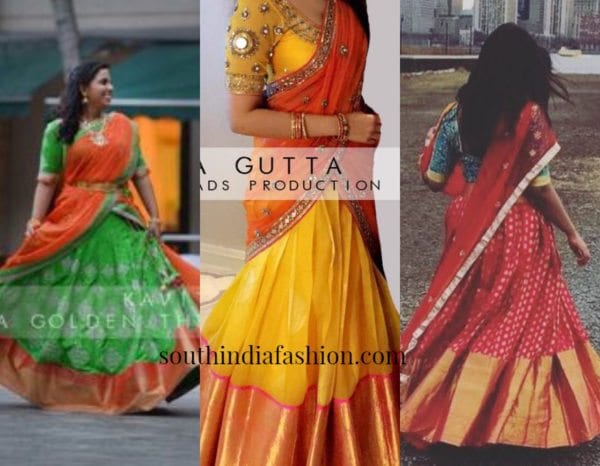 Yet another interesting thing about Kavitha Gutta half sarees is that these can be worn by not just kids or teens, but adults can rock them as well. It is probably because of the colors she uses or the way it is done. When you think of accessorizing you can go out and out traditional with heavy gold or antique gold jewelry or even contemporary jewelry will work beautifully with these.
A Kavitha Gutta half saree is a must have and we are sure you will agree after seeing all these gorgeous stuff that she creates!!
Pic Courtesy: Golden Threads