Half sarees are one of the oldest "fashionable dresses" that are still in reign today. It is a three piece outfit where you have a blouse, a skirt (both predominantly of the same color) and a contrast dupatta that is worn over the left shoulder. Every girl has at least one pair of this right from her teens.
In the earlier days these were made of simple fabrics like cotton for the day to day wear. For weddings and other functions girls wore half sarees of heavy Kanjeevaram with extravagant borders and huge zari blouses. At some point in time these started losing its sheen and started taking a back seat.
Now our designers have completely revived the half sarees and made it all the more fashionable with the designer half sarees. These half sarees not only use traditional fabrics like Kanjeevaram but also fabrics like tulle, super net, organza and much more to enhance and appeal to the current trends.
These half sarees are a little similar to the lehengas and yet so different as the dupattas are far more mellowed down that makes us want to drape this in the regular fashion. The zari border half sarees have taken a sharp turn with bigger and broader borders with scalloped hems and zardosi work running along the border too.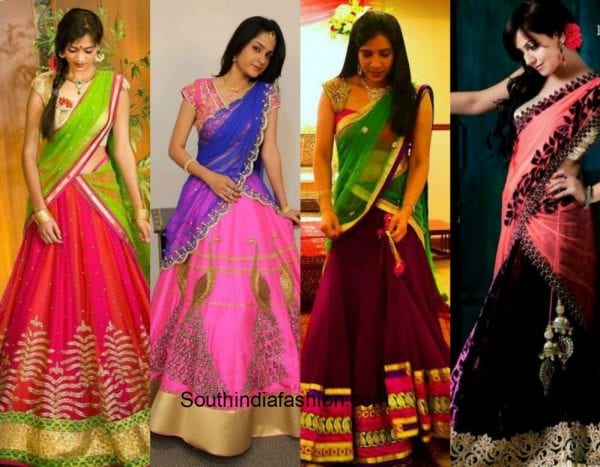 You need to pick up one of these designer lehengas especially if you are a bride to be. They make perfect cut for engagement outfits. It works for occasions like mehendi or even small functions that happen before the wedding. You can also choose options like Banarasi, heavy Kanjeevaram etc.
Take care to wear apt jewelry to match these half sarees. Antique gold and also stone based jewelry looks great on them. A hair style like curls or fancy braids or a good old blow dry is perfect. All these in place you are set to rock the event in a designer half saree!