There are innumerable ways to add that zing to your saree and one of them is wearing it with a jacket! A style that has been much in vogue lately, adding a jacket to your saree can add a definite elan and class to your saree attire.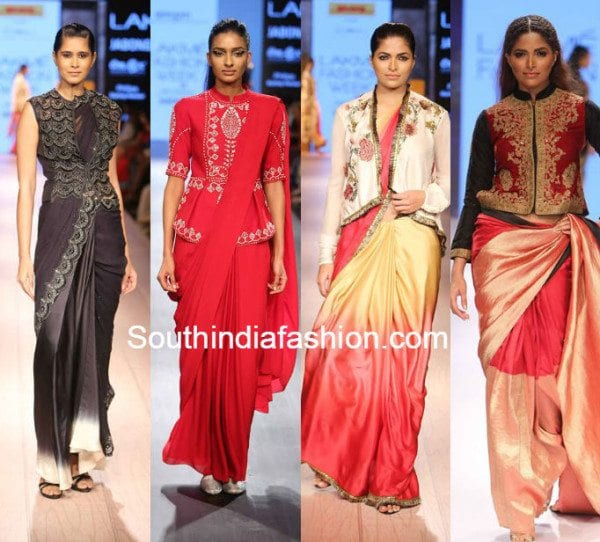 Wearing the jacket blouse right : 
All you have to do is find a jacket that matches with the saree or get a jacket saree blouse stitched with a fabric that you think goes best with the saree. After you're done draping your saree, (preferably over a sleeveless inner blouse), wear the jacket over the saree, unbutton the top few buttons of the jacket and wear your pleated saree over your shoulder from above your jacket.
Here are a few ways you can use your jacket style blouse to up the style quotient of your saree:
1.Wear a full-sleeved collared jacket 
A full sleeved and a collared jacket goes best with a saree if adding elegance to your attire is what you want your jacket to do. You can choose a lace, silk or velvet jackets, sometimes with a good amount of gorgeous embroidery done over them.
2. Wear a Vest like sleeveless jacket saree blouse
A vest like jacket blouse is yet another way to add a certain bling and beauty to your saree. It works better if the vest has a good amount of mirror or gold or thread work on it. For the vest o stand out, make sure that the saree hasn't got too much of heavy work on it and that it complements the saree beautifully.
3. Short jacket with Saree
A short jacket that has sleeves reaching upto your elbows does good in getting the jacket-blouse-look right as well. Choose a short jacket that reaches only upto your waist for it to serve its purpose. While keeping the look simple, short jacket blouses work well in adding that little bit of bling and class to your saree attire.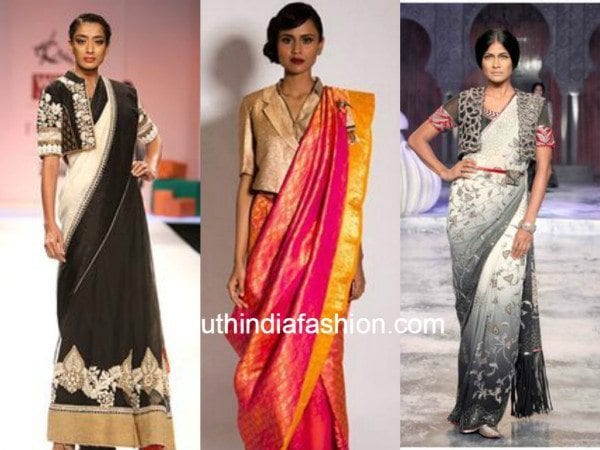 4. Use long jacket blouse to bring in the old-world charm
Long jackets that reach upto the knees, which were popular back in the 40's and the 50's are one way to add some class to your saree while also bringing in some old world charm to your attire. Use shiny silk jackets or jackets with hand woven fabric for the attire to look its best. Along with making you look classy, it can also protect you from the cold!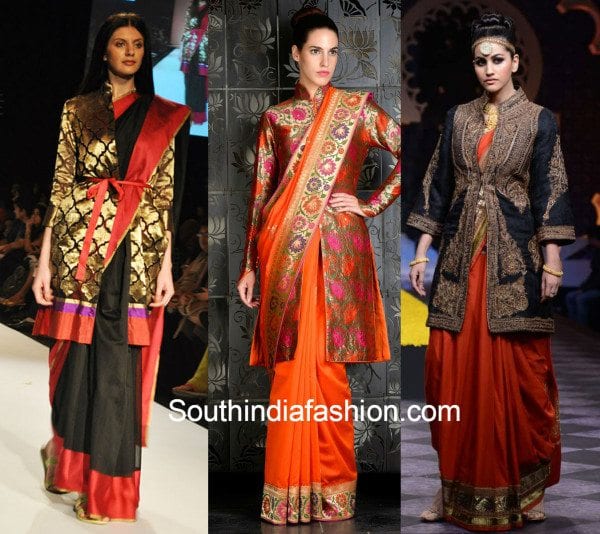 5. Belt up your jacket saree blouse
Adding a belt at your waist is one of the best ways to style up your jacket blouse and saree attire. It sure helps in enhancing the elegance (while also holding the jacket and the saree in place!).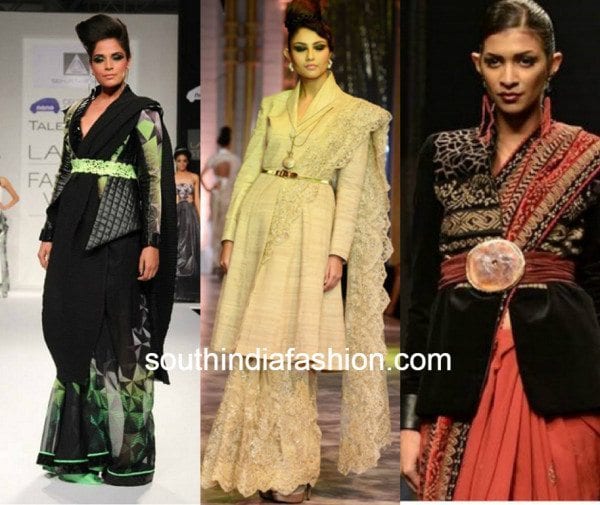 6. Pair your jacket blouse with a dhoti saree
A jacket blouse and a dhoti saree go perfectly well with each other. They bring out the ethnic and contemporary best in the duo and in the combination. Short jackets that end at the waist work best when you want to team up with a dhoti saree.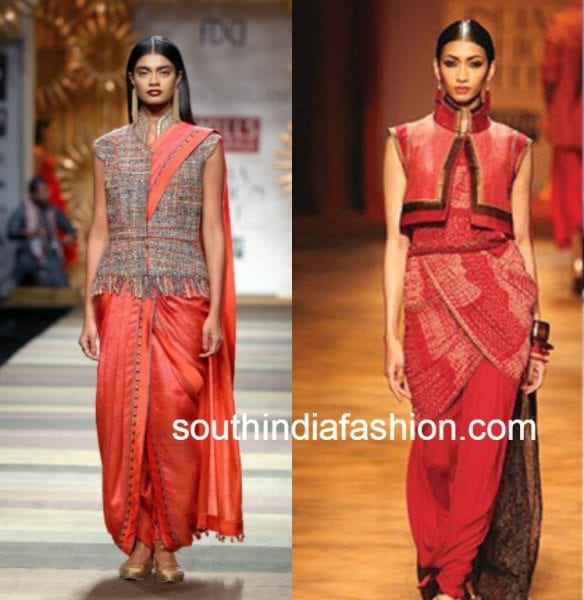 Celebs in Jacket Style Saree Blouses
The red carpet has seen a lot of celebs donning the jacket blouses lately and each of them pulled it off with great elan popularizing it with every passing day. Aishwarya Rai and Sonam in the bedazzling gold jackets were some of the first ones to wear it while the rest of the tinseltown kept up with the trend.