Two years ago when half saree made a revival, we were more than happy to have this elegant and peppy ensemble make a come-back. And now, it's half sarees everywhere! Celebs and the rest of the folk are wearing nothing but half sarees for festivals, functions and events alike.
Every few months, a new half saree design makes its way into the fashion scene and makes waves continuing the country's new-found obsession with them. So what should you pick among the many half sarees designs that are trending for the festive season that is to come? We list out some of the best half saree trends that are haute to make your decide easily.
9 Trending Half Saree Designs
1. Go Traditional
Like Deepika wore it in Chennai Express and Alia Bhatt wore it in 2 States, wearing half saree in its most traditional form, made with Kanchipuram Silk cloth or with a cotton cloth and a zari border is a simple, classy and elegant way to don the half saree.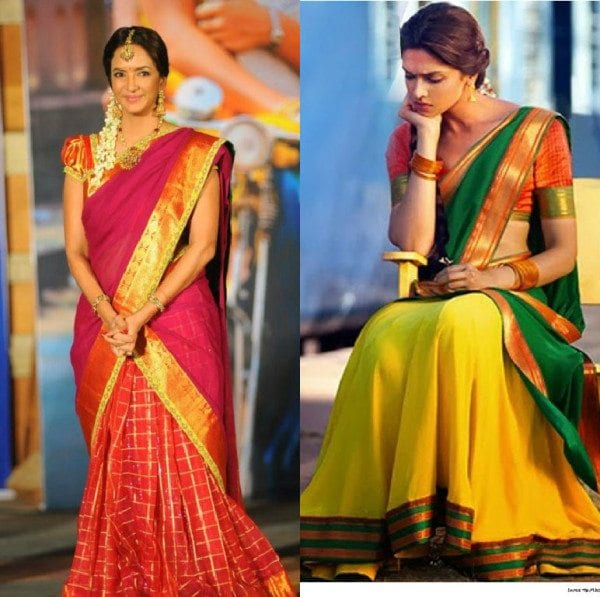 2. Colour it Up
Weaving as many colours as you can into your half saree is all the rage now. It not only makes your half saree look super colourful but also makes you look young and preppy. Diya Mirza here adds as many as 5 colours to her half saree still retaining the elegance and classiness of the half saree.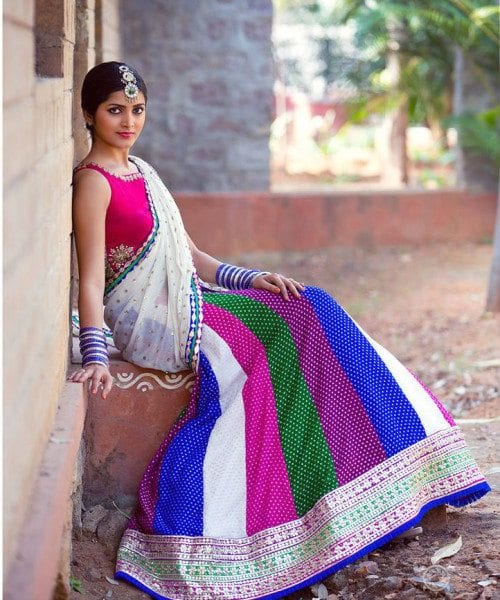 3. Monochrome Half Sarees
Going monochrome i.e., with the lehenga, dupatta and the blouse of the same colour can make your half saree look great too. Lots of designers seem to be loving going monochrome this season. This pretty blue lehenga designed by Bhargavi Kunam has shades of blue through out it and despite that, does not look boring in the least bit.
With a half saree that was made entirely out of red colour, Tamanna showed us how to don the monochromic half saree with not just perfection but also a whole lot of cuteness.
4. Floral Half Sarees are In
Flowers never fail in imparting beauty to any dress, especially to a half saree. Lehengas filled with flowers are totally in vogue this season. Anushree Reddy's creations are proof of how lovely floral half sarees can be.
5. Black Half Sarees Are All The Rage
Gone are the days when wearing black was considered to be a bad omen for weddings and other events. When it comes to half sarees, it's black that is reigning this season. Here are some black half sarees that show you how stunningly regal black half sarees could be.

6. Impart Grandeur To Your Half Saree With Heavy Work
Nothing adds beauty to desi wear like some really beautiful stone work on it. And when it comes to half sarees, work imparts a definite sheen and grandeur to them like nothing else can. Be it with stones or pearls or zardosi or mirrors, some heavily worked upon half sarees are what are trending at the moment.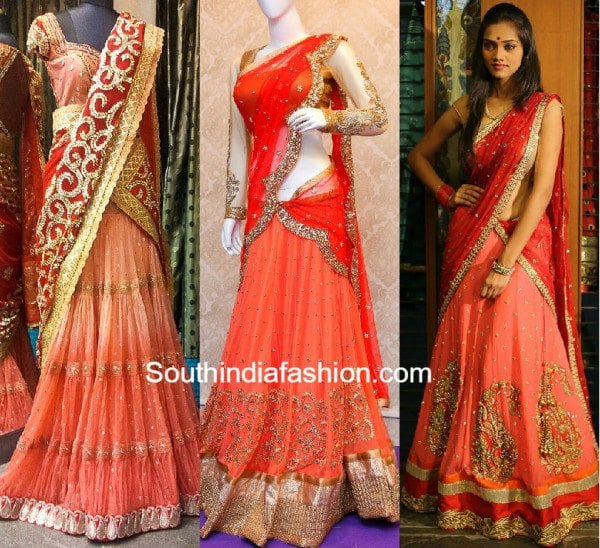 7. Adding Heavy Gold or Silver Borders
Thick and heavy gold and silver borders have replaced Zari borders on half sarees (as well as sarees) these days. Along with adding all the sheen and elegance that a zari border adds to the half saree, these borders make the half saree look very contemporary. That orange half saree that Charmme wore to the ETV awards that was designed by Shilpa Reddy was completely drool worthy.
8. Net Half Sarees
The best way to add a contemporary and edgy twist to a half saree is to make it netted. Netted half sarees made fully out of netted lehengas and netted dupattas are doing quite well this season especially with the younger lot. Sonakshi Sinha's red netted half saree is a treat to the eyes.
9. Bridal Half Sarees
Thanks to all the popularity that they are basking in, half sarees have taken over weddings as well in the recent times. Most of the brides these days are ditching the saree and opting gorgeously, heavily embellished half sarees. Here are some gorgeous bridal half sarees by Tarun Tahiliani that you might want to steal design-ideas from if a half saree is what you're planning on wearing for your wedding.
Need we say more? Go get yourself a half saree for the upcoming festive season already (or for no reason at all) by picking the model that you loved from the above list!
Tags: designer half sarees, half saree models, half saree designs, trending half sarees, latest half sarees 2015, black half sarees, white half sarees, peach half sarees, indian half sarees, new model half sarees