Brocade blouse designs are trending like never before and we're loving it! There can be nothing like a richly textured Brocade blouse to add a whole lot of bling and beauty to the sari. Be it with Kanjeevarams or with half saris or embroidered saris, brocade goes along with just about anything and imparts class to the whole look.
We show you ten beautiful ways to get your brocade blouse designed in to add a whole lot of glamour to your look..
1. Long Sleeves Brocade Blouse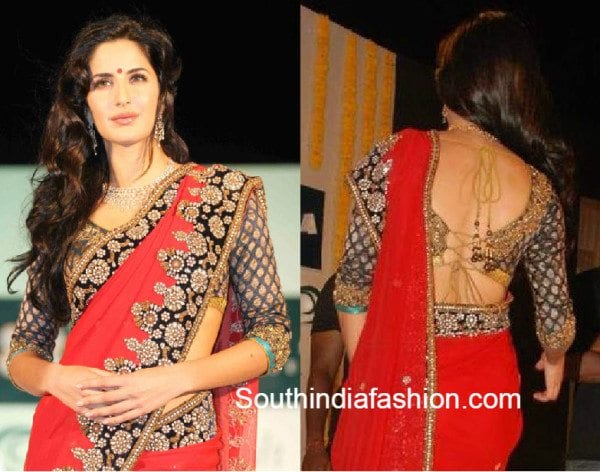 To be honest, it was only after Katrina wore this gorgeously designed Brocade blouse a couple of years ago that it made a come back. That bluish black Brocade blouse that Kat donned with 3/4th length sleeves is surely a great way to wear it. It goes perfectly well with heavily embroidered chiffon or crepe saris adding a whole lot of elegance to the look. Adding a dash of golden embroidery to the blouse itself could make it even better.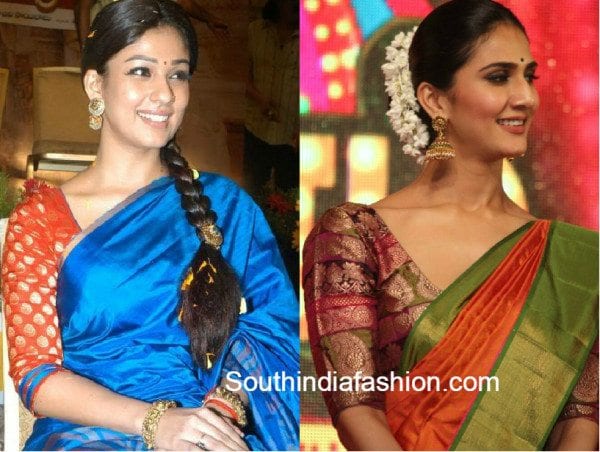 Wearing it plain and long, like Vaani Kapoor and Nayanatara have worn it also brings out the elegant best in the Brocade blouse, especially when teamed with a Kanjeevaram.
2. Sleeveless Brocade Blouse
Chopping off those sleeves and making a cute little blouse out of your Brocade is yet another great way to wear it. Adding some stone work or making it a dori blouse from the back is going to make your sleeveless Brocade blouse a lot more glamorous.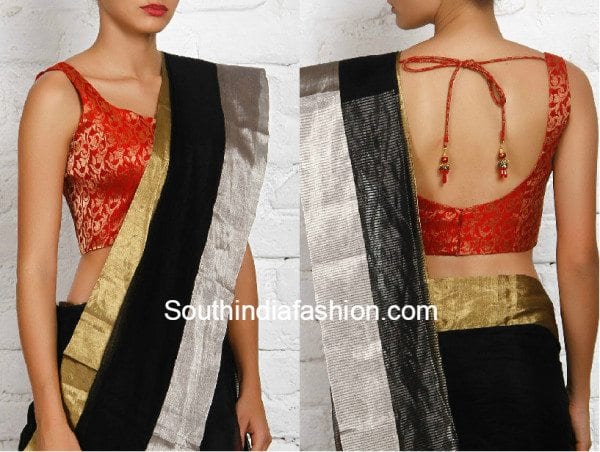 Here's Sridevi showing how to pull off the Sleeveless Brocade blouse. In her case, although the sari wasn't a Kanjeevaram, it went perfectly well with it.

3 . Mixing it up with Georgette or Net
Mixing it up with georgette or net by weaving your brocade blouse with georgette or net sleeves or neckline is yet another great design to try out. Adding a design onto the georgette part of the blouse will make the blouse even more beautiful. Pairing this blouse up with a georgette or chiffon sari is the best way there is to wear it.
4 . Brocade Blouse with Gold Border
To complement the already rich and glittery brocade, add a thick gold border to the blouse to make it look all the more grand. You can either make it sleeveless or go half sleeved and either ways it makes for an elegant and regal design. This goes best with a plain sari without too much of work on it.
Deepika's beautifully emroidered brocade blouse with a thick gold border goes perfectly well with her plain red sari.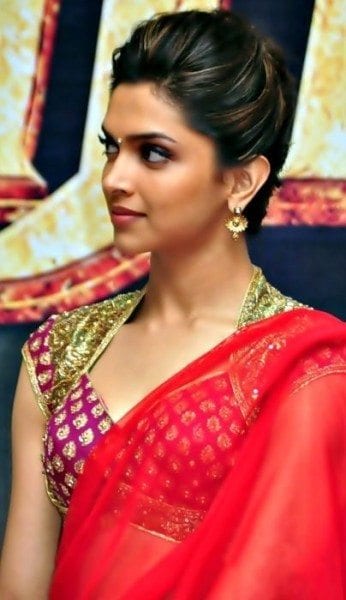 5. Puff Sleeves Brocade Blouse
Puff sleeves are one style statement that just never seem to go out of fashion. So why not add puff sleeves to your brocade blouse? The best way to combine elegance and chic and make a brocade blouse out of it is to add puff sleeves to it.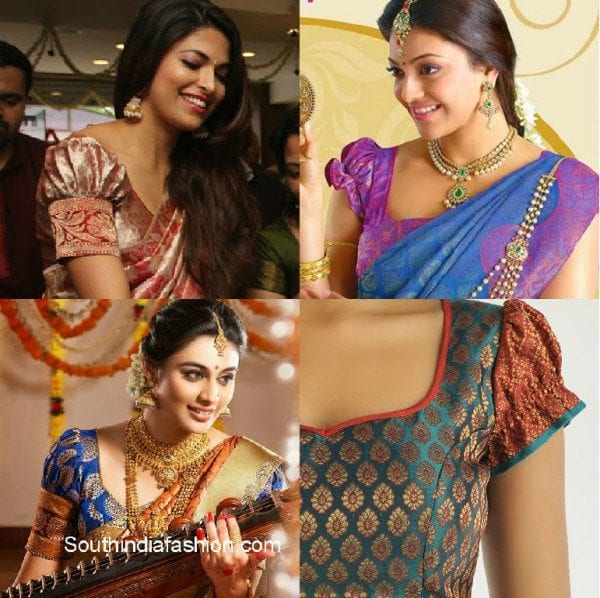 Here's Shriya Saran showing us how to make your brocade blouse a lot more beautiful by adding puff sleeves to it. We love how she looks so retro and gorgeous!
6. Heavy Work Brocade Blouse
While brocade blouses are already super-grand thanks to the rich fabric that they're made up with, adding stone work or embroidery to it will only make it more grand and thereby more beautiful. Here's how to deck up your brocade blouse with some greatly designed stone or zardosi work.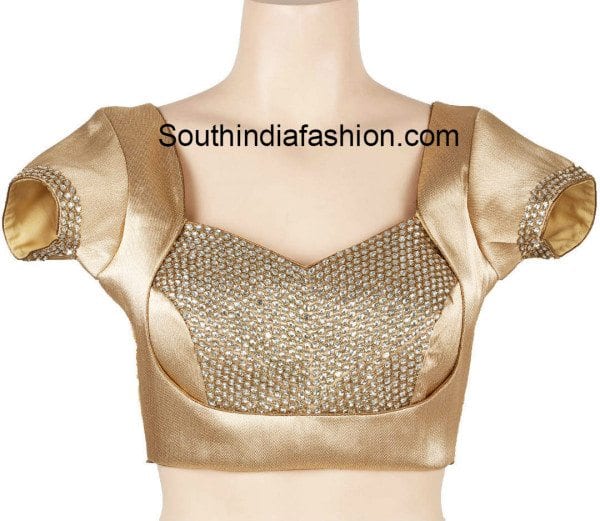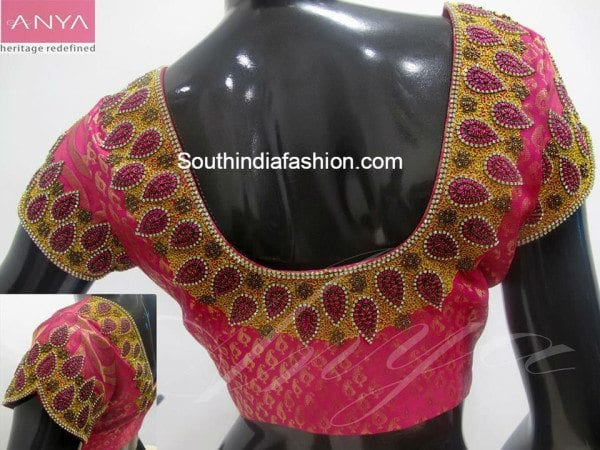 7. High Neck Brocade Blouse
Giving an Eastern twist to your brocade blouse, try out wearing it with a high neck. It isn't just going to make you look completely out-of-ordinary, it's going to make you look really elegant as well. This kind of a brocade blouse looks best when worn with a plain and simple sari be it a Kanjeevaram or a georgette sari.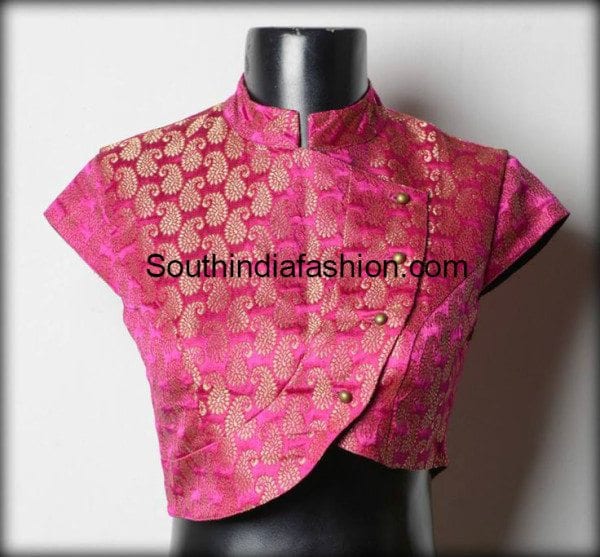 CLICK HERE For More Brocade Blouse Designs!!
Before the season of the brocade ends, it's time to get yourself some blouses stitched out of this magnificent fabric!