Saree blouse play an important in the saree's overall appeal. No matter how beautiful a saree is, an imperfect blouse can ruin the look of your saree. The beauty of the saree accentuates only when it is matched with an appropriate blouse in a perfect fit.
It is important to select suitable saree blouse designs and patterns that complements the saree as well as your personality. You can experiment with  various trendy blouse neck patterns and sleeve designs for your blouse. Designer sarees and custom made designer saree blouses from boutiques are hottest trend right now. You can customize your wedding saree blouse with Maggam work, kundan work, zardosi work, stone work, thread embroidery etc. to create rich look. If you want your saree to grab the attention and keep the blouse simple and elegant you can try simple and stylish blouse back neck designs and elbow length sleeves with big borders etc. Lets see some popular and trendy blouse designs for traditional wedding silk sarees.
1. Embellished Elbow Length Sleeves Blouse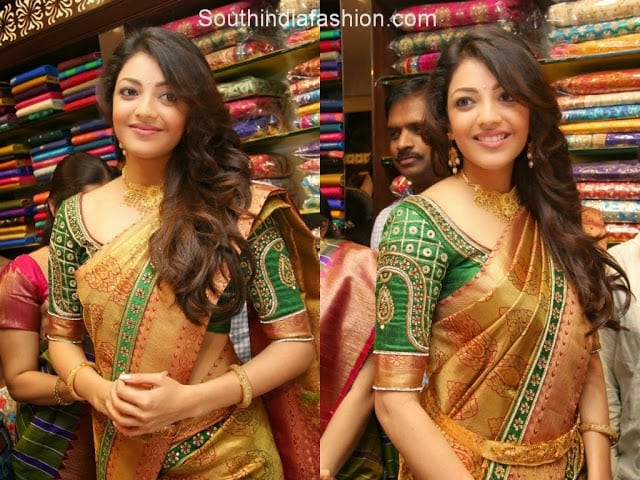 2. Plain Elbow Length Sleeves Blouse
As the name suggests the sleeves of these blouses are covered till the elbow. Simple plain elbow length sleeves silk blouse with big border for sleeves are in trend now and they give an elegant look for your wedding saree.
3. Classic Puff Sleeves Blouse
Puff sleeves blouse designs have been around a long time. Wearing a puff sleeves blouse with traditional kanjeevaram saree gives a feminine look.They look great on young people. Puff sleeves blouses can be of several types. Here are some chic and stylish puff sleeves blouse designs for pattu sarees.
4. Kundan Work Blouse
Kundan work blouses give rich look to the outfit.
Designer: Studio 149 by Swathi, Chennai
5. Cut Work Blouse
Some stunning cut work embroidered blouse designs for bridal sarees.