Half sarees and their beauty is something that is beyond any description. It is a quintessential part of the South Indian wardrobe and intends to stay the same. As their popularity refuses to diminish, they have evolved to accommodate contemporary styles and make. Sumaya Designer Studio is an ethnic store that specializes in bridal half sarees and bespoke ethnic wear. Through this blog, we would like to introduce you to 10 out-of-the-box styles from the designer's signature collection.
Thanjavur Art Half saree-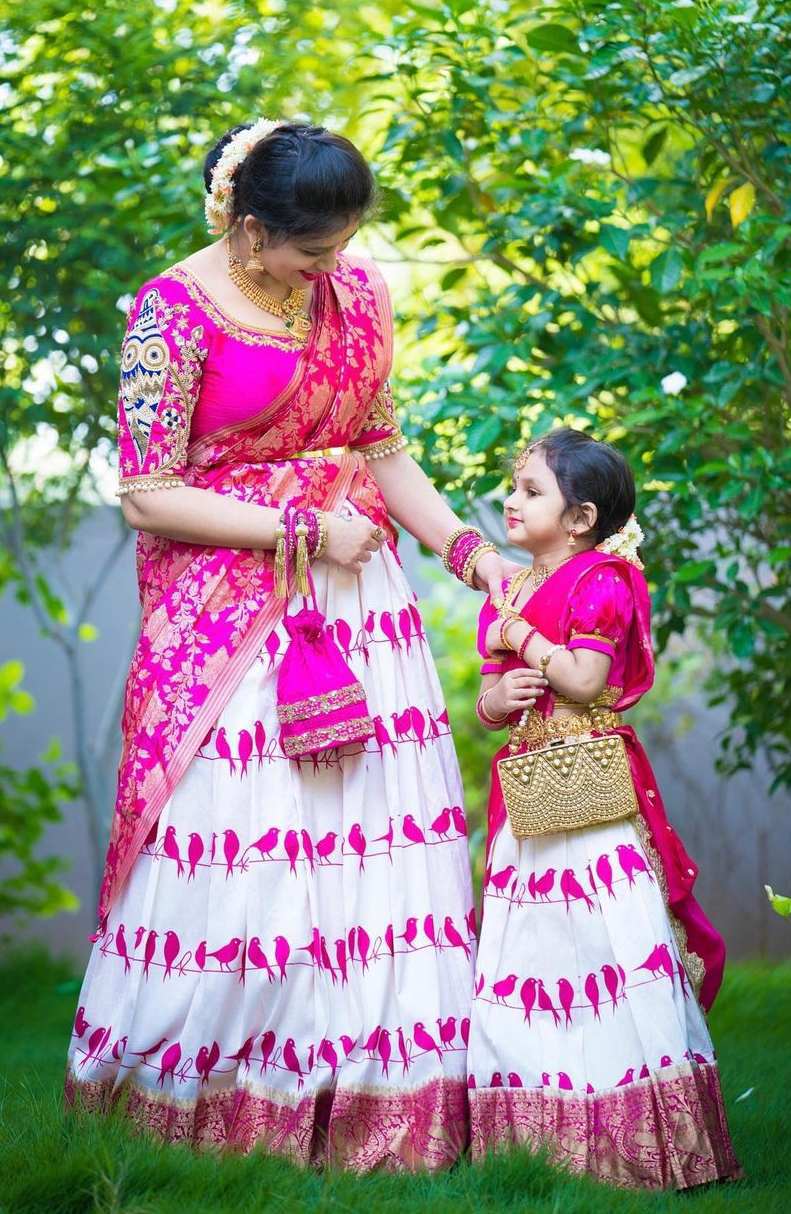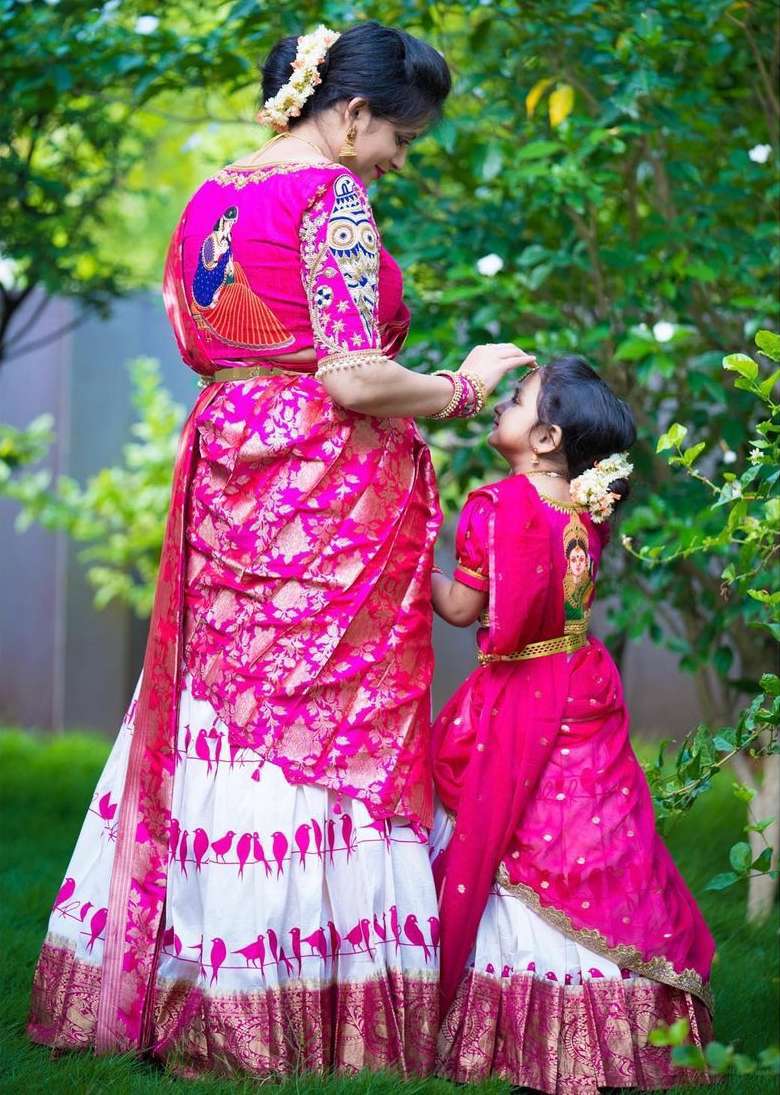 The white-pink half saree includes a designed skirt with a pattu hemline along with a blouse that showcases a Thanjavur art embroidered back and sleeves. The dupatta is in pattu with gold leaf work on it.
2. Double hued pleated half saree-
The half-saree features its skirt in two colours-red and orange and a silver shaded pattu hemline. Its blouse and dupatta on the other hand are turquoise shaded.
3. Classic green-yellow festive half-sarees-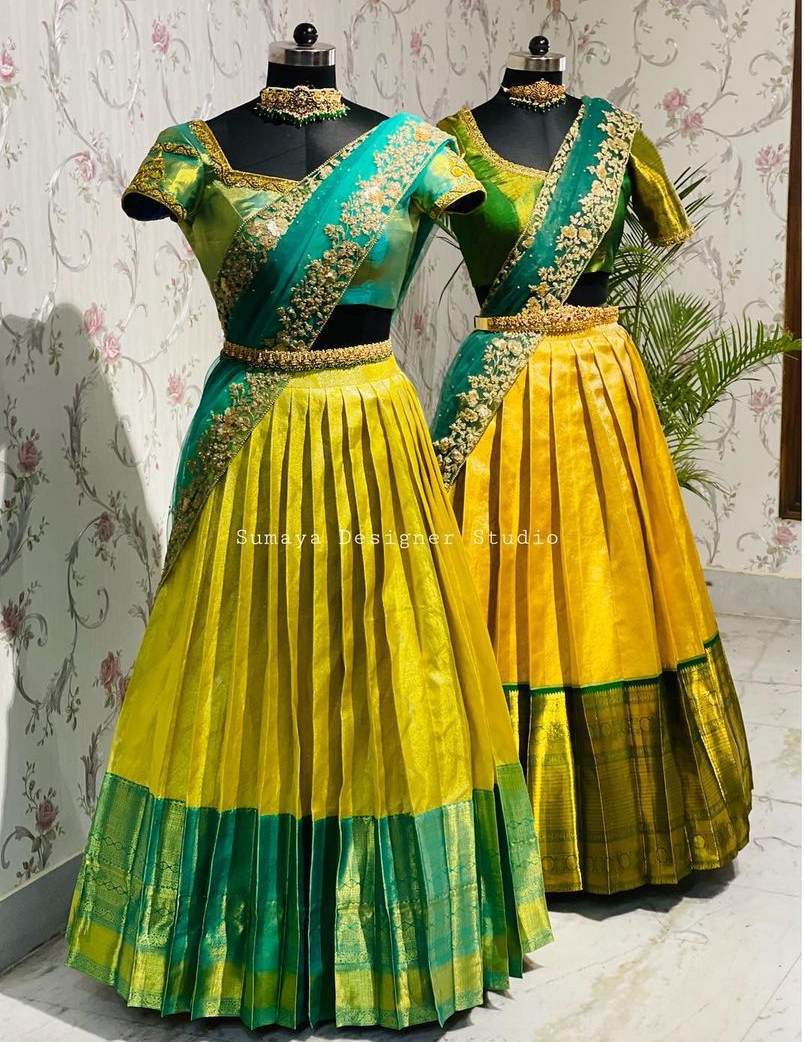 The yellow skirt is either paired with a teal green o forest green shiny blouse making it ideal for a temple visit or a festival.
4. Red and mint green half saree-
The pattu half saree has a mint green skirt with a broad red hemline and an intricately embroidered blouse with an open back and pearl adorned sleeves. Moreover, it is paired with a red organza dupatta with stone adorned floral buttis.
5.Dhoti half-saree-
Who said half sarees need to have a skirt? This one on display consists of a dhoti skirt along with a pre-stitched pattu drape and brocade blouse.
6. Double layered half-saree-
As its name suggests, the skirt has a double-layered hemline with its first layer showcasing a sambalpuri design and the other one a plain pattu.
7. Tulle layered half-saree-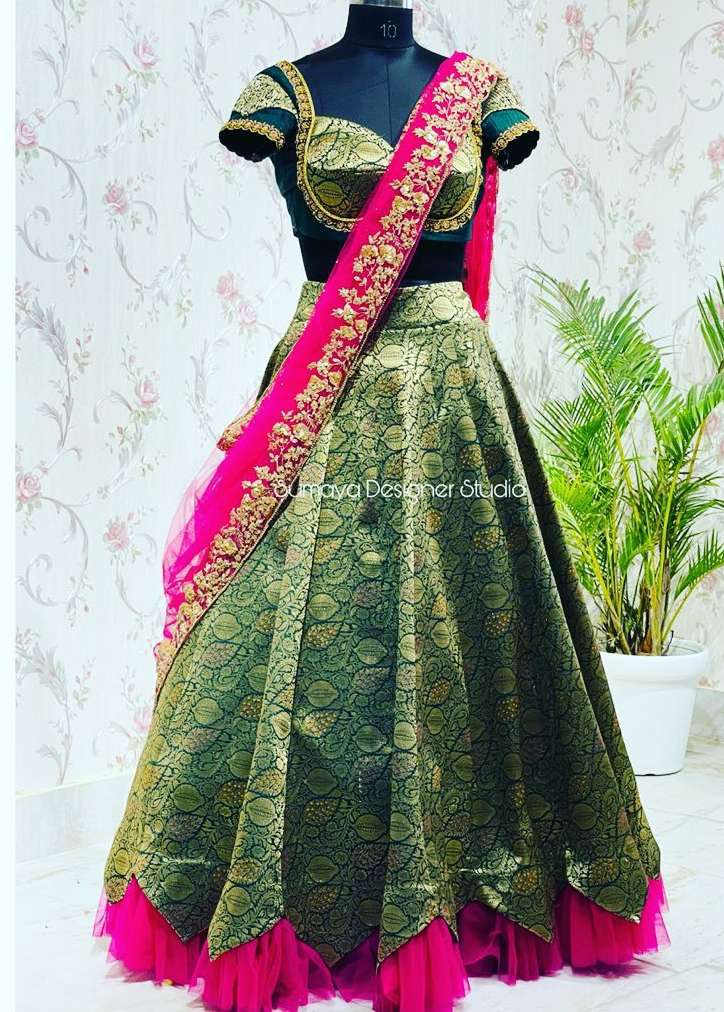 The tulle layered half saree draws attention not only because of its tulle layered hemline but also because of the corset blouse in forest green.
8. Kanchi Pattu half-saree-
Unlike the usual style of bordering the dupatta with a pattu, this one has a whole dupatta made of Kanchi pattu in maroon going in perfect sync with the yellow skirt and matching blouse.
9. Pastel pink and dull yellow classic silk half-saree-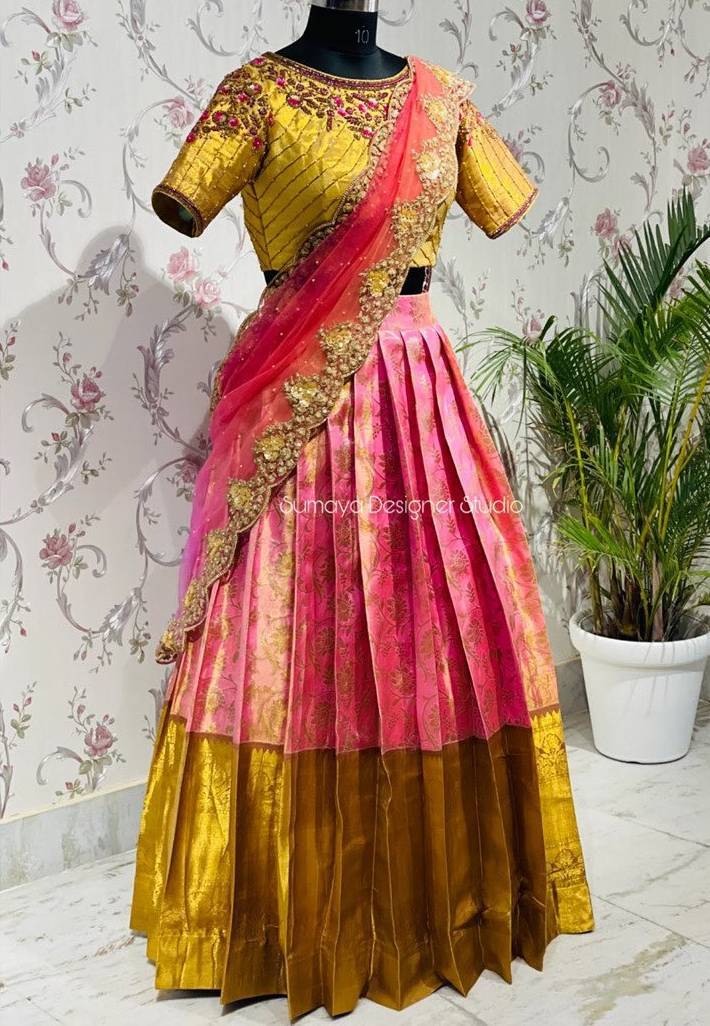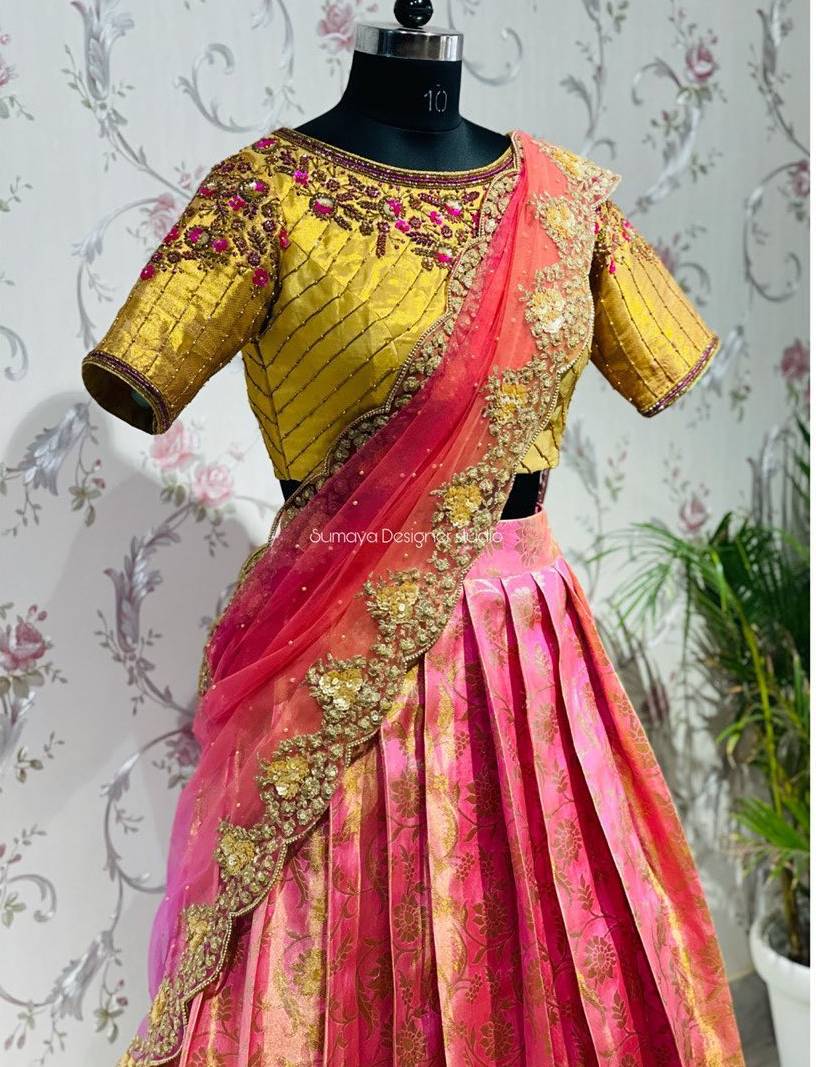 This one in pastel pink and dull yellow shades with intricate thread and stonework is just all things perfect.
10. Red-Blue bridal half saree–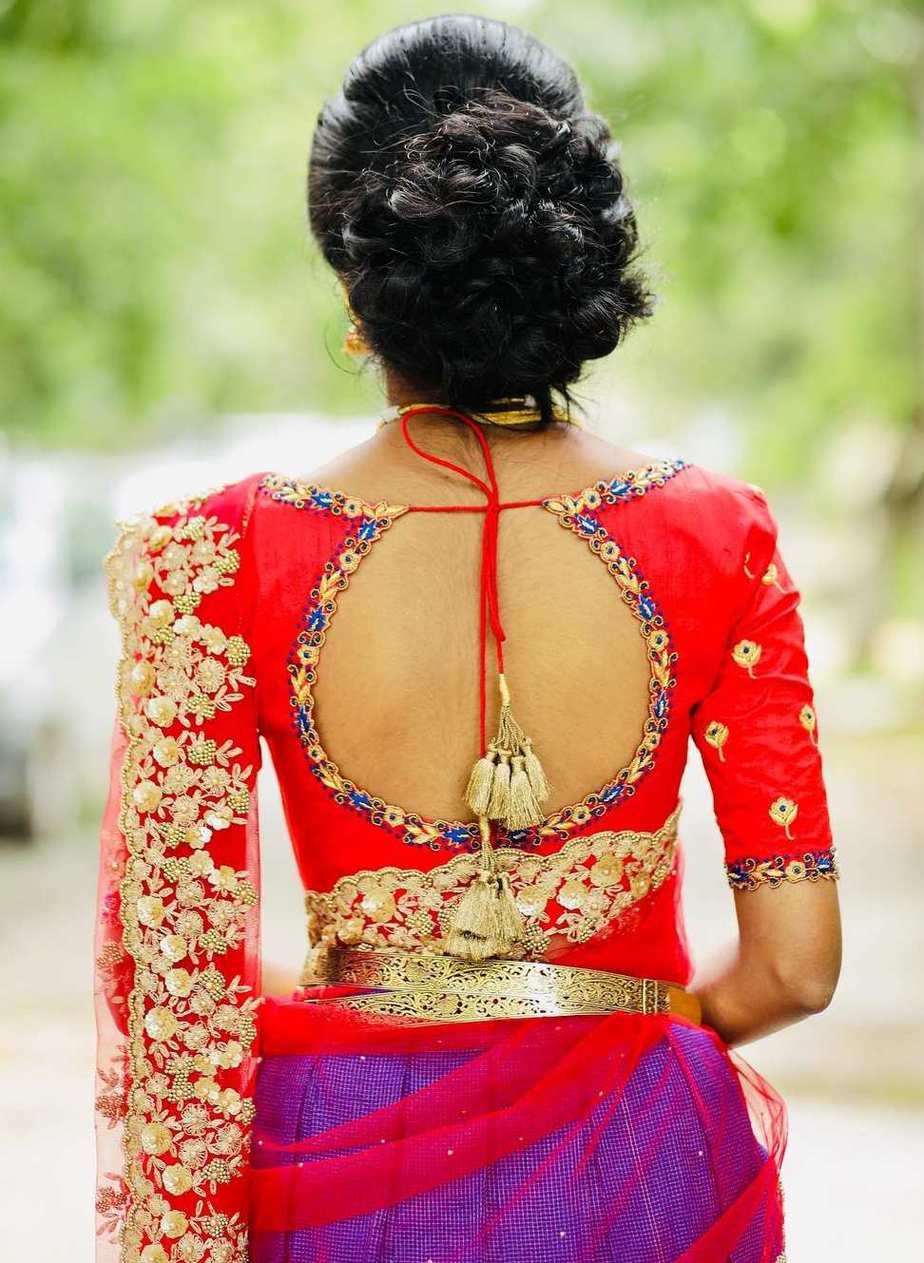 The stunner from their signature bridal collection has its beauty attributed to the warm and cool colours-red and blue respectively. While the skirt is pattu, its organza dupatta has its hemline decorated with intricate gold thread work.