How do we describe Gaurang Shah? Can we call him as that one person who can make handlooms look so contemporary and yet traditional? That is what we can say if we put it in simple terms. Gaurang Shah is one of the most amazing creators of our country who can totally weave magic from thread. His clothes are exceptional and they are a mix of traditional, modern and timeless all at the same time.
When we think Gaurang Shah the first thing to come our minds would be those heavy border Kanjeevaram sarees. The beauty of those sarees is the unique combos used and the play of the zari. The zari though heavy does not look too shiny or bling. The use of bright colors adds up to the fun factor and making fabrics like Kanjeevaram an option for those who prefer funky sarees.
Apart from those heavy Kanjeevarams his sarees like the Banarsi, Jamdhani and the Khadi sarees are must sought out and each of these sarees have their own specialty. The signature Gaurang Shah pattern of floral and geometrics across these fabrics makes it very unique. He does not do much embroidery in his ensembles, instead what others do with embroidery he does with his weaving.  Each of his sarees takes anywhere between 4 months to a year to get done, as it is completely done by hand. Sarees like Patola and Paithani of Gaurang Shah is worth its weight in gold.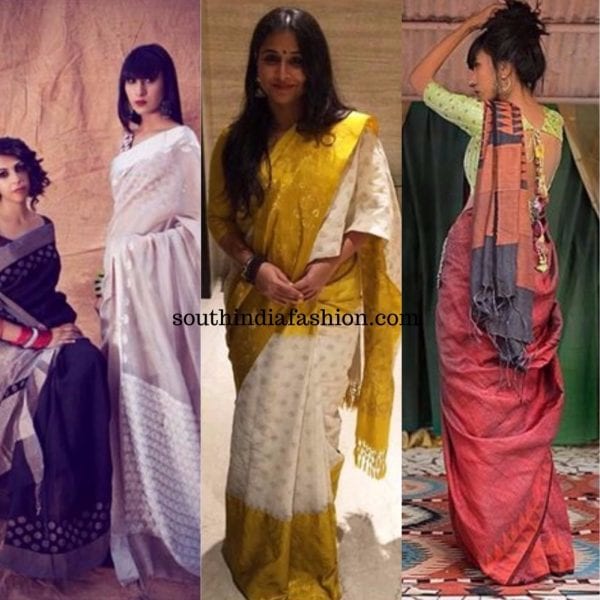 Apart from sarees he has also showcased khadi western wear. His Anarkalis in Kanjeevaram, Paithani are one of a kind with the same heavy borders that show up in his sarees. They look exquisite and is a perfect trousseau buy. So many celebs like Tapsee,Vidya Balan and Kirron Kher are often seen rocking the red carpet with Gaurang Shah outfits.
If you are someone who loves handloom sarees, heavy and unique silk sarees like Kanjeevarams, Banrasi, Patola and Paithani, you really need to buy one Gaurang Shah.