There can be nothing like mirrors to add plenty of dressi-ness and beauty to our outfits, which is why mirrored outfits never ever go out of vogue. Desi wear can especially look great when mirror work is used to adorn it. Here's a list of five mirrored desi outfits that you should definitely flaunt this season just because they're that gorgeous. Scroll and check them out!
1.Mirrored Anarkalis
The grandeur of anarkalis can be upped by adding plenty of mirrors to it. And when it is mirrors, any number of them isn't too much! Here's a few ways in which you can do mirrors on your anarkalis.
2.Mirrored Blouses
Embedding plenty of mirrors onto your blouses isn't a new fashion statement and yet, there are a whole lot of mirrored blouse designs that come out each year. Get one of your blouses doused in mirrors and see for yourself how much of prettiness it can add to your saree attire.
3. Mirrored Lehengas
Mirroring up your lehengas can add a definite festiveness to them and would look really great especially at weddings. However, it's important to see to it that the dupatta and the blouse aren't having too many mirrors when you choose to wear a heavily mirrored lehenga.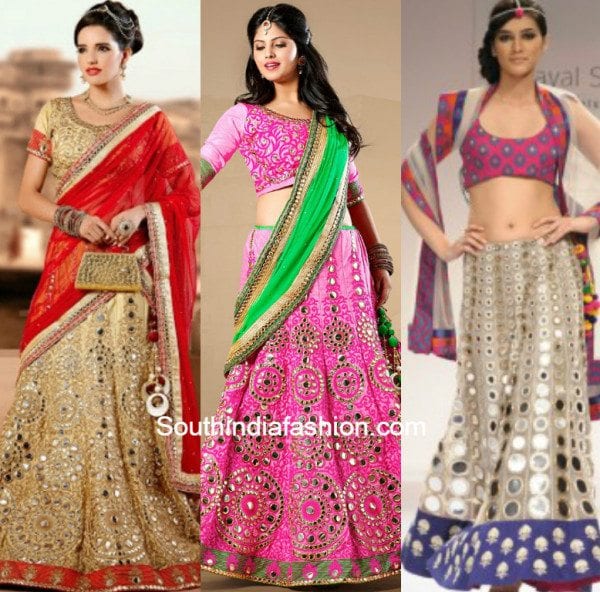 4.Mirrored Sarees
Sarees with a whole lot of mirrors on them have been a favourite with desi women from decades and for all their beauty, they still are. Manish Malhotra's very recent mirror-doused collection is proof of just that.
5.Mirrored vests
Mirrored vests which were a thing back in the 90s are back in vogue again thanks to our designers like Arpita Mehta. Worn over simple kurtis and salwars or even dresses, they can make them look colorful and glitzy.