Aloe vera is one of the most popular and important beauty ingredients that has been used for ages to get a flawless skin. This plant is packed with numerous skin and hair benefits and can be used in several ways to get the best of it. So, here's how can you add aloe vera to your beauty regime.
Aloe Vera Gel To Combat Skin Issues:
Aloe vera for dry skin
Take one tsp of aloe vera gel with one tsp of honey and one cucumber slice. Make a paste of all these three and apply on the face. Wash it off with cold water after 15 minutes.
Aloe vera for oily skin
Mix aloe vera gel with 10 drops of tea tree oil and leave it overnight on your face. Next day, wash it off with lukewarm water. Repeat this twice a week.
Aloe vera for normal or sensitive skin
Take one banana, two tsp of aloe vera gel, and a few drops of rose water. Mix them all together to get a thick paste and apply on your damp face. Wash off once it gets dried.
Some other ways to use aloe vera
1.You can cut one piece of aloe vera leaf and squeeze out its gel to apply on the skin.
2.The gel can be used on your face mask as well.
3.You can also rub the gel on your skin after face massage to soothe the skin.
4.You can also buy an aloe vera gel product available in the market. (To buy aloe vera gel, click HERE)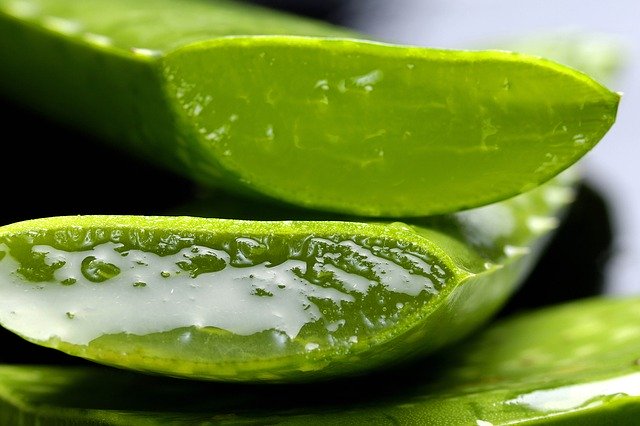 However, if you get itchy and red skin after applying raw aloe vera, then stop doing this and consult your dermatologist right then.
Skin benefits of aloe vera
1.It soothes sunburn.
2.Relieves skin irritation.
3.Moisturises our skin.
4.Fight acne and blemishes.
5.Slows down the aging process.
6.Cleanses the skin thoroughly.
7.It acts as an exfoliant as well.