Fashion enthusiasts, are always looking for something fresh and state-of-the-art. As you know, fashion labels keep launching season's collections every once in a while. But there are only a few, that align with the current interests of our fashion industry.  One such refreshing label, that we have been seeing celebrities dressed in a lot lately is Picchika by Urvashi Sethi. Their breezy organza fabrics with hand-painted flowers, are a pleasing change from the rest.
About – Label Picchika by Urvashi Sethi
Derived from Jain spirituality, cultivating a sense of purity as practiced by the saints. Label Picchika signifies the sanctity of peacock feathers, defining artistry and divinity.
The hand painted botanical's by the fine craftsmen of Jaipur evoke life in Picchika's creations with the ability to entice us .
Urvashi Sethi, the founder carries forward her ode to feminine grace, expression to shades of subtle beauty.
Celebrities in Picchika
Kareena Kapoor Khan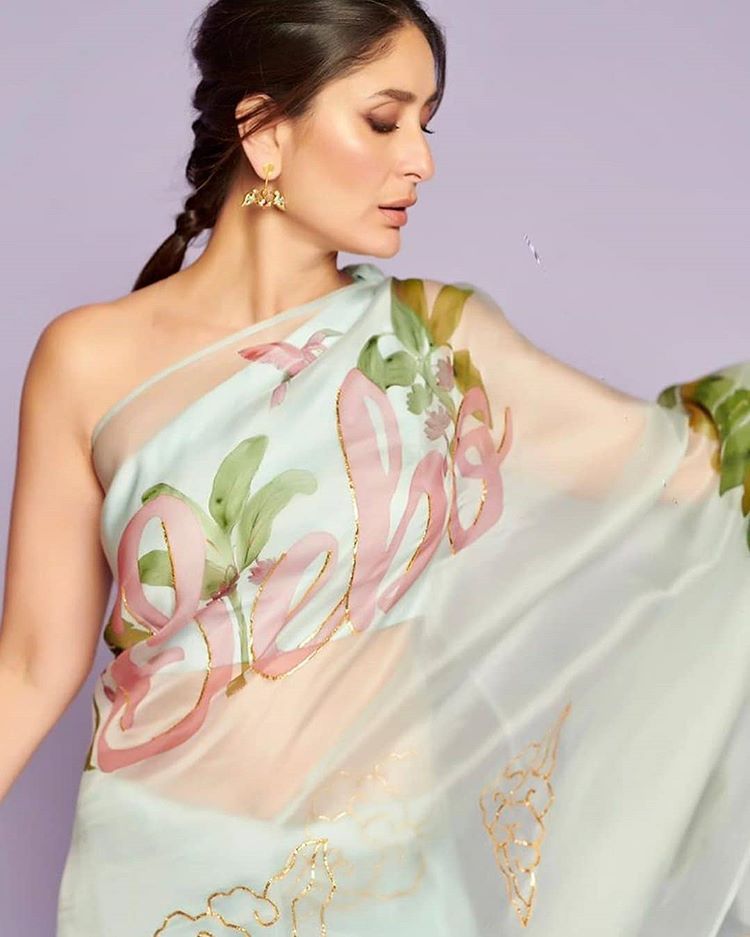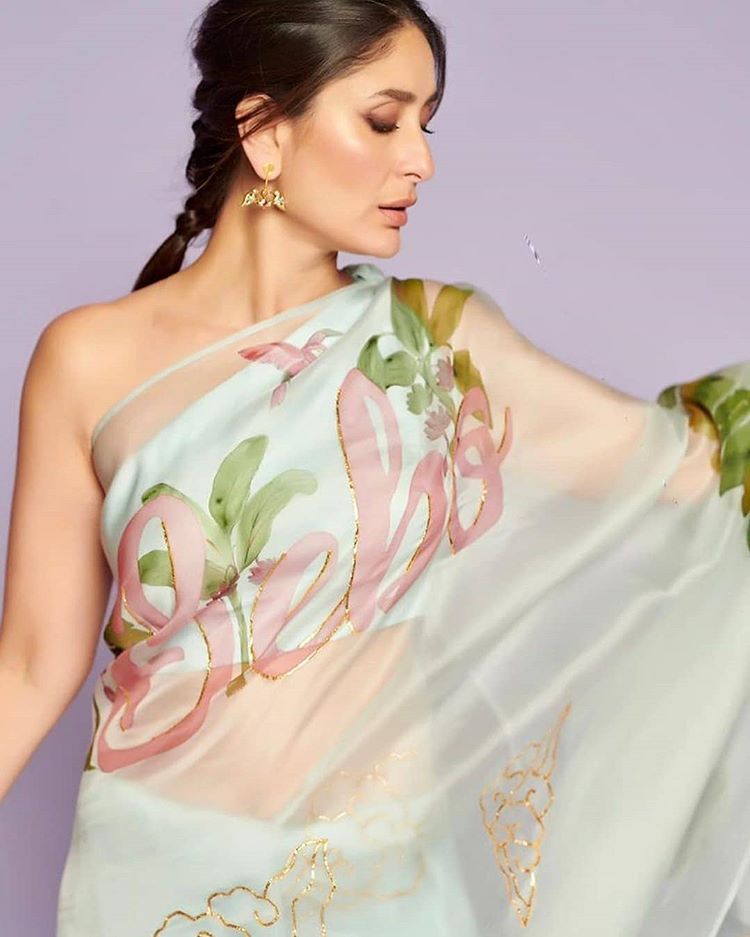 You can trust Bebo, to make a fashion statement. This custom name painted Picchika saree was first seen on Kareena Kapoor Khan. The hand painted powder blue organza saree was styled with a single-shoulder blouse. A pair of delicate gold earrings from Sunita Kapoor Jewels complemented her look.
Tara Sutaria in Picchika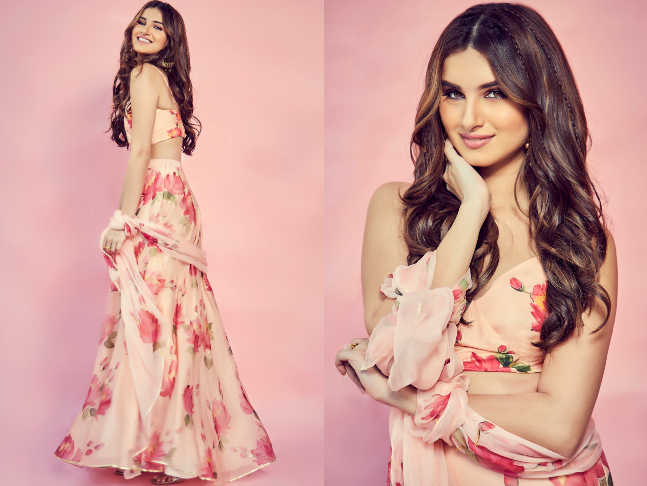 Tara Sutaria looks Oh-so-adorable in this floral lehenga from Picchika. This peachish pink lehenga featured hand painted pink peonies all over. It was  paired with a spaghetti strap blouse. The stylish chandbali earrings, enhanced this pretty lehenga.
Parvathy Thiruvothu
Parvathy Thiruvothu  looks as graceful as ever in this rose gold organza saree by Picchika.  The pearl choker with this rose gold organza saree, exudes elegance. When paired with these stunning earrings by Aquamarine Jewellery, it smoothly transforms into a chic after party attire.
Alia Bhatt
Alia Bhatt with her trendy picks, never fails to impress the Fashion Guru's. Seen here in a classic red organza saree, Alia certainly looks radiant. Ami Patel has styled this vibrant drape, with a pair of pretty golden jhumkas.
Sonam Kapoor Ahuja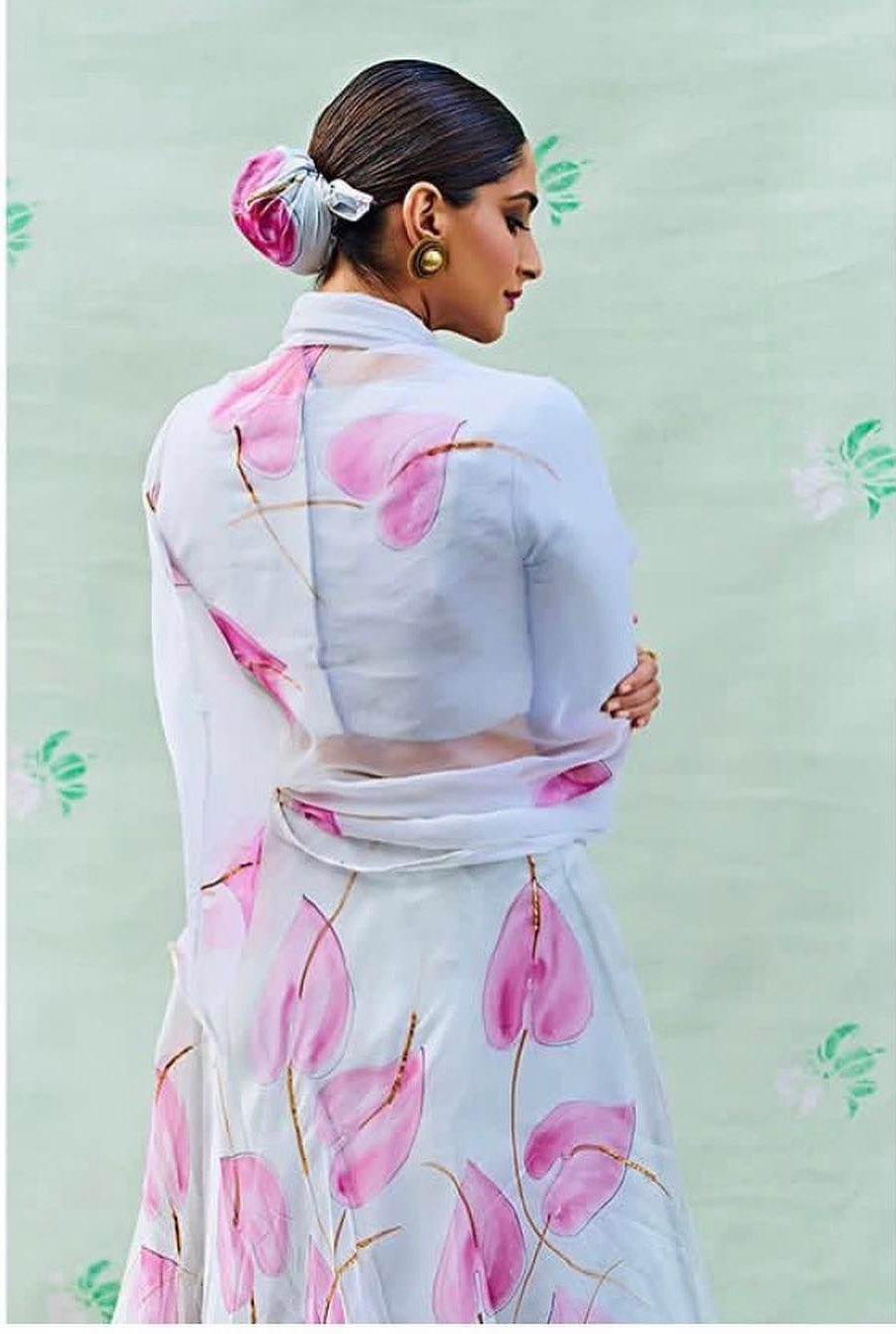 Sonam Kapoor has been well known for her excellent sense of style. Moreover, with Rhea Kapoor as her stylist, Sonam is always dressed impeccably. Rhea paired this dainty flamingo painted organza lehenga with a statement choker and earrings. The hair bun wrapped in a matching fabric takes the whole outfit to another level.
Shilpa Shetty Kundra
Picchika's China rose organza saree looks lovely on Shilpa. Styled with these ethereal combination of layered necklaces and earrings, everything falls together beautifully. With those white roses tucked away in a neat bun, Shilpa definitely oozes old world charm in this look.
Few more celebrities in Picchika Organza sarees
Manushi Chillar and Amrita Khanvilkar looked beautiful in pastel grey organza sarees that featured hand painted flamingo flowers. Manushi paired her saree with a matching strapless blouse. Whereas Amritha paired it with a contrast pink sleeveless blouse.
Lavanya Tripathi and Neha Pendse also opted to wear Picchika organza sarees to one of their events. They both paired them with silver earrings. While Lavanya kept her makeup subtle, Neha on the other hand went for bold makeup.
At the recent Lions Gold Awards, Hina Khan was also seen in Picchika's pastel grey hand painted organza saree. She paired it with a strapless blouse like Manushi.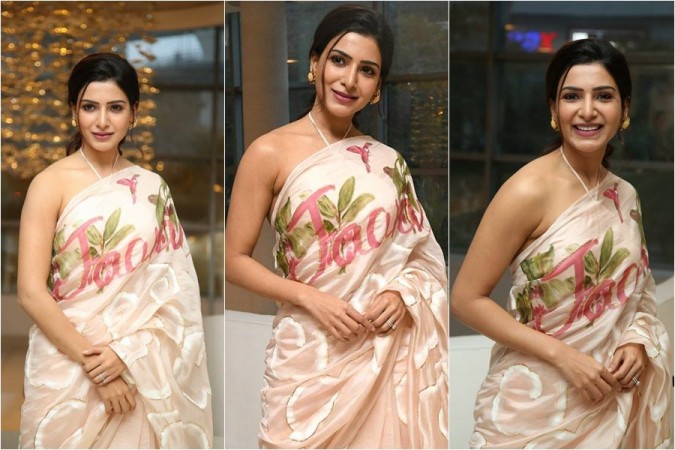 Last but not least, Samantha Akkineni wore Picchika's custom-made hand painted organza saree to her film Jaanu's thanks meet recently. She paired it with a matching halter neck blouse.
With summer fast approaching, these breezy organza outfits are must-haves in your wardrobes. Be it a Mehendi party, or your best-friend's Sangeeth, these Organza sarees and lehengas from Picchika are sure to make a lasting impression. With sarees starting at a reasonable price of Rs.16,500/-, these beautiful pieces are quite affordable and can be customized to your liking. Their lehengas cost around Rs.32,000.
You can shop their collection online HERE!
Whatsapp: 8890434749
Email: [email protected]