We all have that one simple saree in our closet that we love and wish to style it like a designer saree. However, even if it's simple, you can jazz it up with styling tricks to give it an instant designer saree look. You no longer have to own a designer saree to look chic and classy. Try out these simple styling tricks and turn your simple saree into a fancy designer saree –
Double pallu
Double pallu is an easy styling trick to make your simple saree look designer saree instantly! Select a dupatta that compliments your saree. The dupatta doesn't have to be of the same color or match your sari exactly. Opt for a heavy dupatta if your saree is plain or vice versa and bring out the designer saree look easily! This styling trick adds a cool twist to your boring saree and makes it designer worthy.
Blouse Styling Tricks
Upstyle your saree with a cape blouse and it would do the basic trick of turning it into designer saree. An embellished cape blouse is currently trending for all the right reasons! It's easy to carry and adds an oomph factor to the look!
Corset blouses add elegance to even a simple saree and make it look like a designer saree ensemble. Many celebrities have used this trick to make their saree look amazingly styled. Simple or heavily embellished, a corset can surely glam up your saree!
Ruffle or bell sleeves blouse
Ruffle and bell-sleeved blouses are a current trend and they are a perfect style trick to jazz up your saree. You can opt for a short or long-sleeved ruffle or bell sleeve blouse to give your saree a designer saree look.
Jacket
Jackets are a great way to up your fashion game and it doesn't matter if they are short or long. You can match up a fancy shrug or jacket with your simple saree and it will become a designer saree look instantly! Take cues from celebrities who styled it even with their blazers!
Belt
Belting up your saree automatically makes it classy, chic and fashionable. Invest in some really good embellished belts and you won't regret! From fabric, leather, metallic to studded belts, there are so many options. In fact, many designer sarees look sexy just because the belt outshines and sets a statement!
Draping style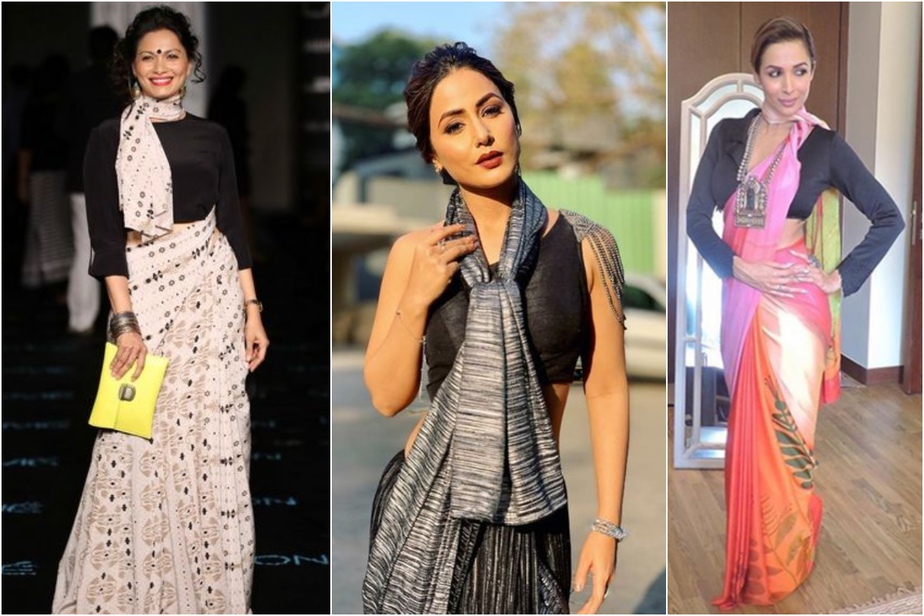 Style by wrapping the saree pallu around your neck for a chic vibe! In fact, style your hair in a top knot or high ponytail and add layered jewellery like rings and bangles. It's an instant designer styled ensemble that will boost up your confidence and charm.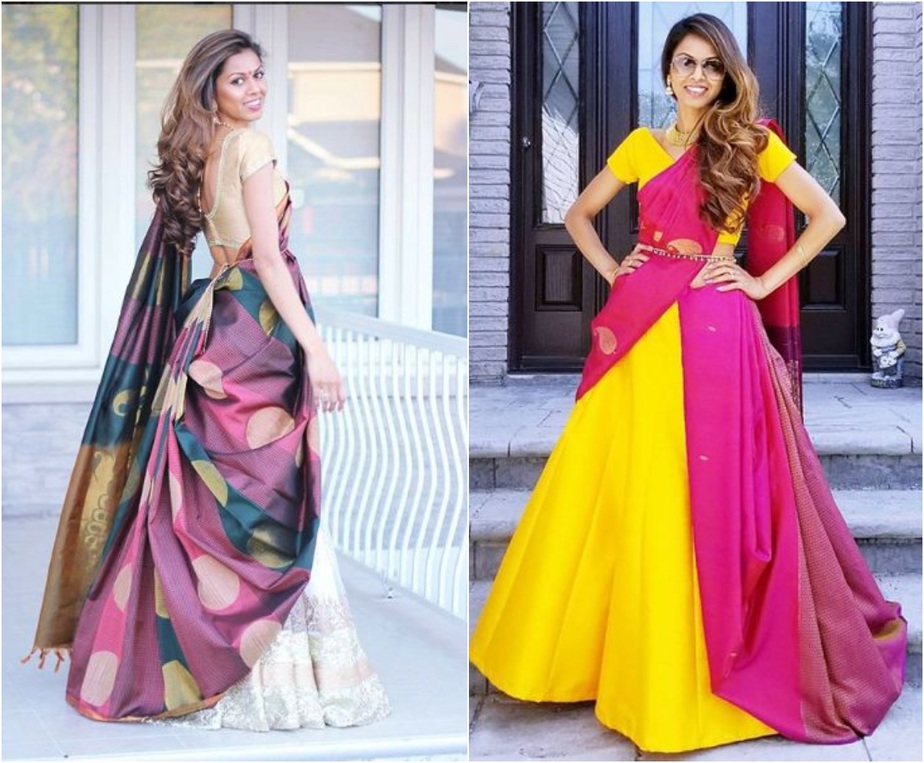 Take designer saree styling tricks from Tia Bhuva and you'll never wear saree the regular way! Wear a stunning long skirt or a cancan and drape your saree like a half-saree or a lehenga. Even a simple saree will look stunning when draped in this style.
These were just a few easy styling tricks that you can bookmark if you want to achieve a designer saree look!