Tia Bhuva is a name every fashionista knows of! Her Cancan style saree became an instant hit and admired by everyone. She knows her way around sarees like a pro and sarees are her BFFs! The way she drapes a saree is easy, effortless and stylish. Above all, the styles are bound to leave you in awe! Her style of draping makes it look so effortless that it will definitely tempt you to try out these styles. She uses a variety of saree fabrics and drapes them in unique and offbeat style. Her tutorials are easy and you can follow them to achieve the saree looks that are no less than a ramp-walk drape.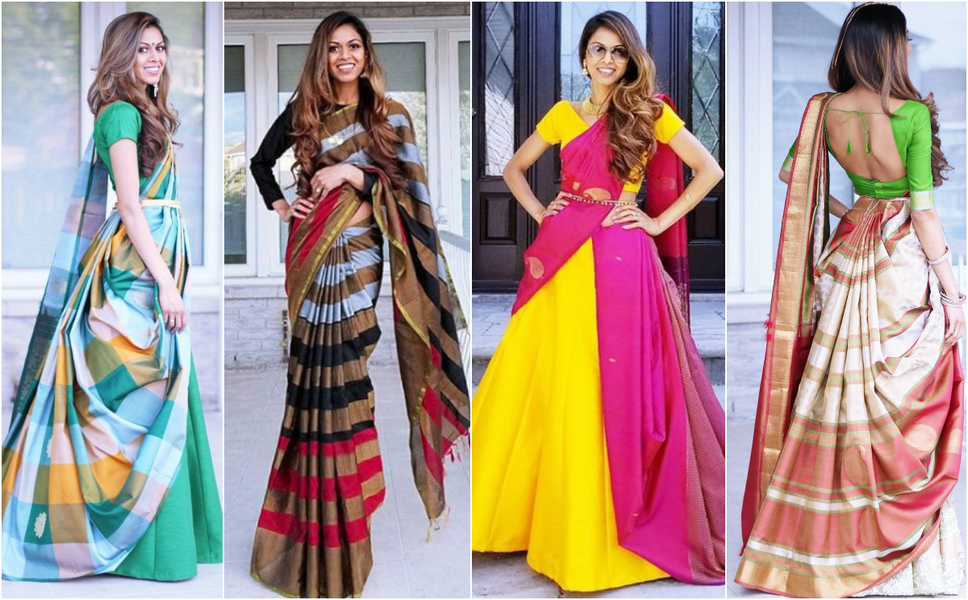 Check out these tutorials of draping a saree in an offbeat style inspired by Tia Bhuva –
What do you need?
Any saree, blouse, safety pins, and a cancan flared skirt or a silhouette saree petticoat.
Drape it Like a Lehenga
https://www.instagram.com/p/Bwefd1UlgO_/
If you love lehengas but also know that you won't be wearing it often, then why invest in it? Instead! Tia Bhuva shows us how to drape your saree to create a makeshift lehenga! Pick any saree and pin-up the pallu first. Follow the tutorial and pin-up the pleats in front and flare it out. Secure them with pins and finish the look with a traditional belt – Kamarbandh or a gold chain.
Drape it Dress Style
https://www.instagram.com/p/Bzp6FFkFipS/
There is no denying that Tia has magic in her hands when it comes to saree draping. She can literally turn a saree into a stylish dress! Wear a fancy crop top with jeans or a silhouette skirt. Knot the ends of your saree and wear it like a shrug. Pleat the remaining part of your saree and tuck it at the back. Finish the look with a belt to secure the silhouette.
Off-Shoulder Gown Style
https://www.instagram.com/p/BziOxnwFu00/
This one is truly something worth a try! Give your saree draping an oomph by wearing it like a flared off-shouldered ball gown. Above all, Tia Bhuva's tutorials are easy to follow and you get the exact promised look! With pallu draped off-shoulder and saree flared out like a gown, you will leave everyone awestruck!
Drape It Like A Pleated Skirt
https://www.instagram.com/p/BxmnR0flS-N/
Love wearing traditional long skirts with modern tops? Tia Bhuvan shows you how to do it with a saree too! The tutorial shows you how easy it is to create a stunning skirt look with a few pleats and draping it the right way. Also, she wore it with a beautiful rose gold peplum top for a chic look.
Back and Side Pleated Saree
https://www.instagram.com/p/Bdz2LJSAbUq/
Bored of the usual front pleats? Well, Tia tucks her saree pleats at the back of her skirt instead! Above all, this adds a lot of volume and flare to your look. If you stack the pleats on top of each other you'll get less flare. Instead, spread them out slightly while you tuck them in.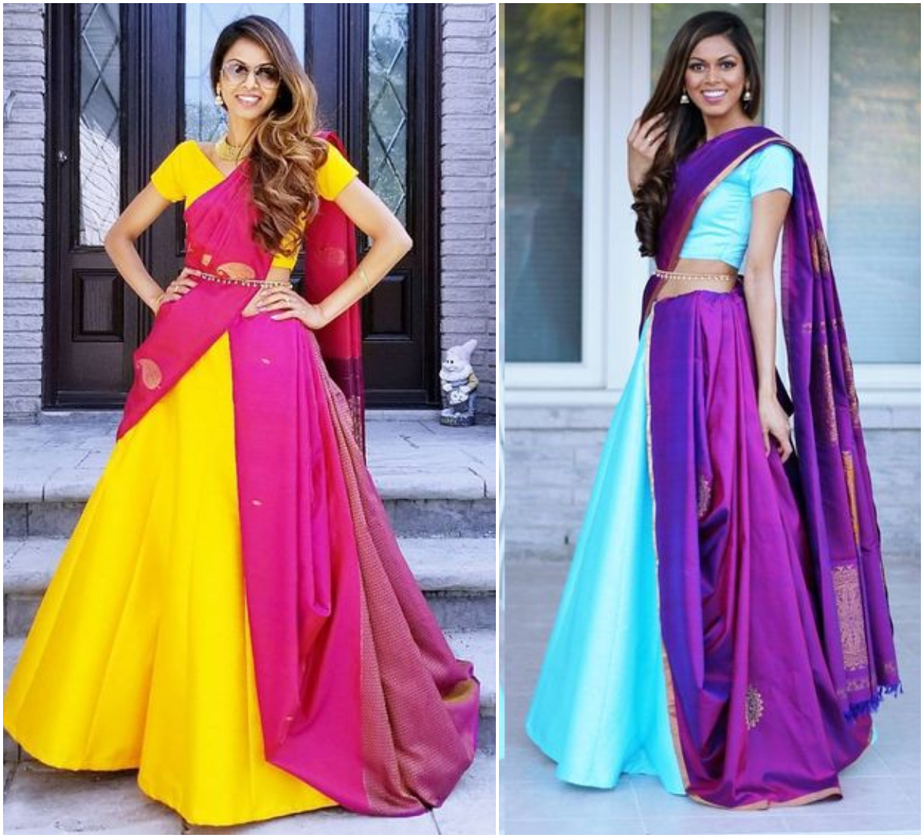 You can also try her side pleating trick. This gives a half-saree look especially when you drape it in contrast colors.
Warrior-Style Saree Draping
https://www.instagram.com/p/BiDnFTdgkvT/
The warrior style saree draping is bold and fun! Crisscross the saree around your neck and that's it! Also, follow the steps in the tutorial and you would look the look this style gives.
Tia Bhuva's saree draping styles are traditional yet have a modern flair to it. Also, which is your favorite look?