We all know South Indian weddings are all about traditionally decking up. From gold jewellery, gorgeous smelling gajras to donning the Queen of Silks – Kanjeevaram. South Indian bride looks stunning when she's decked up, but a few brides like tradition with a modern twist. For those modern South Indian brides, we have some chic ways with which you could blend your style and taste. Keep the traditional quotient intact while adding a bit of modern and contemporary touch.
Ways To Be A Chic, Fashion-Forward And Modern South Indian Bride:
Saree Choices –
When picking your Kanjeevaram, ditch the usual designs and patterns of all-over print. We agree that your Muhuratam saree has to be rich, but Kanjeevarams these days come in a designer range. Off-beat motifs like Dholak, Peacocks, Sitar, etc., simple sarees with heavy borders or all-over checks. You could opt for these and be the chic and fashion-forward South Indian bride.
For modern brides who love lehenga, but are also torn between picking a Kanjeevaram saree – Half saree is your answer! While keeping it traditional, half sarees also add an off-beat grandeur to your look. Checking your lehenga wish and blending with traditions, you can be the fusion bride you wish to be.
Pick Off-Beat Color-Combinations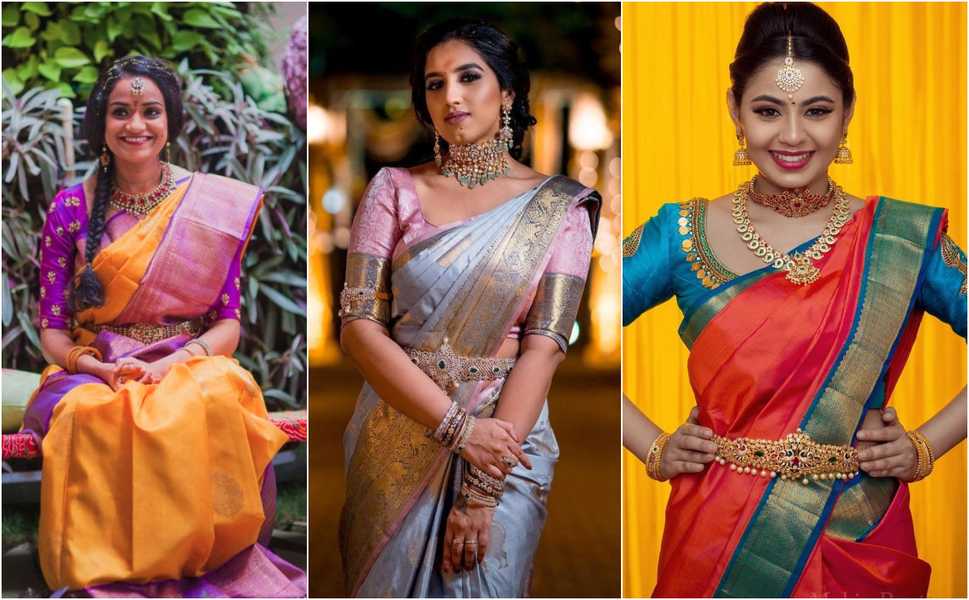 Ditching the usual traditional color-combinations that come in Kanjeevaram, pick a 'hatke' color-combination! The designer range of Kanjeevaram offers a whole lot of unique colors that you can choose from.
Blouses Matter –
Blouse patterns add a charming oomph factor to your look. Choosing the right pattern can give you the desired style and look that you are aiming for. Brides who want a chic look can pick blouse patterns rather than the regular ones.
Chic and Modern Blouse Work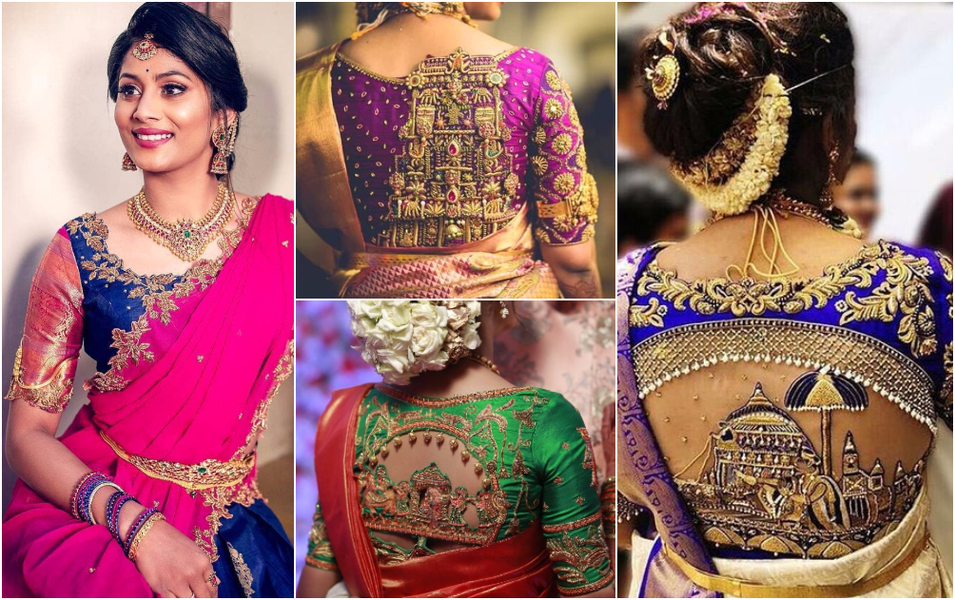 Maggam work on silk blouses is trending these days. And they are a perfect pick for the modern South Indian brides! Get fancy designs done with zardosi and maggam on your off-beat blouse patterns. This way, you can add a bit of edginess and chicness to your look.
Hairstyles –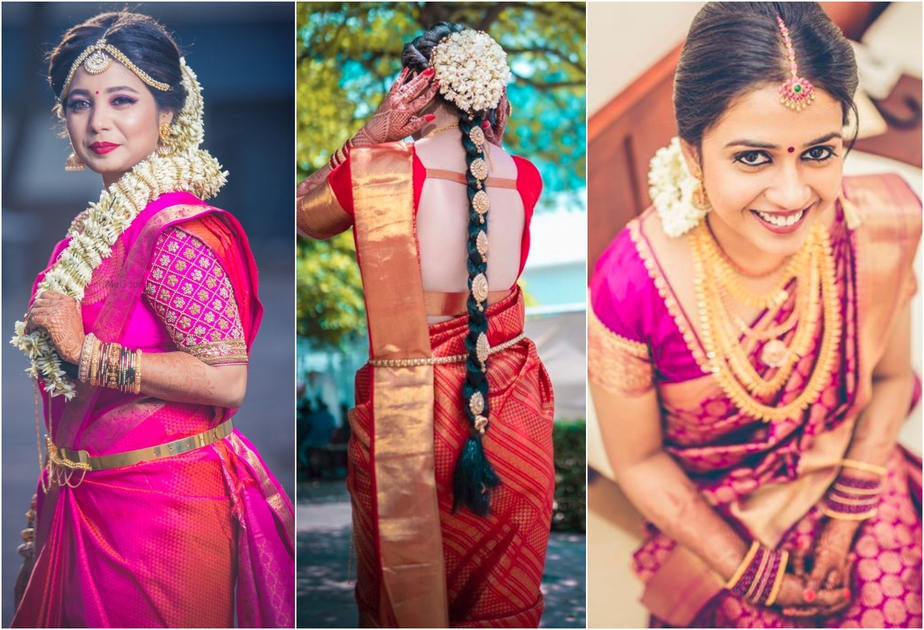 Rather than going for elaborate hairstyles, try out some contemporary gajra hairstyles. Keep it light on the hair ornaments and maangtika. Instead, pick a mild blend of both by including them together in a subtle way.
Jewellery –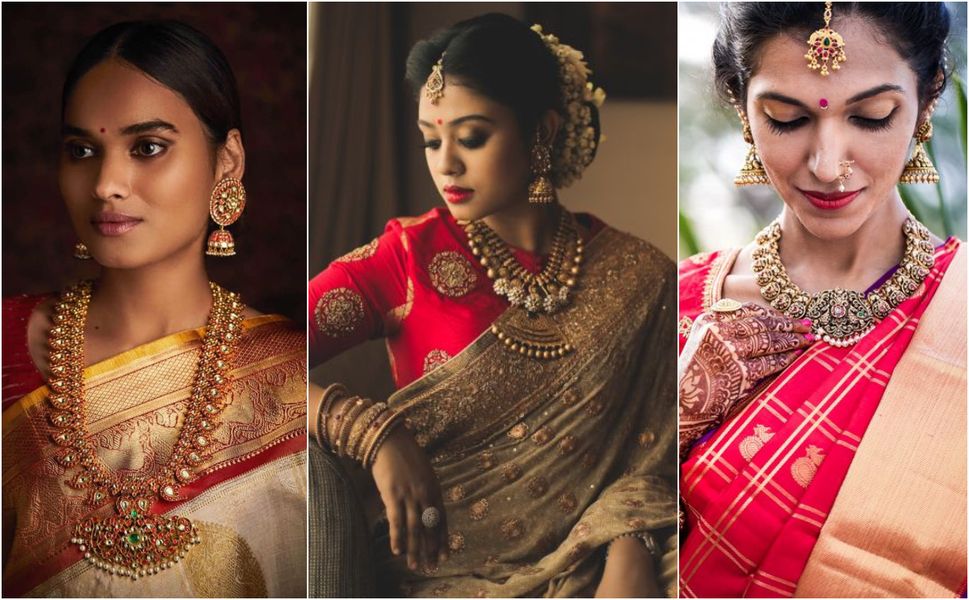 Temple jewellery and South Indian weddings go hand-in-hand. And there's no denying that temple jewellery add richness to Kanjeevaram sarees. Instead of layering, pick only one heavy piece and making it your statement jewellery. You can obviously go with trendy temple jewellery that is unique in style and has an antique finish.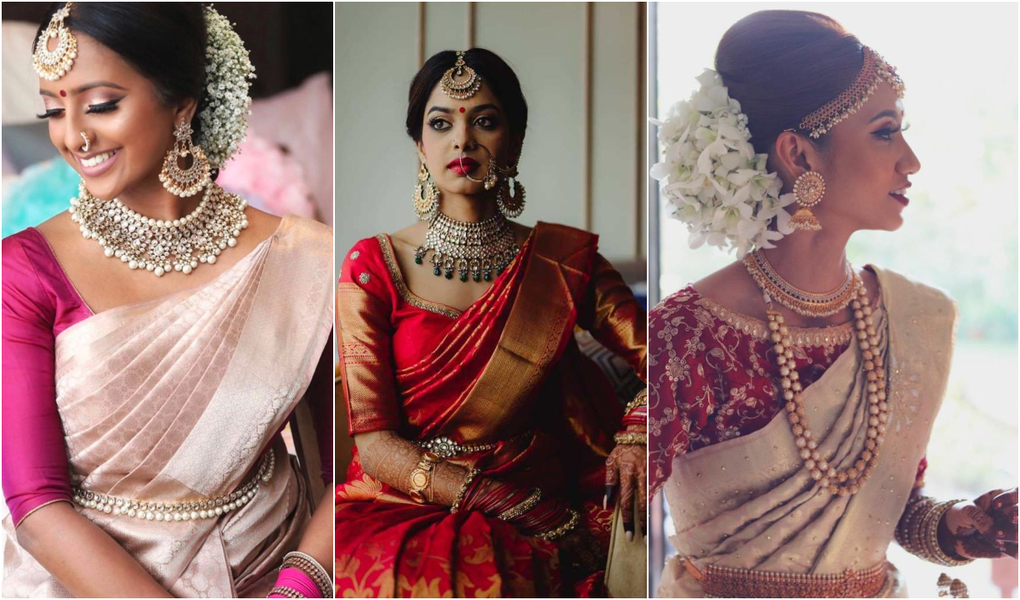 Modern brides who don't wish to pick temple jewellery, you can pick off-beat jewellery options. Polki, Jadau, Kundans, Meenakari, Pearls, and Diamonds – there is so much to choose from! Don't hesitate to experiment and be a trendy and fashion-forward South Indian bridal look.
Hope these ways to be the contemporary and modern South Indian bride helped you pick the right style! Stay chic and stylish!