Shopping for bridal jewellery is a tough job where picking the wrong one could ruin your bridal look. There isn't a rule that bridal jewellery has to be of gold. Amidst all the wonderful jewellery patterns in gold, there are other options to pick from. Like Polki, Meenakari, Diamonds or even kundans, these are equally beautiful options. They look wonderful on lehengas as well as sarees. They not only enhance your look but also can be a part of your bridal jewellery collection later. After all, wedding jewellery is a part of a family's heritage or heirloom and goes down generations.
Check out this bridal jewellery guide to know what to include in your bridal collection–
Polki Jewellery
Polki is uncut diamonds in their raw and purest form. Nothing can go wrong if your pair Polki with pearls or emeralds. Because of their natural, untouched form, Polki is expensive and popular with brides. Above all, Polki came into existence in the Mughal era. And since then has been a part of the Gujarati and Rajasthani heritage.
Meenakari jewellery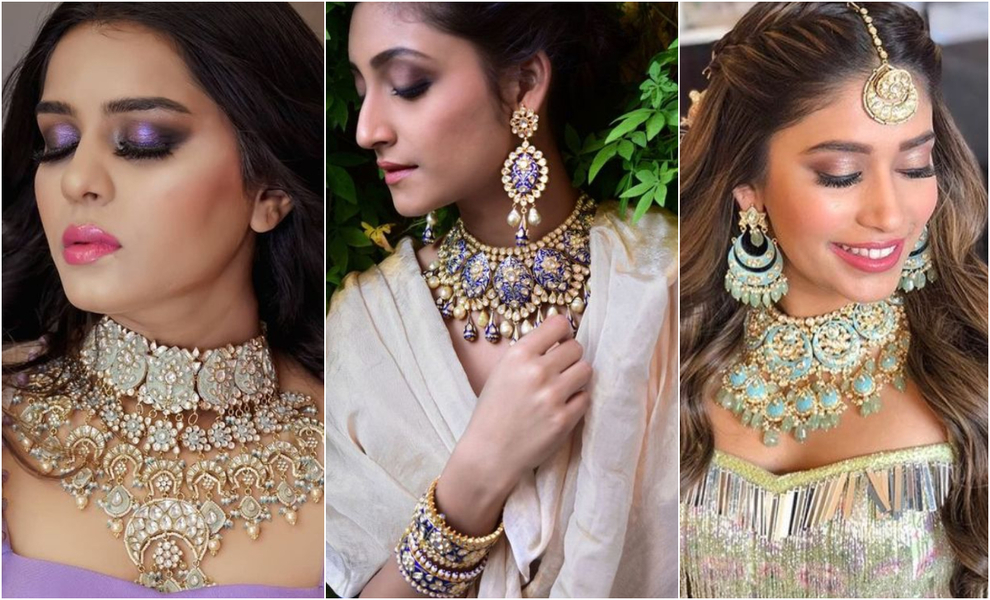 If you are a millennial bride who doesn't prefer the same old patterns of gold, then Meenakari is for you! The offbeat jewellery style adds a pop of color, style, and chicness to your look. You can easily pick these for your mehendi or Sangeet outfit to keep it stylish and modern. Meenakari is an art of coloring the grooves of gold or silver ornaments with paints. The jewellery looks stylish and is quite affordable.
Jadau
Jadau jewellery is hands down exquisite and expensive than Polki or even kundan. But its grandeur tells us exactly why! By heating and embedding precious stones in gold, Jadau jewellery comes into existence. They are the versatile stones that can go with rubies, emeralds, Meenakari, and even pearls. Jadau is sure to give you a royal Maharani look instantly!
Kundan Jewellery
Distinguishing between Polki and Kundan can be quite a task! Kundans are nothing but glass stones that are set in gold. Affordable and striking, you can find Kundans in both elaborate and minimalistic designs. If you go by the current trend, the choker and chaandbalis in kundan are the hottest possessions in bridal jewellery.
Temple or Kemp Jewellery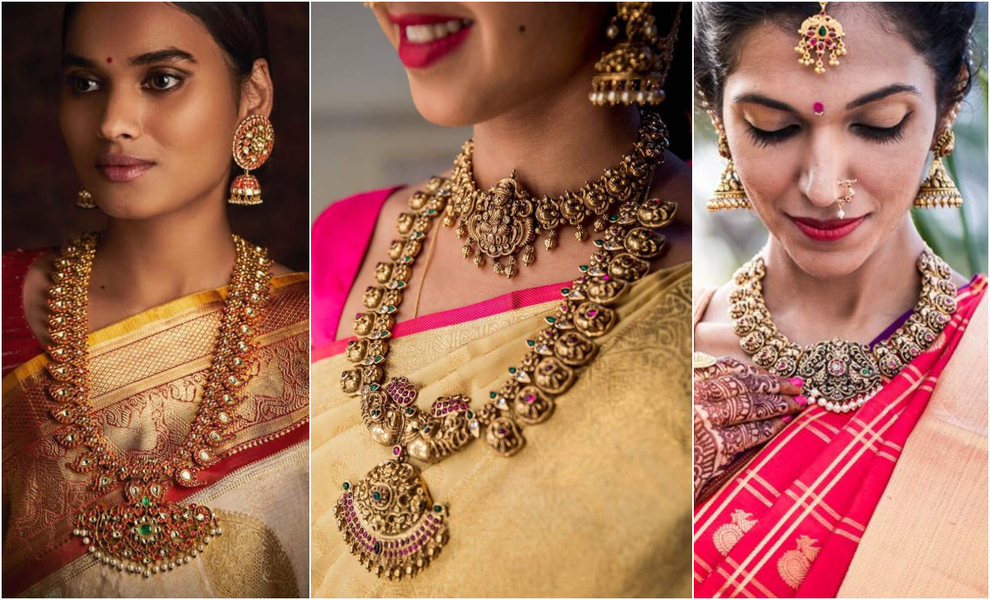 A trend that came and never left is the Temple jewellery. It is an antique gold finish with intricate work. They have appealing designs of gods and goddesses studded with precious stones. They are now an indispensable part of South Indian weddings and its rich culture. Also, Kemp Jewellery (red stones) are now an integral part of Temple jewellery patterns. They give you a perfect traditional bridal look.
Diamonds
Diamonds are definitely forever! Therefore making them a part of your bridal jewellery collection is a great idea. Also, when it comes to diamonds, you don't have to worry about matching them with your bridal wear. If you are wearing a traditional lehenga, saree or a gown – diamonds literally go with all these! Delicate, striking and everlasting – no wonder diamonds are famous as a woman's best friend!
Hope this jewellery guide helps you to explore a variety of jewellery for your bridal collection!