Kurtas are like a staple to every Indian wardrobe! This piece of ethnic wear is easy to dress up, versatile and comfortable to survive long hours. It is the go-to ethnic wear! From weddings and festivals to flaunting it at work – we all love wearing a kurta. And as much as we love shopping for the readymade ones, we also love customizing out kurtis. As sometimes you love a kurti but aren't happy with its sleeves or neck patterns. And we know how important kurti neck designs are to enhance our look.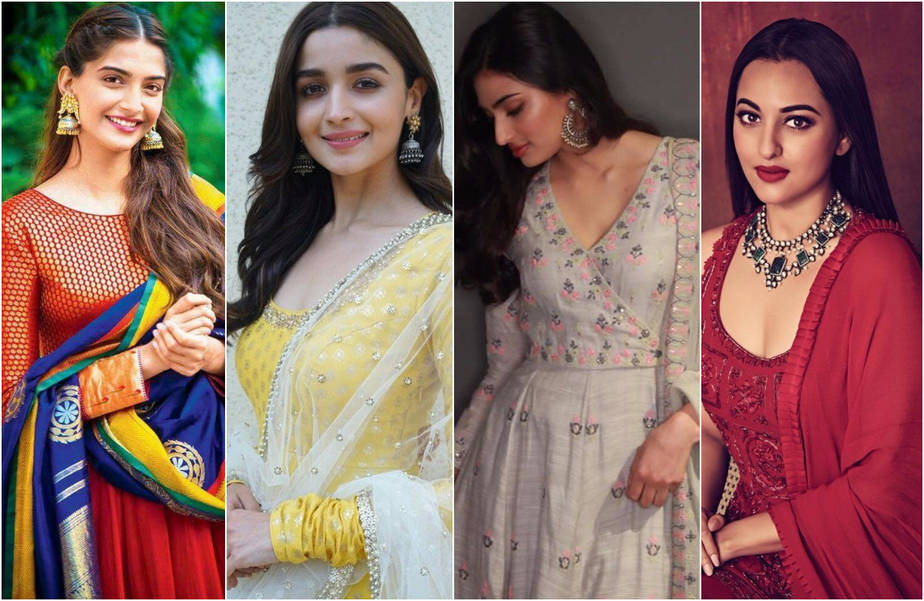 Planning to get a kurta stitched? We shortlisted some Bollywood-approved kurti neck patterns that are currently trending. Head to your masterji (tailor) and get these neck patterns customized for your kurtis.
Check them out –
Keyhole Neck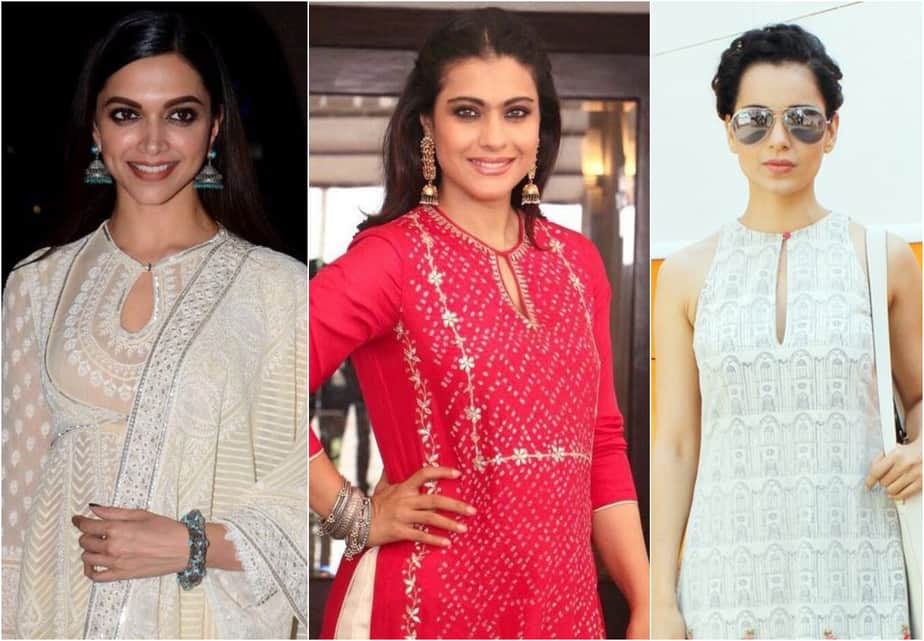 Inspired from its name, the keyhole kurti neck design looks like a lock as it forms a similar pattern. The keyhole near the collar bones in this pattern adds a little bit of an oomph factor to the rather simple neck. This neck pattern is unique and all the focus is on the neckline. You can also add a tassel or a contrast-colored button/stone at the center forming a keyhole.
Angarkha Neck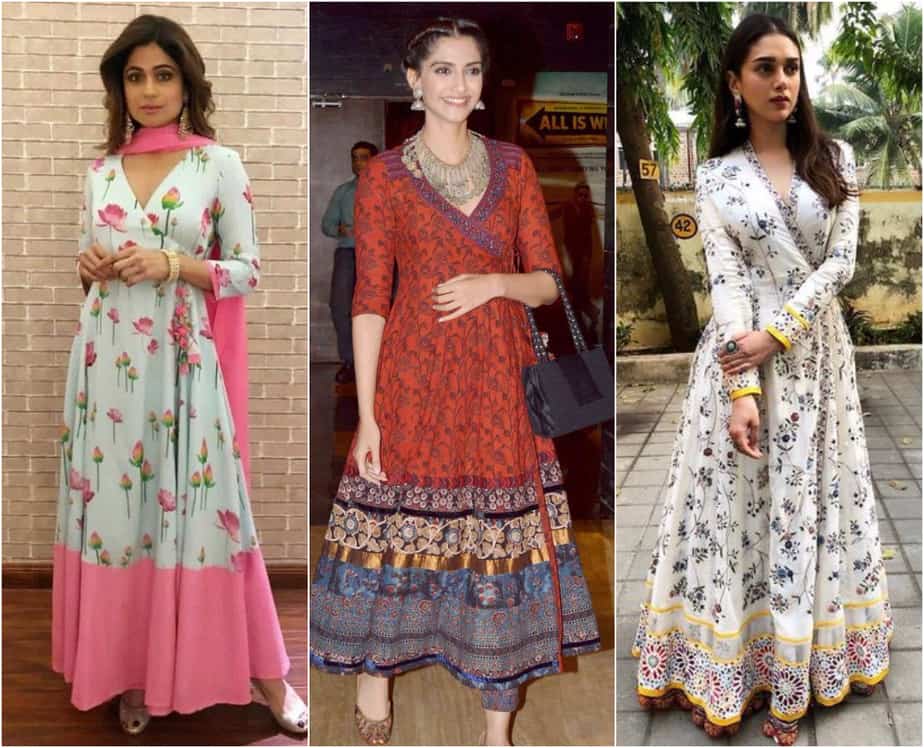 The Angarkha style wrap kurti neck design is a flashback from the Mughal period and we love it! This neckline is modest and looks sexy as it enhances your ladylike charm. You can go for a complete Angarkha pattern or create just the neckline to end it right at your waist. Flaunt away your slender neck and beauty bones!
Tapered V-Neck
A tapered V-neck is certainly one of the chic options for ethnic wear. It easily adds a lot of chic-ness to any outfit! This neckline is a safe option for all those curvy or broad-shouldered beauties. As it creates an illusion of a long neck thus making it your go-to neckline.
High Neck Pattern
The high neck is the ultimate classic pattern which is now raging in fashion! This pattern oozes sophistication and elegance. This neck pattern is trending in blouse patterns. But it looks equally marvelous as a kurti neck pattern. You can jazz it up with some bling along the neckline and make it no less than a designer kurta!
Boat Neck Kurti Neck Design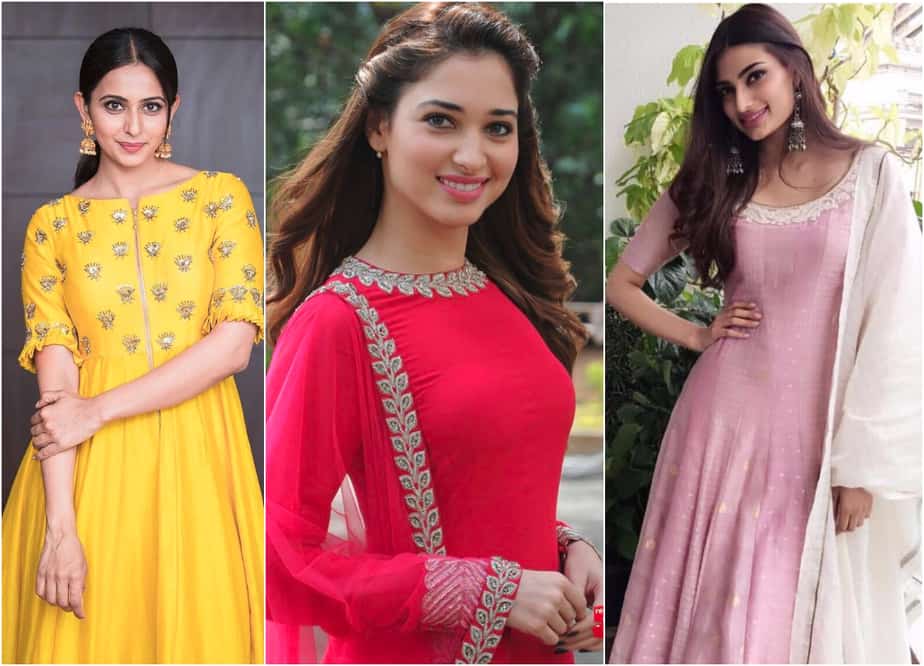 Boat neck design is a blast from the past and we couldn't be happier about it! It is up to you on how deep you want the boat neck to be. Some keep a smaller U while some prefer a deeper one. In addition, if you are naturally blessed with killer collarbones, flaunt them in this neckline!
Scooped Neck
A Scoop-neck is nothing but a deeper 'U' shaped neck. Its neck has a full curve that is deep and has a wide width. Taking the basic 'U' shaped neck pattern a notch higher, the scooped neck adds a lot of glam to your look. Also, this one is again one of the top trending kurti neck designs.
Also, Deepika Padukone wore a scooped Neck kurta as she flew for her Bangalore Reception. Doesn't she look simply gorgeous?
Hope this article helped you in taking sartorial cues from the Bollywood divas. Get these kurti neck designs stitched and flaunt them in style!