There has been a whole lot of controversy for sunscreen. But, here's what you need to know about the sunscreen that you use. Sunscreen is basically a positive barrier that protects our skin from UV rays. Harmful ultraviolet rays of the sun may cause damage and skin cancer. Therefore, skincare invented something called sunblock for everyone to protect their beautiful skin. There are sunscreens for every skin type but we have listed the best sunscreens for sensitive skin. One should always pick the best sunblock for their sensitive skin so that it does not break out.
Before jumping right on the preferred sunscreen for sensitive skin, it is very important to clear some facts regarding a sunblock. The importance, advantages and everything that goes on behind the scenes. So, here we go with the facts and points which should be in knowledge to everyone.
The atrocious and evil effect of UV rays
Before considering the importance of sunscreen one must have a look at what UV rays does to our skin.  UV rays are very powerful and they cause suntan which is a result of melanin production. Suntan contributes to wrinkles and fine lines which appear on the skin after some time. UV rays also destroy collagen which is present in our skin to make it look plump and supple.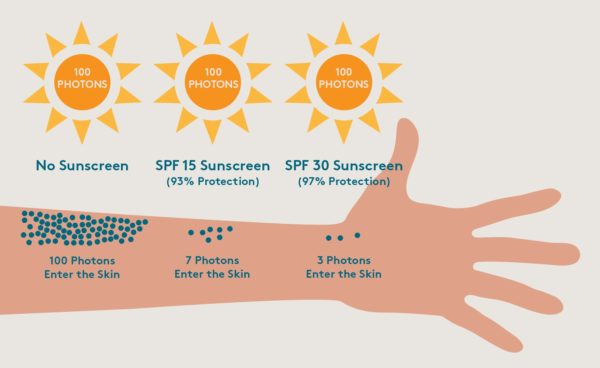 UV rays plays a vital role in causing skin cancer and hurting the skin to a great extent.
Skin Cancer – A concern
Obviously, skin cancer is a major concern because it damages your skin badly. The Foundation of Skin Cancer states that more than 90% of the people suffer from skin cancer because of harmful UV rays. The UV radiation destroys the DNA that originates in our skin and ultimately it causes skin problems. These are all the aspects which will make you realize that the sunblock is a must.
The role of a sunblock begins from here when we ultimately realize how badly UV rays can affect us. The wicked consequences of UV rays tell us to apply and be a sunscreen person. Stock it up because you should never fall short of sunscreen in your vanity.
Sunscreen for sensitive skin
Sensitive skin is the one which gets affected very easily from the environment. It is like a soft baby which needs to be taken care of with utmost punctuality.  Below are listed some of the best sunscreens for sensitive skin which are worth each penny.
1. Neutrogena Ultra Sheer Dry-Touch Sunblock SPF 50+
Things are gonna change if you opt for this goodie. The best sunscreen for sensitive skin which will not cause you any breakouts is this one. With 50+ SPF, this sunscreen protects you from the harsh sun rays which may damage your skin to the core. The oil control formula will make your skin look clean and matte for a long time.
The ratings of this sunscreen are absolutely great and one can definitely rely on it. It is perfect for sensitive skin. It helps to get that perfect base which is extremely valuable. Neutrogena as a brand is trustable and one should apply this sunscreen for sensitive skin. (BUY HERE)
2. Kaya Sun Defense Sunscreen for Sensitive Skin
This one from Kaya is the best sunscreen for sensitive skin. Specially formulated with formulas to suit sensitive skin, this sunblock has SPF of 15. It protects the skin from harmful UVA and UVB rays. (BUY HERE)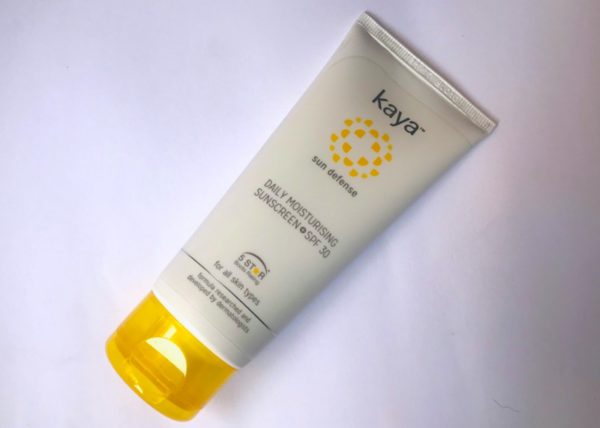 Since it has SPF 15 it should be reapplied after some time if you are heading in the sweltering hotness of summers. Kaya is a well-known brand and this sunscreen is a blessing for people who have sensitive skin. It doesn't cause any breakouts or pimples and keeps the skin squeaky clean.
3. Lotus Herbals Safe Sun UV Screen Matte Gel Sunscreen with SPF 50
Matte gel sunscreen works like magic for sensitive skin. This one by Lotus is the best sunscreen to protect the skin from the destructive rays.
The matte texture makes sure that the pores are not apparent. The fragrance is very mild and floral and it is not glutinous on the skin. The shine-free look after applying this sunscreen is worthy. It has a soothing effect on the skin which is perfect in the scorching heat of summers. (BUY HERE)
4. Lakme Sun Expert SPF 50 PA+++, Ultra Matte Lotion
Summers can be really irritating if you don't have the best sunscreen in your purse. The Lakme Sun Expert with SPF 50 is such a boon to your sensitive skin. It is a non-sticky formula which glides on very easily on the skin without leaving a white cast.
The sunscreen doesn't feel heavy on the skin. It can be applied after every 2 hours if you are out for the entire day.  (BUY HERE)
5. WOW Water Resistant Sunscreen with SPF 50
If something is wow, it is actually WOW. The best sunscreen so far for sensitive skin is WOW AM2PM Sunscreen. WOW is a rustic brand that manufactures the natural product.  It is perfect for sensitive skin because it reduces pigmentation and avoids tan on the skin.
It is like a lotion and the colour is white. The texture is creamy and glides on very easily on the skin without causing irritation. The scent of this one is mild and it moisturizes the skin well. The sunblock is formulated with natural extracts and oils. (BUY HERE)