Ever been in a situation when your cat eye eyeliner look disaster? Or the mascara has just crossed all the way of lashes? Or the foundation which gives high-coverage looks cakey and lumpish? Well, there are times when these situations often collapse us when we are in a hurry. But, the endless gratitude is given to the basic makeup tips and tricks which are useful in the long run. Gone are the days when you were dying to visit a parlour to get that perfect makeup look. The generation has crossed the limits of development and advancement and finally, we have some really cool makeup tips and tricks.
These are handy and I swear you people are never going to end this panorama of makeup tips and tricks. Just follow these basic makeup tips and avoid all the hustle that eyeliners, lipstick, foundation and mascara create. Here are the 10 excellent makeup tips and tricks that are definitely advantageous and benevolent to the next level.
1. The most viral cat eyes look with tape or spoon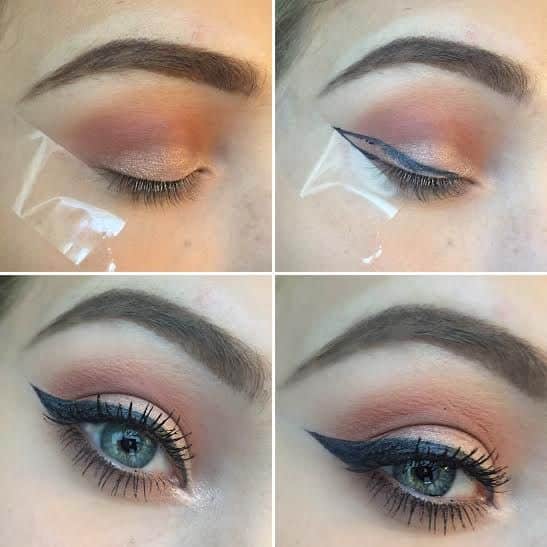 One of the most viral and circulated makeup techniques includes this one. The perfect cat eye look can be created with a spoon or specifically tape. Yes, you heard it right. Applying eyeliner never creates hustle but the wing of the cat eye is definitely a complex and fiddly one. But, all you need to sort this problem is a spoon or tape. Stick the tape at the end of your lower lash line. After doing so you can trace the eyeliner where the tape goes and create a perfect wing. A spoon can be placed in the same way and perfect cat-eye look can be created.
2. Perfect arc eyebrow with an eyebrow pencil   
      
Ever been in that situation when you are about to do your brows but things go in the opposite direction. Well, don't make it hectic instantly. The spoolie of the brow pencil will help you to settle down the standing hairs. Now, start with the thinner side of the pencil tip and outline the outer corner of your brows. To intensify the hair growth, start with sketching the hair strokes to make it look real and dense. After finishing with brows apply a concealer on the top and bottom of the arc of the eyebrow. This will clean any excess lines if there and will lift the brow. An added tip here can be applying the highlighter on the brow bone to make it look sensual and extremely classy.
3. Curled lashes are no way far with a heated curler
We often curl our lashes using an eyelash curler. But, what for the times when the eyelash curler loses its authenticity? A quick makeup trick can be heating your eyelash curler. This is one of those makeup tips and tricks which seems daring but is really helpful. Like a curling wand helps in getting that perfect curls in the same way the eyelash curler can be used. Just heat the eyelash curler before you curl your lashes. However, be very careful while doing so. Let the eyelash curler cool a bit so that you don't burn your lashes. After that follow the same procedure and you are good to go.
4. 2-in-1 Lip and Cheek colour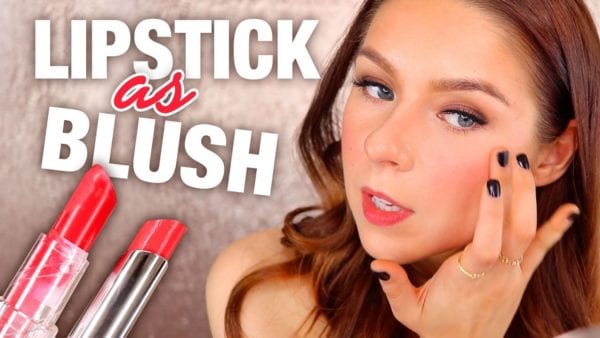 High-end makeup products can be very expensive. To save a bit of money and extracting out the 2-in-1 purpose from a single product, invest in a lip-cheek colour. Makeup tips and trick include this one where a lip colour is used as a blush. Use your lip crayon and apply small strokes on cheeks to achieve the finish of a blush. Now, blend it with the most amazing tool that all of us pursue our fingers. This technique helps you in achieving a natural appearance.
5. Craving for gel eyeliner is now over – DIY
I have always been in that situation when I need gel eyeliner but luck enforces me not to buy one. Well, these makeup tips and tricks are hell useful because now inventing DIY gel eyeliner is really effortless. All you need is Vaseline or petroleum jelly, aloe vera gel and black eyeshadow. In a tub container, pour a half spoon of petroleum jelly along with aloe vera gel. Now mix both of them really well. Scratch and powder down the baked eye shadow to avoid lumps. Now, mix it with the mixture and apply it with an angular brush.
6. Make that lipstick last utterly longer – Best Makeup Tips and Tricks
It happens bazillions of time when our lipsticks go out of their ways. But, thanks to one of the best makeup tips and tricks which has proved to be a lifesaver. A compact powder is all you need to fix your lipstick in place for 6-7 hours straight. After applying the lippy place a tissue paper on it. Now, dust some loose compact powder or a loose setting powder above the tissue paper on your lips. Doing so will set your lipstick like never before.
7. Perfect lips with a DIY lip scrub
Using a natural, DIY lip scrub can prove to be one of the best makeup tips and tricks in the long run. Usually, fuller lips cannot be achieved by just outlining the lips every time. A scrub is must to exfoliate the lips and remove all the dead skin cells. For this take coffee and coconut oil in a bowl. Mix them really well and apply it on your lips and start exfoliating them in gentle motions. This will help in removing dead skin cells and fuller and perfect lips will be the final outcome.
8. Fix the ruined pigments with Rubbing Alcohol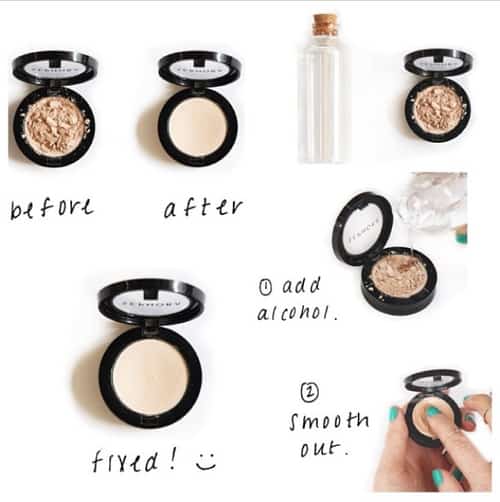 You people can definitely relate to this if you are a makeup junkie. There are often those times when the baked pigments of eye shadow, highlighter and blush are ruined drastically. This situation creates a real panic mode because who can afford to lose such expensive and exquisite makeup? So, one of the most viral makeup tips and tricks include this one where a broken pigment can be fixed with the help of rubbing alcohol. All you have to do is pour a spoon full of rubbing alcohol in the pigment and mix it really well. Now, close the shutter of the pigment and let it rest for some time. This trick is definitely going to help you in gazillions of ways.
9. Soak that excess oil with blotting papers
Blotting papers are a total lifesaver. Excess oil from the skin can be removed or reduced by using blotting papers. Just grab one of them when you are in a washroom and pat it gently all over your face. This makeup tips and trick will help you when you sweat extremely high in summers outside.
10. Ever ran out of your favourite lip gloss – here's the DIY
Often in the hurry to apply perfect lipstick we usually don't bother to see if that same lip gloss happens to exist or not. In such a tricky situation, the best makeup tips and tricks prove to be supportive. All you need to do is mix some petroleum jelly with a loose eye shadow pigment. Mix them really well. The result that appears is your own customized lip gloss which is handy and perfect.
The ever useful makeup tips and tricks are worth trying. They save a hell lot of time and how can we forget that they are a total money saver as well. Such amazing makeup tips and tricks are helpful in the long run and one can never get weary of them.