Navaratri is here. This is the time to rejoice and enjoy everything festive. This is also the time when women get time to dress up and look their best. Durga is a special time for sure. The look that women opt for this puja is quite different from the ones they may choose during other festivals. Durga puja is all about women power, hence pick the hairstyles that make you look powerful and feisty. Here are some hairstyles that will look absolutely perfect for Navratri celebrations..
These are the six traditional hairstyles for Durga Puja –
1. Free Curls
When you are wearing the traditional white and red saree for durga puja, no hairstyle is better than the free curls. Most of the Bengali women love to flaunt their long curls during this time. You can part your hair in the centre and pull all the curls to one side of your shoulder. This is a very natural look that you can wear with any outfit, especially traditional sarees.
2. Puffed Center Parting With Back Bun
This is a traditional Bengali hairstyle. Part your hair at the center and create slight puffs on both the sides. Pull back the hair lightly and make a hair bun. This is going to look absolutely demure when accompanied with a traditional silk saree of any kind. You can also wear sindhoor in the parting to create a much more traditional look.
3. Center Parted Tight Bun
If you are not someone who likes puffs, you can go for a centre parted tight bun which is clean and sharp. This hairstyle is suitable if you have straight hair. An ethnic saree, gold jewels, a large round bindi and festive makeup are all you need to round up this look.
4. Center Parted Side Plait
For a more casual look, you can pick this hairstyle. Just part your hair at the centre and then weave a regular plait that goes on one side of your head. Leave the plait on one shoulder making it look like a side plait. If you want to pep up the look, you can use a maang tika too. This hairstyle is suitable for you if you have long hair.
4. Flower Covered Hair Bun
Flowers are an integral part of our festivals. So, how can you leave behind the flowers when you are getting ready for the festivals? In this hairstyle, you just have to make a back bun and then weave around fresh jasmine flowers around it. As the flowers cover your entire bun, your hair will look fresh and beautiful. This hairstyle is good for the saree looks.
5. Fancy Lower Bun with Flowers Only On Top
Traditional hairstyles can always be done with some twist in them. This will keep the traditions intact and also add an interesting angle to it too. Make a lower bun that has some twisted strands in it creating a design in the bun. The lower the bun, the better. Also, don't forget to wear a bunch of flowers only on the top of the bun.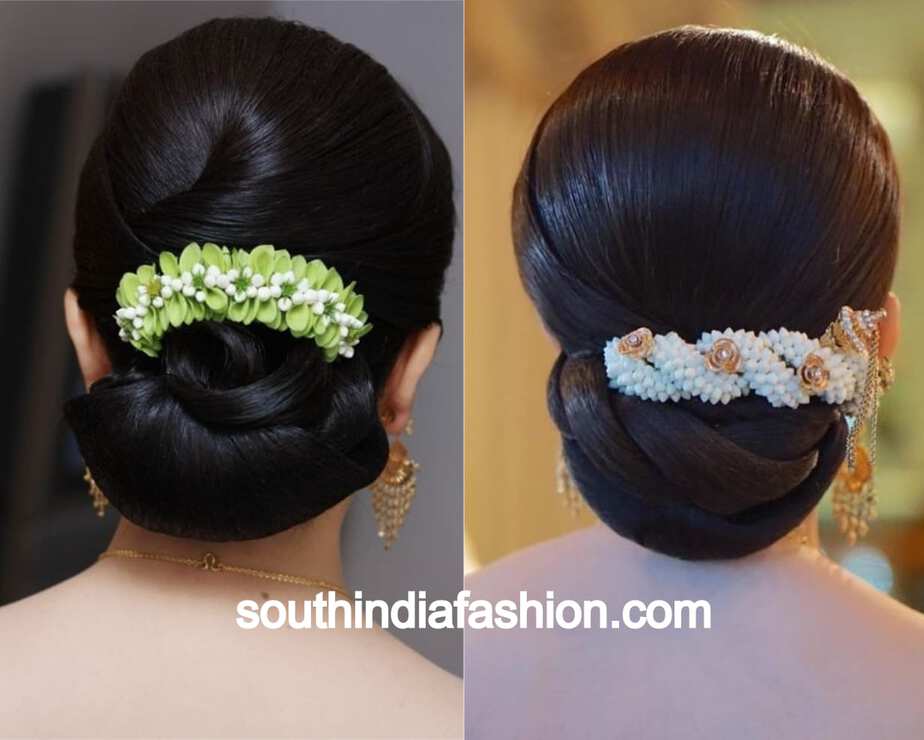 These are some of the traditional hairstyles that you can opt for this festive season.