Fashion is like a treasure box. The longer anything is kept inside, the more valuable it becomes. Fashion trends tend to gain more value and importance as they become old, in other words vintage. What was a raging fashion trend in the 80's may have declined and seen a slow death over time. But, it certainly comes back to life with a face lift and some necessary alterations to suite the present day. Here are some 80's fashion trends from the that are back in style once again this year..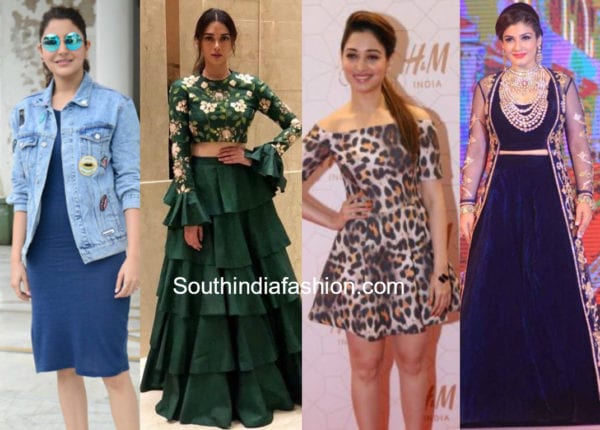 80's Fashion Trends That Are Back in Style:
1. Denim Jackets 
We have all seen pictures of our elders wearing over sized denim jackets. While some wore it plain, others were very creative by adding their own art work on it which included pins or patches or acid-wash. The jackets were supposed to make you look cool. Cut to today, what do we have? The same old denim jackets, but this time they are a bit more groomed. Jackets with quirky patches, embroidered floral patterns, interesting pins and random tares are what we are wearing today. Denim jackets are comfortable to wear when you are travelling, especially during nights. One good thing about a denim jacket is that, it goes well with any outfit – on a shirt and trousers, a top and skirt, a maxi dress or even a kurti.
2. Pegged Jeans 
We have seen actresses of a different era wearing pegged pants. It is just jeans pants tightly-rolled at the ends. Pegging made you look chic then, it makes you look stylish even today. In fact, more than flair, it is a casual style that can be worn for airports, travelling, date with your friends and for a movie night out.
3. Velvet 
Velvet, the word itself is so soothing. Just like its texture, velvet dresses are smooth to wear and carry at any event, be it in the day or evening. Worn even by the royals, velvet was very popular moment during the 80s. Today, it is everywhere, dresses, blouses, handbags and even shoes.
4. Ruffles
Ruffles are bold and big. They are worn to create an impression. Hence, they must be worn with full confidence and attitude. Ruffle dresses are vibrant and attractive to wear in any occasion. But it has to be said, the ruffle of today is quite subtle compared to the yester years. Ruffle blouses are also a thing in today's fashion world. You can wear a knee length ruffle dress for a luncheon and look stunning.
5. Animal Print 
Some of you may argue that animal print was never lost to be found again. But, I doubt seeing anyone wear animal prints as often as in the 80's. Today, the classic print is back in the most exotic way. It is the new age street style that even our celebrities prefer to turn heads. You can wear an animal print overcoat on a simple, sleek dress.
These are some of the 80's Fashion Trends  that are staging a very bold comeback.