In this ever changing fashion era, we all love to invest in timeless outfits that always remain in style. Succumbing to trends is never wrong, but investing in timeless versatile pieces is equally beneficial on the long run. So today, we combine two strongest and the most versatile essentials of our wardrobe. The combination of the timeless plain saree and the elegant kalamkari blouse. We are drooling over this trend and read more to know why you must try it out. Here are some plain saree Kalamkari blouse looks that you should try.
(SHOP KALAMKARI BLOUSES ONLINE HERE!)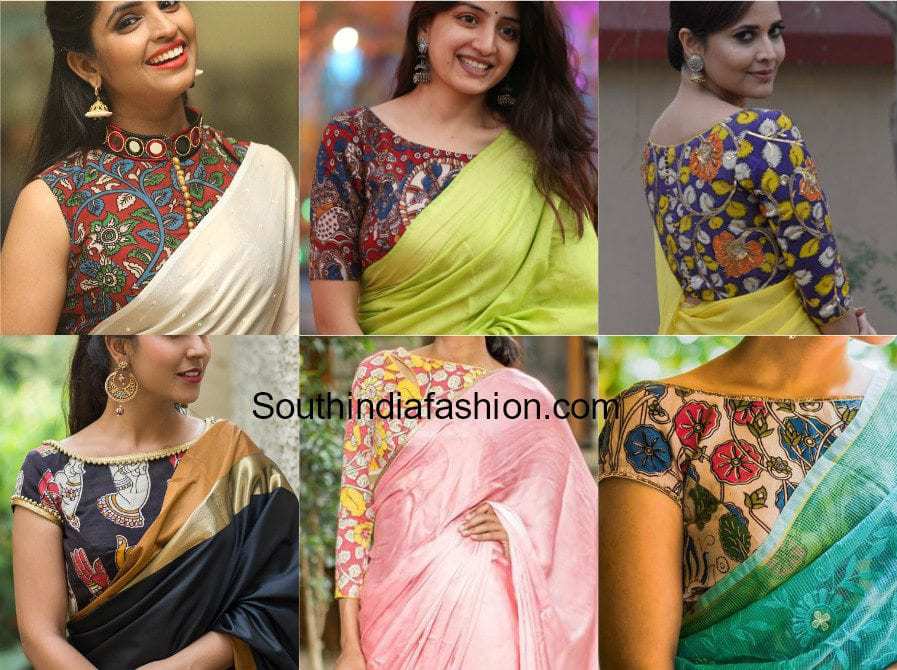 Gone are the days when we used to match the blouse with the saree. Contrast blouses are very much in fad and are definitely here to stay. But if there is one versatile blouse that we swear by and which will be in trend even after 10 years from today, then it would definitely be the kalamkari blouse. Now, out of all the blouse designs why do we emphasize on the kalamkari?
The traditional Indian dyed print has the ability to blend with almost every other saree in your wardrobe but the saree with which it's beauty is most enhanced is the plain saree. Any plain cotton saree or silk saree teamed up with a kalamkari blouse will effortlessly set you rock at any occasion.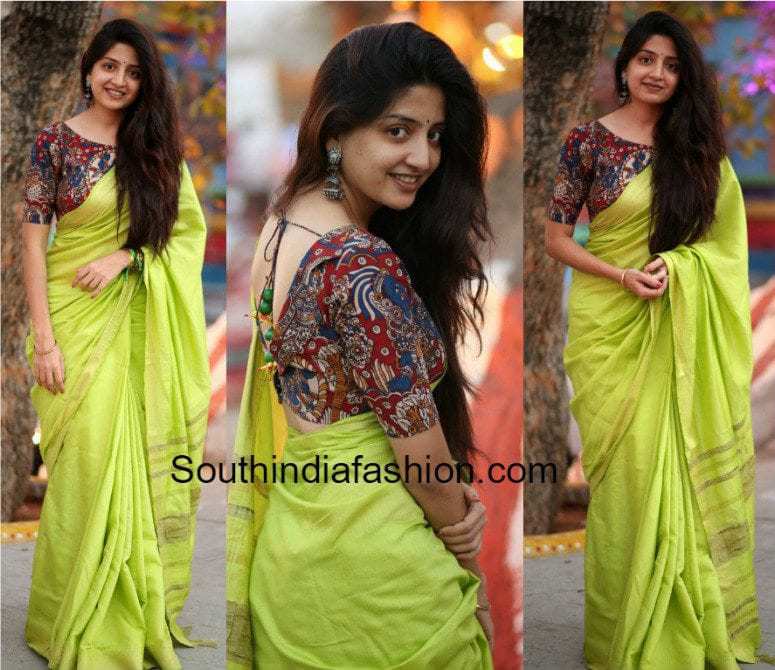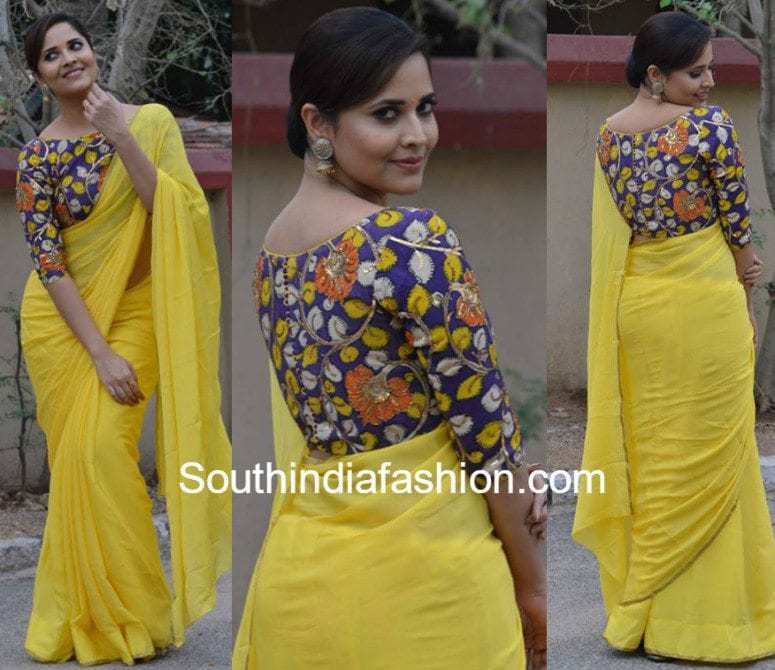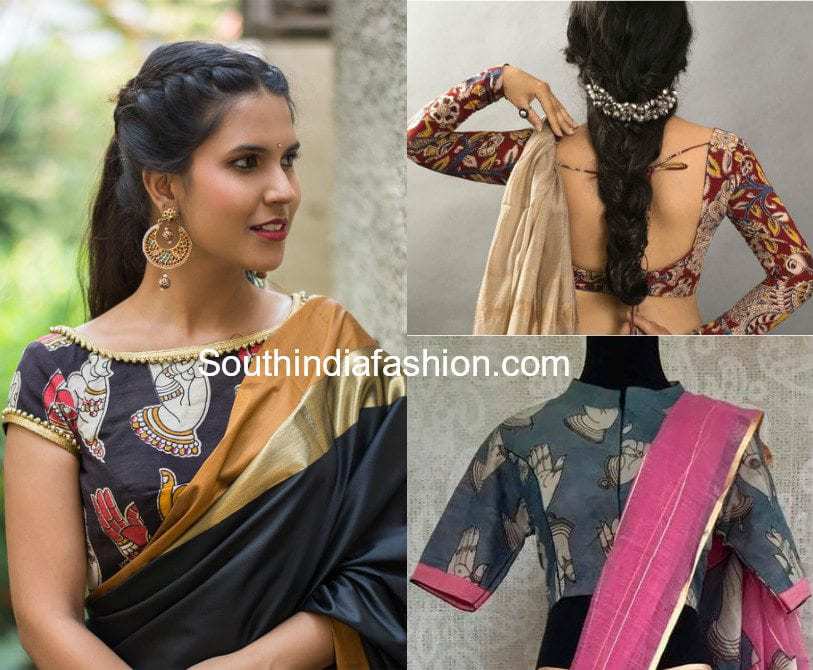 Kalamkari blouses come in a variety of different styles. From sophisticated high necks, edgy cape styles to trendy cut-outs or even a simple half sleeves kalamkari blouse will help you gain all the attention that your saree look deserves. A kalamkari blouse does all the talking when it is paired up with a plain saree hence you can easily achieve the simple yet sophisticated saree look.
Be it for your daily office wear, festive occasion or any wedding event, the combination of a plain saree with a kalamkari blouse is for the win. They can be experimented and styled in a variety of different patterns suitable to any age group.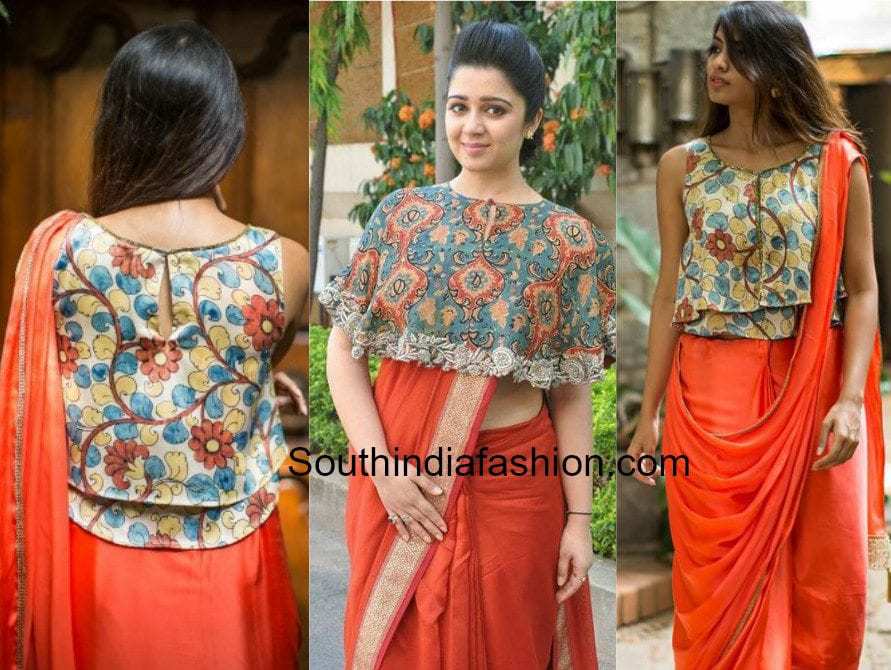 These are a few of our favorite picks in the ongoing trend. Be it any style we are sure you will find your favorite amidst these! 🙂
SHOP READY MADE KALAMKARI BLOUSES ONLINE HERE!
PLAIN SAREES – SHOP HERE!