Asymmetric hemlines have always had their fair share of limelight. They are fun and bold and you need to experiment with these once in a way when you want to try funky in Indian wear. Yes, asymmetric styles can be paired very well with ethnic wear too. Here are a few fail proof asymmetric outfit options that can never fail to impress.
1. Tunics
Something that is ever available in your wardrobe, give it a shake by getting a few done with an asymmetric hemline. You can pair these with well fitted cigarette pants, trousers or however you please. Check out Shilpa Shetty slaying it in a Nikhil Thampi tunic.
2. Kurtas
Yet another staple in our wardrobe, make it a little different by opting for asymmetric kurtas. Go for even high low kurtas that looks really nice. When you are opting for high low kurtas try out two different colors of fabric so as to get a fancy effect. Favorite colors for a asymmetric kurtas seems to be indigo!!
3. Anarkalis
A must have, cannot stress how effective an Anarkali can be for your wardrobe. A dramatic touch to it, pick one of the asymmetric or a high low Anarkali. You can add borders across the hemline to show the style, thus making it more intriguing.
4. Lehengas
Ok. How do we make a lehenga asymmetric? Well you can add a basic straight hemline and add layers that give you an asymmetric illusion. You can add to the effect by borders or change in fabric colors. If you do not want to experiment with the skirt, you can try on a fusion lehenga with your top by making that asymmetrical.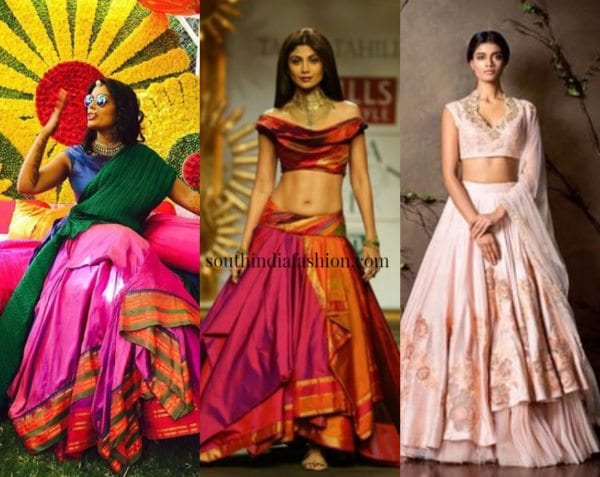 5. Indo Westerns
Now a days an Indo western dress is a mandate for a wedding. The bride tries these options either for the sangeet or for the reception. If you are in the mood to experiment without too much of experimenting done, try out an asymmetric hemline Indo western.
Asymmetric styles can actually be tried and liked by anyone. Try it to believe it!!