Adding flowers to your hairstyles has always been a part of tradition. We just randomly add a line of jasmine or mogra or pin up a couple of roses when we try out a bun. But how interestingly can we use flowers to enhance our hairstyles? Well the options are endless. Plain hairstyles can be converted to something quite feminine with the addition of flowers. Especially if you are going for a wedding or a function, or if you are a bride to be, then this one is for you.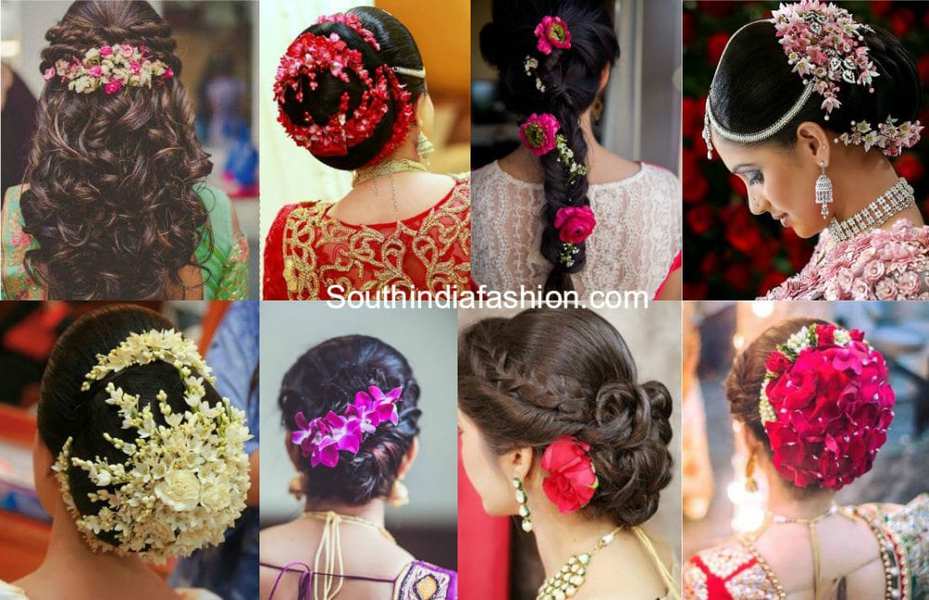 1. For A Bun
When we try a bun, we just wrap around some flowers and be done with it. As much as that is easy and the best way to show off flowers in a bun, try doing that in a better way. For one make sure that if you are using jasmine it should be small and closely grouped so as to give one pretty look. You can also try and cover your entire bun wit these pretty flowers or arrange it in a pattern. Alternatively a single strand around just the top part of the bun along with a hair ornament will give it a complete look. You can also use colored veni or colored flowers to complement your ensemble.
2. For A Half Up Do
Adding flowers to a half up do is a little challenging. How do we do it the best way then?? Add a thick strand of multi colored flowers to the pinned up area. This would camouflage the pins and also give a pretty effect. If you are not a fan of a heavy strand of flowers add mini rosettes and mix it up with small pearls and tiny hair ornaments for the fairy tale look. You can also add twisted braids in your half up do and adorn the braid with flowers.
3. For A Braid
We all know how to add flowers to a braid. Easy option is a poola jada or a braid of flowers. Well these look very nice and is perfect bridal. If you are just going to be a part of the wedding, you can always add flowers to the base of your braid. Options like a veni in muted tones of gold or fresh flowers can be arranged in an intricate way. If you are looking for flowers for a much simpler braid just wrap around a strand of flowers at the end of your braid or add small flowers to each leg of your braid!!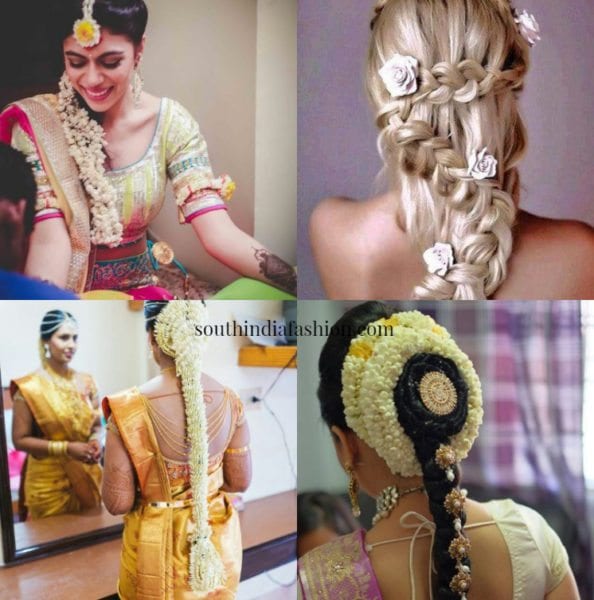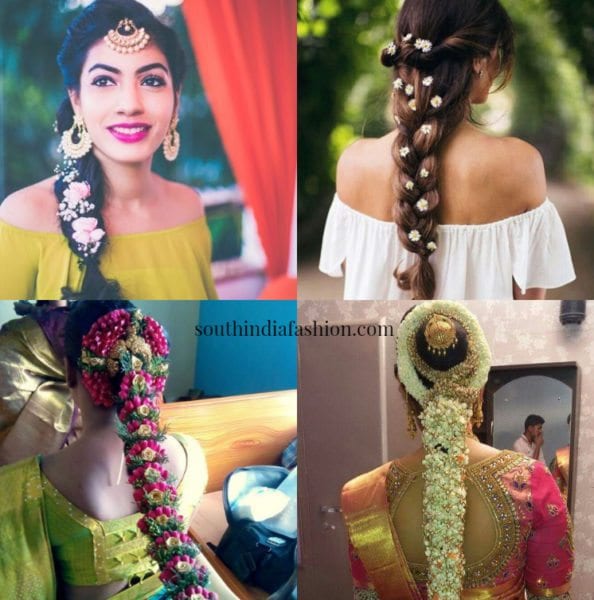 Apart from these pretty floral crowns can give you that flowery feminine touch for your hairstyles. Try these flower additions soon!!