When we go to buy Kanjeevaram sarees we mostly have a mind block to neutral colors. Well aren't neutral colors more suited for western outfits? Though neutral colors like white, black and grey looks great for western outfits they look beautiful on Kanjeevaram sarees too. Grey Kanjeevaram sarees are a rarity but when teamed with the right contrast they work beautifully.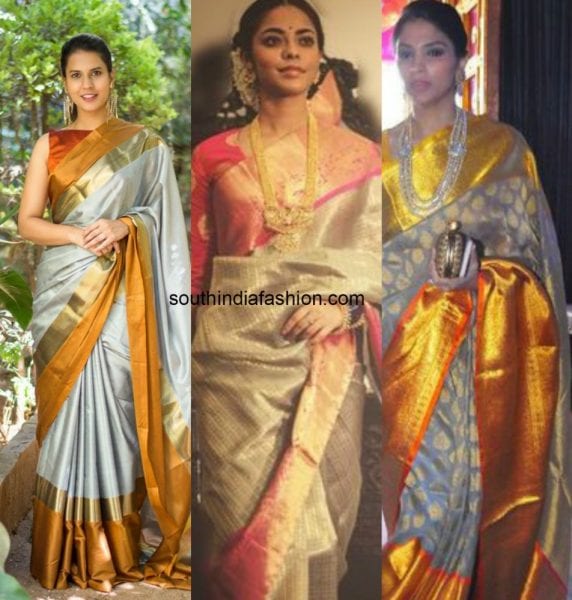 Grey Kanjeevaram sarees are very different in tone and they have various shades of the color that can complement you. In fact the darker shades bordering on color like cement can be paired with rich contrast borders like deep green and even maroon. These make both the colors stand out and looks elegant when worn. We are very partial to contrasting grey with hot pink and feel that it is an awesome combination that can be worn for weddings. Yet another great combination for grey Kanjeevaram sarees would be deep grey and bright orange.
If you feel a grey Kanjeevaram saree teamed with a heavy gold zari border would be wrong contrasts then you are wrong. The combination of gold and silver shades looks remarkable. The best thing about grey Kanjeevaram sarees is that as the color is not one of your traditional colors, all you girls who want to wear silk sarees in trendy tones, you should be picking a grey Kanjeevaram without even thinking!! Team it up with a contrast heavy blouse in boat neck or sleeveless options for more glam.
For accessories instead of just the regular antique jewelry you can always try oxidized heavy jewelry or fancy silver jewelry which is a little heavy. They would look great with grey Kanjeevaram sarees and not look odd at all. That apart your traditional jewelry would look fab too!!
This is our take on these unique grey Kanjeevaram sarees and we feel you should have these grey Kanjeevaram sarees if you do not have them already!! If you have them try picking a lovely contrast blouse and rock it the next do!!!