Kajal Aggarwal is gorgeous and she has great sense of style. This is something that we all know. Her dressing sense is always spot on. So if you are wondering how to have such a complete wardrobe that helps Kajal ace all her looks, here is what should be there in your wardrobe if you are inspired by Kajal Aggarwal.
1. Sarees
How much ever we stress the importance of having sarees at least one or two for special occasions make sure you have timeless pieces. That is important if you do not wear sarees often. Have a mix of traditional weaves like Kanjeevaram and Banarasi and also have fancy options like net and lace. Kalal Aggarwal does exactly that.
2. Anarkalis
Another timeless piece of garment is the anarkali. Something that has its origins way back with the Mughal period and shows its existence every now and then, anarkalis have been strong in the fashion game for a few years now. Opt for Anarkalis like Kajal Aggarwal. Plain simple sleeveless ones for casual wear and heavy ones for formal wear. Unique colors and work done can be the highlight of your dress.
3. Dresses
For a new age woman her western outfits are as mandate as her Indian ethnic ones. Pick up a few dresses both day and evening wear. From Kajal's wardrobe we love the white floral dress and the totally trending off shoulder black dress.
4. Lehengas/Fusion Ensembles
For all the weddings we need to attend a set of lehengas either traditional or fusion is essential. You can actually pick up a few timeless pieces that you can wear whenever but yet you would look rocking. Kajal Aggarwal looks fetching in the blue and skin color fusion ensemble that she is accentuated with rosettes in her hair.
5. Casuals
Shopping for all the fancy events in the world do not forget to have space for your casuals. These are dresses that you can put your hands on first and they spell comfort and style put together. A standard pair of blue jeans, coveralls, skirts, jumpsuits and kurtis fall under this category.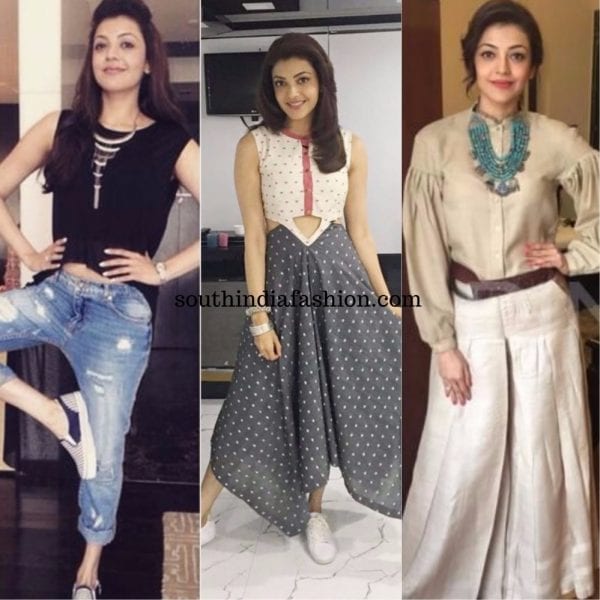 Kajal Aggarwal not only chooses the perfect clothes, but also the perfect accessories. So the lesson is to match your accessories with the clothes, not in terms of same color more in terms of texture, pattern and style. Hope a look at Kajal Aggarwal'sstyle makes you add or remove pieces from your wardrobe and make it complete.