In this sweltering heat are you in the mood to wear the six yards wonder and walk around? Usually the answer is a big no. It is probably because either you feel cotton sarees are not apt for fancy events or that you haven't tried wearing  linen sarees before. The best word that can be used to describe a linen saree is classic.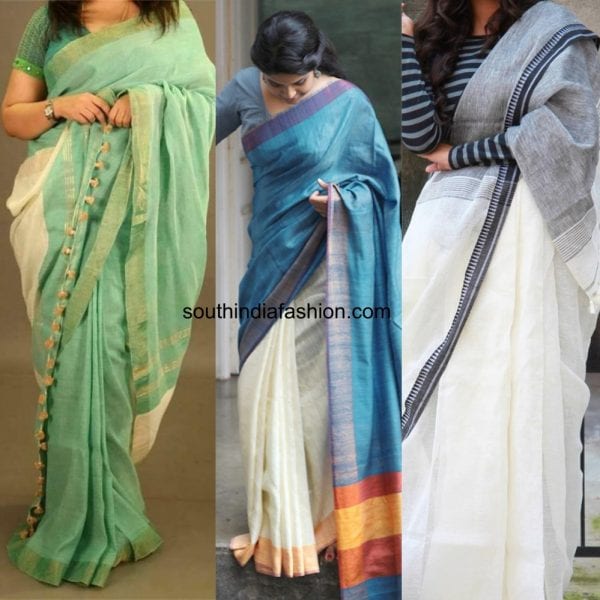 It is a fabric that has long been used for many purposes in the west and in India till the last couple of decades. Now linen is not just used for making men's wear but gorgeous light sarees as well that looks totally classy. The best thing about linen is that it dries very fast, which mean no angry sweat patches and fuss free comfort.
Well, what about events where you need to glam up? Is a linen saree apt for the occasion? Would people think you have dressed up way too simple? Well, do not get worried about all that. Linen sarees are not always plain light color ones. When you add embroidery to a linen saree it gets quite heavy and you can rock it at any event even without accessorizing much. Also brands like Anavila have shown us how elegant a linen saree can be .Many of our favorite celebs can vouch for it. Sometimes linen is mixed with Tussar to make the product rich and opulent.
Now, what accessories to choose when you wear a linen saree? Oxidized jewelry is the best. Do not overdo it as you will spoil the elegance of the linen saree. If you are not ok with oxidized jewelry skip earrings and opt for a lac choker, a delicate one at that and stop. Choose a simple clutch or a bag and you are ready to set the tone. Hair styles that would go with the linen sarees include simple straight hair or pretty pulled up hair in a ponytail.
We are sure you will now start buying as much linen sarees as cotton sarees this summer.