We women love all kind of sarees. When we hear the word silk sarees our sensors pop out right away. Will be Kanjeevaram or Banarasi? Well today let us talk about poetic Paithani sarees. Paithani sarees is an exclusive silk saree which is native to Maharashtra, India. It is named after the town that weaves them with so much love for all the world to see, called Paithan.
In the earlier days, or like how a story is supposed to be told, once upon a time when Paithani sarees started getting hand woven, fine threads of gold were used for the border. The entire body of the saree was either cotton or silk that was imported from China. The Paithani saree is one of the richest sarees of India.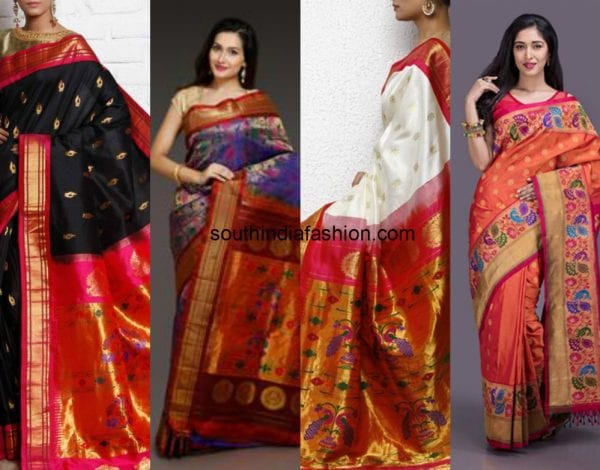 Nowadays the entire saree is made of silk and the border uses a much easier to walk around with, silver threads. The beauty of the Paithani saree lies in those bright colors which is so unique to this kind of sarees.
Just like how the traditional Kanjeevaram saree has certain borders like the chakra, rudraksh and the flower the Paithani saree has borders like the Hans(swan), other birds like the parrot and floral motifs. You can also see a lot of flora and fauna that is/was native to Maharashtra been woven into the borders and the pallu.
Some of the popular ones include Muniya, a kind of parrot used in borders and always found in green color with an occasional red touch at the mouth. Panja, a geometrical flower-like motif, most often outlined in red or a Barwa, 12 strands of a ladder is also quite common.  A Laher is the design is done in the center to strengthen the zari.
Our celebs be it Bollywood or Tollywood rock in these glorious six yards of sheer beauty. They accessorize it with heavy traditional jewelry and at times with flowers in their hair.
You can also try wearing the iconic nose pin of Maharashtra to bring make it more traditional. So please go and buy one or more Paithani sarees and fill up your wardrobe!!