Only one name comes into our mind when we talk about style and fashion in Bollywood and that name is Kareena Kapoor Khan. All her pregnancy dresses were the proof that she is the only fashionista of Bollywood industry. No one has ever created this much of headlines as Kareena did regarding her pregnancy dresses. When it comes to wearing a saree, Kareena exactly knows how to create unique fashion sense by pairing them with stylish blouse designs. Here we are sharing 6 stylish saree blouse designs worn by Kareena Kapoor at various occasions:
Halter Neck Blouse Design 
If you also want to add some hotness quotient to your saree then check out this halter neck blouse design worn by Kareena Kapoor. It's an abstract print Satya Paul saree which Kareena Kapoor has paired with animal print halter blouse. Well, the blouse design of this saree is adding an oomph factor to the entire look of Kareena Kapoor.
Black and Gold Stripes Closed Neck Blouse
Can you even imagine that a simple Kasauv saree can also look so damn glamorous?? Kasauv saree is more like a traditional Indian outfit but check out how Kareena Kapoor has styled her Kasauv saree. The black and gold stripes closed neck sleeveless blouse is giving an illusion of a metallic blouse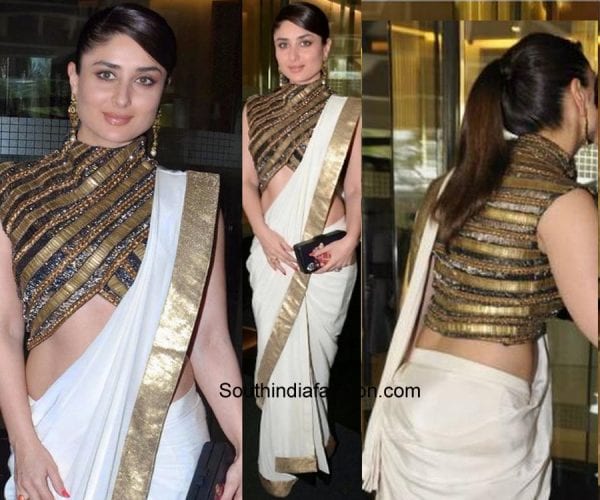 Kareena Kapoor in a Sphaghetti Strap Blouse
Yet again Kareena Kapoor added her style magic to a printed Satya Paul saree by pairing it with a black sphaghetti strap blouse. We really loved the knot in the right front of the blouse as it's making the blouse look like a statement outfit. You can also drape a printed saree with this kind of statement blouse and set the style magic in the next party that you attend.
 Netted Boat Neck Blouse
This boluse design is certainly one of the most copied blouse design, it's quite simple yet it looks quite stylish. We loved the studded pattern that is fixed around the boat neck part, then we loved the high netted pattern and last but not the least the slight leaf embroidery done on the sleeves part is what making this blouse design a must have.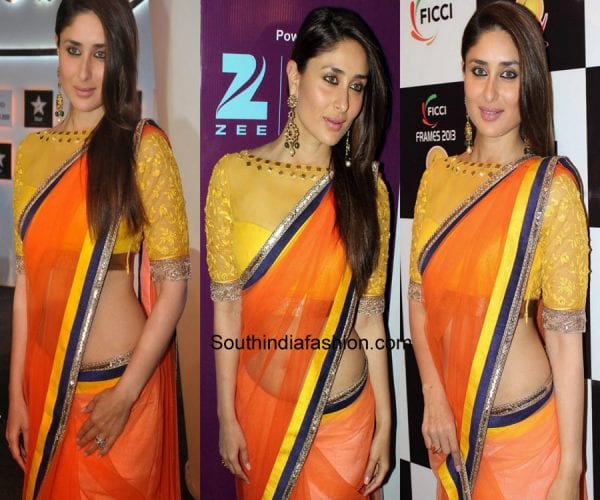 Mirror work Blouse with Sheer Back
There are various smart ways by which you can add on a glam quotient to even a simple looking saree also. Kareena Kapoor very well know all the tricks to look glamorous even in the simplest outfit also. Check out this lovely off white saree with golden stripes that she have paired with a mirror work blouse having a open cut out back design in circular pattern. The rest of the back design is sheer completely.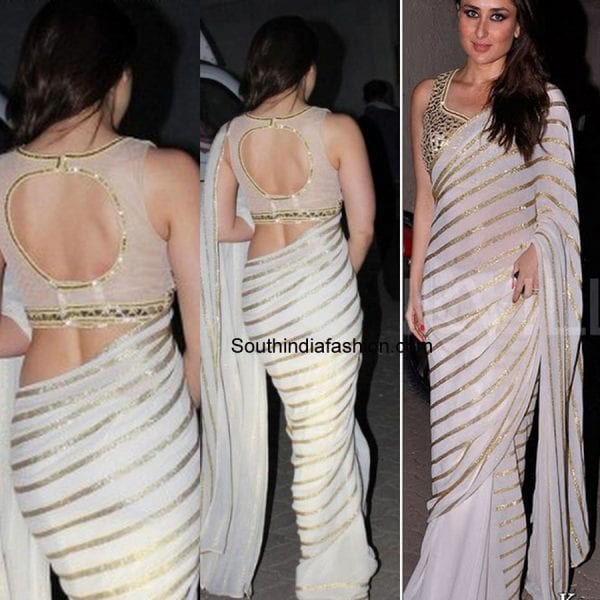 Kareena Kapoor Golden Bling Blouse
At the promotion of her movie 3 idiots, Kareena Kapoor wore this stunning golden bling blouse paired with a red saree and we must say she looked so drop dead gorgeous.
So, these were the 6 stylish saree blouse designs worn by Kapoor that we liked the most. Do comment and let us know which one is your favorite Kareena Kapoor's saree blouse.