Black is a very powerful color. There are people who always have an all-black wardrobe. When it comes to sarees we do not incline a lot towards black as it is considered inauspicious by some people and instead go for bright, cheery colors. As much as you need bright colored sarees these black sarees will make a stunning impact when you wear them.
1. Black Kanjeevaram Saree
A Kanjeevaram saree is a part of every wardrobe. Black Kanjeevarams are not the norm as these make an appearance mostly in functions where black is shunned. This will change once you look at these lovely black Kanjeevaram sarees. Paired with colors like neon pink, green or even plain heavy zari black Kanjeevaram sarees will look rich when worn for weddings.
2. Black Ikkat Saree
Ikkat sarees are in an array of colors like yellow, pink, blue and red. When you get an Ikkat silk saree in black mixed with these bright colors the saree is of a different league. Paired with a colorful blouse it is a complete package.
3. Black Lace Saree
Lace sarees are so feminine. Try one in black and it still would be very feminine and not as formal as you think it would look. Delicate blouse and soft curls will rock your lace saree look for any night.
4. Black Georgette/Chiffon/Simple Black Saree
A simple georgette or chiffon saree in black is a must have. You can wear it for any evening celebration that does not require something heavy or OTT. You can pair it with a spaghetti strap or sleeveless blouse for added glam. Heavy earrings will give you a complete 10 on 10.
5. Black Heavy Designer Sarees
If you are a person who chooses to wear black for parties try out a black saree for your next party. All eyes will be on you for sure. This suits more formal parties and events. The correct amount of bling in it sets the tone just right.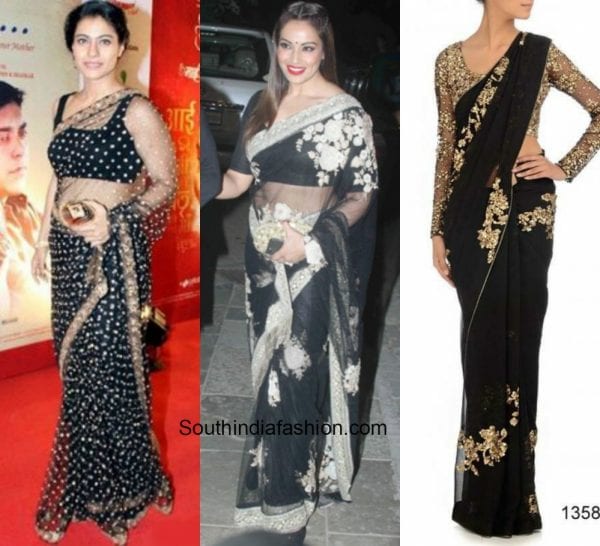 So ladies next time you see black sarees do not think twice. Just go ahead and grab it and bill it. You surely need that saree!!