It's the season of wedding and all the ladies are geared up to give each other a tough competition in fashion. Most of the women prefer to wear sarees in the wedding functions and that's the reason why most of the time they keep on searching for the latest blouse designs online. It's the winter season and that's why the popularity of full sleeves blouse designs has increased among the women. Here let's have a look at 7 most stunning full sleeves blouse designs that you can wear this wedding season.
Full Sleeves Brocade Blouse
Brocade is the perfect fabric to wear during winter weddings and this fabric is also quite in fashion these days. You can choose a lovely brocade material and ask your tailor to stitch a lovely full sleeves choli which you can wear with lehenga as well as saree. You can either go for a complete brocade blouse or you can also choose a brocade blouse with full sleeves in net fabric.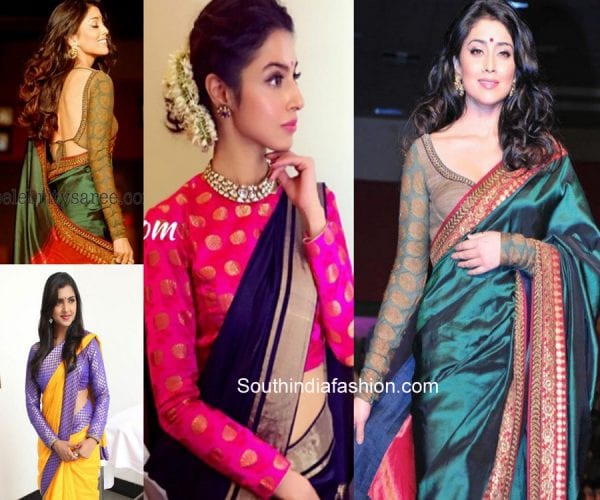 Embroidered Blouse
If you want to keep your saree plain then you have the option to go for a finely embroidered full sleeves blouse design. Again the sleeves and the neck part can be of net fabric and can be embroidered with the lace work. Here are few options of embroidered blouse designs which you can pick for the next wedding function.
Boat Neck Full Sleeve Blouse
Seems like the boat neck full sleeves designs are going to be there in fashion forever. Women who have a slender neck to flaunt, the boat neck blouses are perfect for them to wear.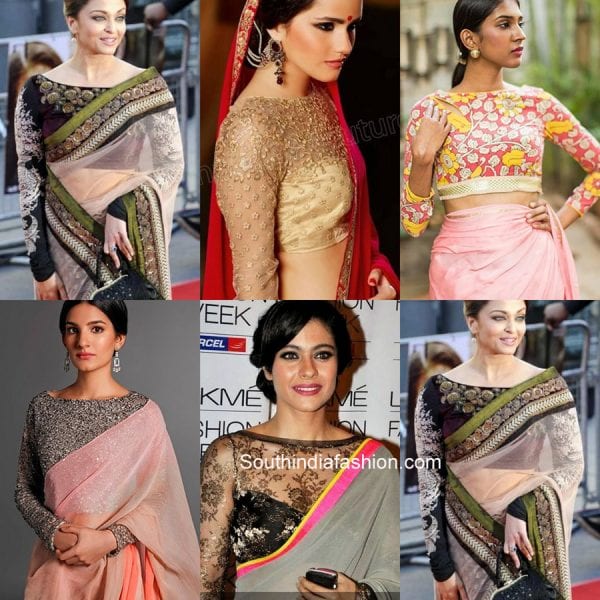 Full Sleeves Blouse Back Designs
Even if you are wearing the simplest blouse pattern still you can manage to grab everyone's attention by flaunting the stylish back designs. Check out these lovely back patterns that you can wear with the full sleeves blouses.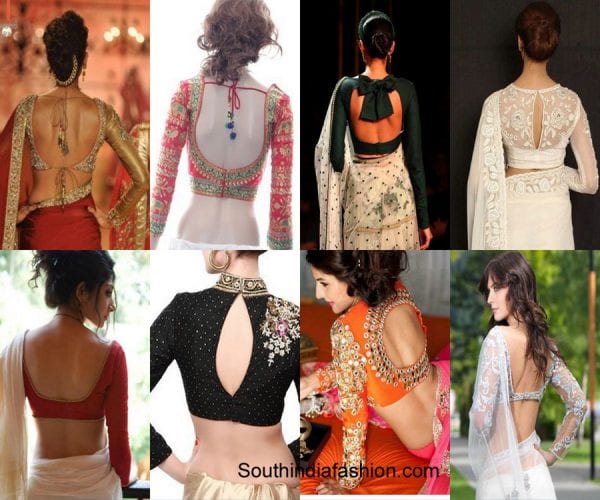 Celebrity Blouse Designs
Those who love to follow their favorite celebs fashion, they can also get lots of inspiration from the celebrity blouse designs. Usually celebs wear the latest blouse designs and their blouse patterns are very creative as they are designed by the top Indian Designers.
Corset Saree Blouse
If you don't feel quite comfortable in flaunting your waist in saree then corset saree blouse is perfect for you to wear. If your waist is not in a good shape then also corset saree blouse is a good option to choose.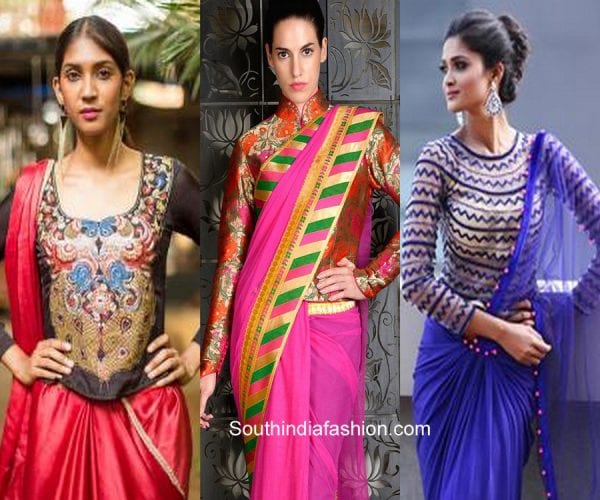 Jacket Blouse Design
The jacket style is quite in fashion these days, especially in the Indian ethnic wears. You can also flaunt you jacket blouse design by either wearing a jacket blouse from outside covering the saree pallu or you can also wear it as a short jacket. Here are few suggestions on how you can wear a jacket blouse.
So, these are our suggestions of 7 stunning full sleeves blouse designs that you can wear with you sarees. If we have missed out any stylish and latest full sleeves blouses in the list then please comment and let us know about it.