Plain sarees are very versatile. They can be teamed with a whole lot of blouse combinations and each creating an entirely different look. Here are some glam blouse design options for plain sarees.
1. Plain saree with brocade or embroidery blouse
Plain sarees are pre dominantly teamed with brocade or an embroidery blouse. This lifts up the look of the humble saree and makes you look wow! Very apt for low key functions too. Jazz it up a little with accessories but do not go overboard.
2. Plain saree with floral blouse
A floral blouse has now found a place in every woman's wardrobe. Now that you have a floral blouse, buy a plain saree to match it with. Contrast colors work the best so that you can bring out the best of the blouse.
3. Plain saree with kalamkari blouse
Kalamkari is elegant. So be it a kalamkari kurta, kalamkari jacket, blouse or saree you need to have it. Kalamkari blouses give that class to your plain sarees. You can try them with fabrics like linen or good old chiffon sarees. Try different patterns like cowl neck, crop top style or even a jacket style.
4. Plain saree with Unique blouse
When we talk about unique blouses options like a jacket style, cape style should not be left out. Edgy and fun these blouses can be very glam when you wear it with a plain saree, best because you have no other bling to distract the uniqueness of the blouse.
5. Plain saree with mirror work blouse
Mirror work blouses have been around since the nineties. Now team up a contrast or matching color mirror work blouse and add bling to your plain saree.  Looks lovely for both day or night events.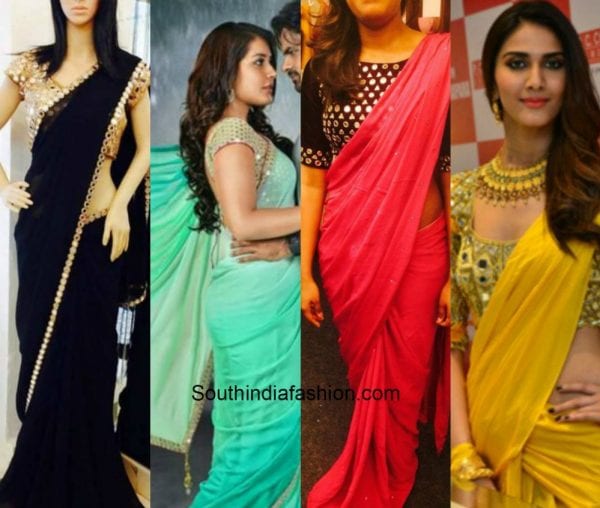 6. Plain saree with kutch work blouse
Kutch work is a form of embroidery done on fabric. It has multi color thread woven into an intricate pattern. They look very nice when you wear them with plain sarees. You could go for an entirely contrasting saree or pick up from the thread colors of the blouse.7. Plain saree with plain blouse
To keep it classy and simple go for a plain blouse in same or contrast color. You could try options like sleeveless or high neck. It works well for this sober combo.
8. Plain saree with lace / net blouse
With net blouses stealing the show try out a contrast or bling shaded lace or net blouse with your plain saree to be party ready.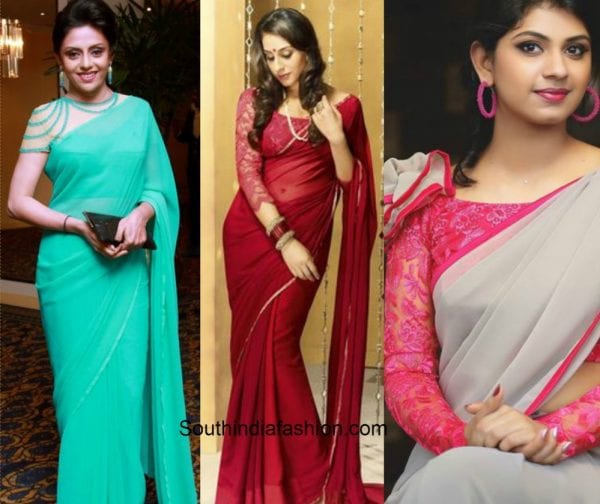 Plain sarees are a must have in every wardrobe. Pick them up in both natural fabrics and of course the reliable chiffon and Georgette and create multiple looks!