Festive season has started. Saree buying spree also started. Why are you still doing the same old boring blouses then? Start getting creative with exotic fun unique blouse designs and completely reinvent your blouse wardrobe!!!
1. Backless sassy blouses
Ok. This is one design that people are worried about. Reason? Too much skin show and not sure if it would suit. Anyone with a great figure can carry off these sassy backless blouses in style. Go completely backless to make jaws drop. You feel backless does not suit traditional sarees?? These pictures will surely make you think again.
2. Jeweled back blouses
The women who feel fully backless can be moved to next year we have a fantastic option for you – The jeweled back blouses. These blouses have an intricate arrangement of strings, stones, tassels and beads in such a way that you don't feel too exposed but the effect? Same. Simply fab!!
3. Full sleeve elegant blouses
Elegance personified is the full sleeve blouse. You can give it a slight twist by making it a little off shoulder, team your saree with a contrast full sleeve blouse or make your full sleeve blouse a boat neck one too!! You can also make the sleeves transparent. That looks amazing too!! Lacy sleeves also create a very pretty effect!!
4. Heavy embellished blouses
Have you bought a plain saree that you want to jazz up? Then the correct choice for you would be the heavily embellished blouses. These blouses are covered in work and make it look very grand and regal. They will take up your plain saree and make it into a vision. You could try out the heavy blouse as a maharani/high neck blouse or a regular neck line.
5. Necklace illusion blouses
Bored of the usual high neck design blouses? Create some crazy bling with these necklace illusion blouse designs. They look really appealing and it reduces one thing you have to do when you are getting ready!! Co-ordinate the colors based on your saree and you have something neat and yet quirky going on instantly!!
6. Jacket illusion and jacket blouse designs
These are exclusively suited for the chiffon/georgette sarees with a heavy work border. The jacket illusion can be created out of the border color fabric with a similar work pattern as that of the border adding needed bling and life to the blouse!!
The full jacket blouses are a little different than the regular blouses and these blouses are very edgy to look. They have heavy work in them and the saree need not be completely draped over them instead can be pinned on the side too.
7. Closed cut blouse designs
The closed cut designs would look absolutely lovely with cotton and linen sarees. The spice quotient in these blouses would be the slits in the side, the small buttons on the back and the contrast piping that makes the blouse look what it is!!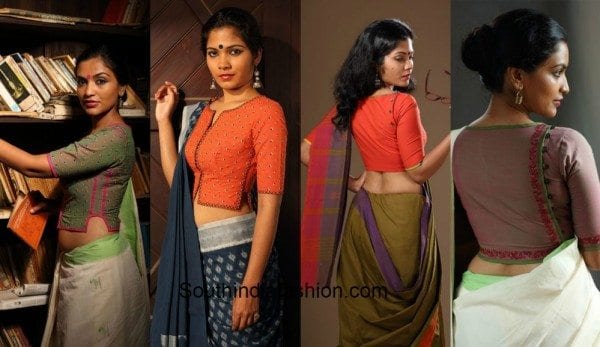 You still want to try something different? Try Peplum style blouses if you prefer the covered blouses and to add drama you could try the sheer back!!
So start matching your saree with these styles and get going!!!