When a woman is a beauty pageant winner, a fashion designer, a fashionista and incredibly gorgeous, all at the same time, we'll surely have a lot of fashion lessons to take from her. In case you haven't already guessed it, Shilpa Reddy is who we're talking about!
Being the devoted-fashion lover that she is, she's been seen in some really off-beat, beautifully designed blouses which are all worth stealing ideas from. Here are a few such trendy blouse designs of Shilpa Reddy that we should try out with traditional silk sarees.
1.Brocade Crop Jacket with Silk Saree
Brocade in itself is a fabric that oozes grandeur and when you make a jacket blouse out of it, it is bound to bring upon a good amount of old-world charm to the wearer like right here.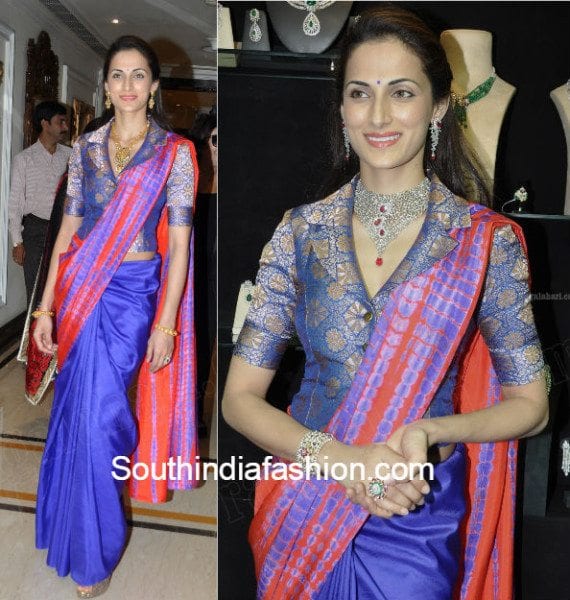 2. Tie up Blouse with Silk Saree
The tie-up blouse back design is something that's been tried quite a bit lately and here's Shilpa Reddy showing us how to wear it with a silk saree – a combo that you probably didn't assume would turn out this good.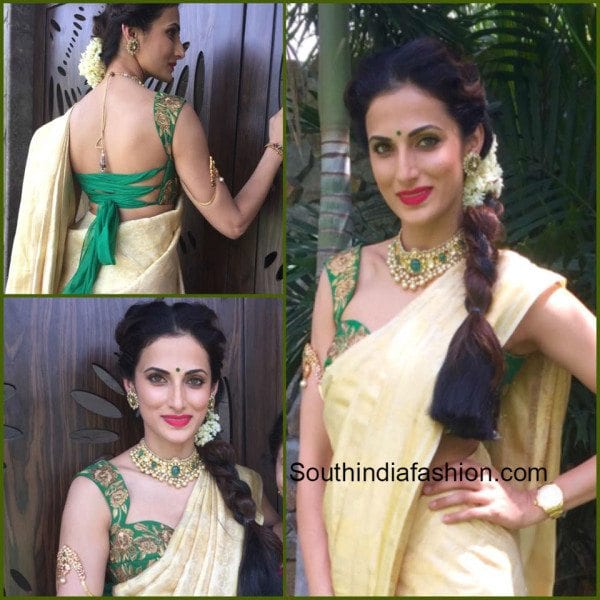 3. Floral Print Blouse with Silk Saree
In what was yet another rarely-tried combination, Shilpa Reddy mixes and matches a floral blouse with a blue silk saree and surprisingly, it went really well owing to the bright shade of blue that she picked.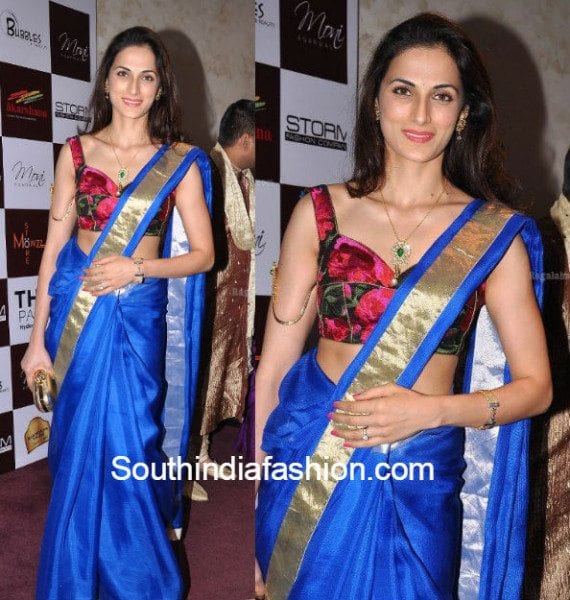 4. Corset blouse with Silk Saree
The corset embroidered blouse that Shilpa Reddy chose to team up with yellow and pink combination silk saree brings out a certain elegance and grandeur to her attire.
5. Embroidered long jacket with silk saree
Shilpa Reddy looked dapper in another instance when she paired her khadi silk saree with a long checkered cotton jacket. This attire is so flattering that it's definitely worth trying out!
6. Strappy Bustier Blouse with Traditional saree
A red, bright, coloured strappy bustier blouse with mirror work was what Shilpa Reddy chose for herself when she donned an equally bright, green colored traditional chanderi silk saree. The blouse and saree duo made for a perfect match!
7. Noodle Strap Corset Blouse with Silk Saree
Corset blouses seem to the most favorite choice of blouses for Shilpa Reddy…and we love how she teams them up with silk sarees. What could have been a simple silk saree turned out to look stunning just because Shilpa chose to go corset with the blouse.
8. Silk Saree with Collar Neck Gold Sequins Blouse
Gold sequins blouses always go best with silk sarees. When Shilpa Reddy teamed up a collar neck gold sequins blouse with a green light weight plain silk saree, she proved how gorgeous the combination can be, yet again.