It's time for Fashion-lovers of Hyderabad to rejoice, for Mugdha Art Studio opened a new exclusive bridal store which is a hub for some gorgeous wedding designer blouses, bridal half sarees, lehengas and even designer sarees. Experimenting with traditional clothing weaving them into some stunning designs seems to be the theme of Mugdha's bridal store. For one thing, we love the vast collection of designer blouses made with a whole different range of works like mirror work, thread work, zardosi work and maggam work.
The woman behind these designs, the owner of the store – Sashi Vangapally left everyone stunned and in love with these designs at the opening event of the store which was held recently. It is located in Banjara Hills, right at the heart of Hyderabad.
Take a look at some of the stunning designer blouses that they've made before you go visit their store.
With mirror work, zardosi work and floral prints that live up to our hearts fill, their collection of designer blouses are totally worth taking a look at (and then owning!).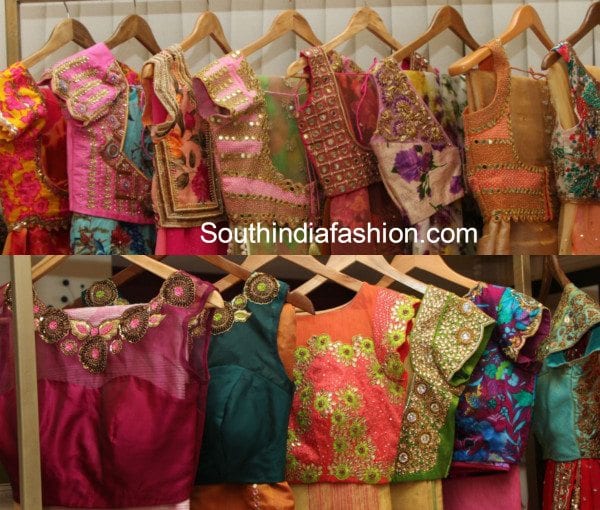 Gorgeous patterns of work designer blouses with leaves, flowers and mirrors like these ones below truly are a work of art!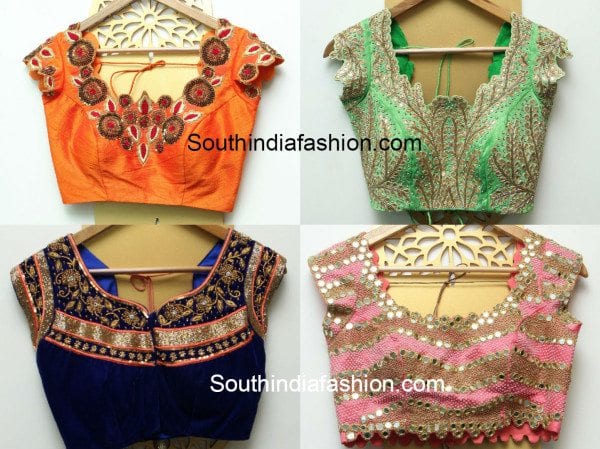 Stunning designer blouses like these are bound to make just about any saree look gorgeous.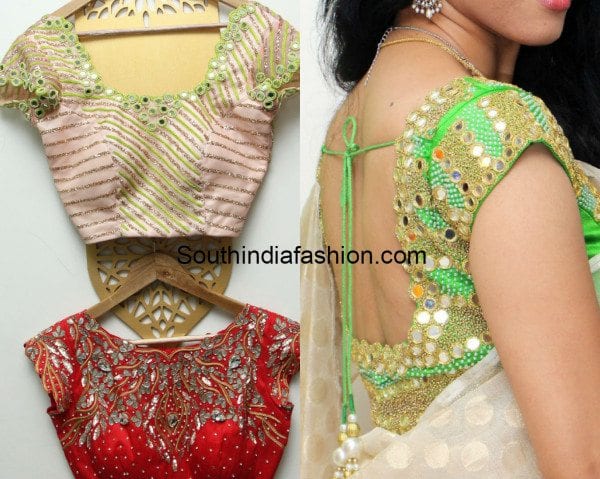 A lot of zardosi work was done on most of the blouses, sometimes using sheer fabric. Along with brightly colored blouses, Mugdha Art Studio's designer blouses also had pastels and lighter hues.
Velvet blouses were also among the collection along with other all over work designer blouses with floral patterns like some of these shown here.
There were some enticing floral patch work blouses which were a part of their collection. Their sarees – designed in net, chiffon and silk fabrics were all gorgeous with stunningly beautiful borders.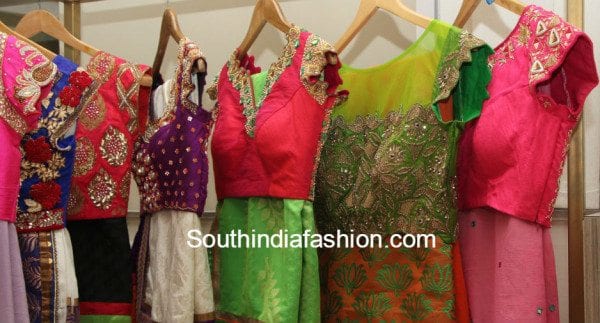 Pretty zardosi work seemed to be dominating most of their collection. Woven into beautiful and intricate floral designs, visitors sure are going to be left wondering if this was the best Zardosi work they've ever seen!
Floral embroidered thread work blouses and floral print blouses teamed with pretty designer sarees were seen among their collection. Mugdha Art Studio's floral blouses will leave you with a serious case of floral fever.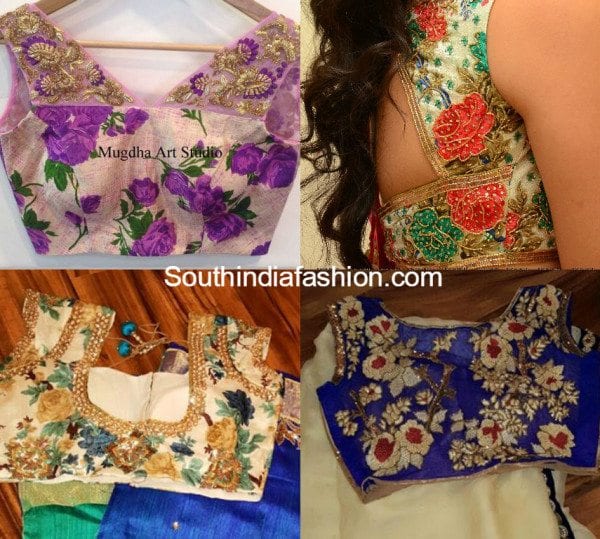 As much as we've loved their designs, the back neck and front neck patterns that were used on the blouses made them even more beautiful. They used some of the most trending back neck designs with pretty little dangling doris to add to the beauty.
Along with their designer blouses, Mugdha Art Studio's gorgeous, bright colored sarees embellished along their borders are worth owning as well. For one thing, they complement the blouses perfectly well.
After taking a look at their enduring collection of designer blouses, gorgeous sarees and bridal wear lehengas, we'd have to say that Hyderabad fashionistas sure are lucky to have Mugdha Art Studio in their midst!
So, ladies, which one of these is making it to your wardrobe? I am certainly going to buy one for me!! 🙂
Boutique Contact Details:
Address: House # 8-2-613/b/3, Road-10, Banjara Hills
Phone : 9949047889 / 040-65550855  ; Email: [email protected]