We needn't emphasize on what all a beautifully designed blouse can do to a Saree – it can make the Saree look it's best and add much more to it. Matching the right blouse with the right Saree is nothing short of an art in itself, mixing and matching a lot of blouses and Sarees more so. There are a few blouse designs however, which are something of a wardrobe essential for they can go with most Sarees.
If gorgeous, innumerable, Sarees are what your closets are filled with, here are 10 must have blouse designs that you should definitely own!
1. Plain Black, Red and Cream Blouse
A plain cotton or cotton-silk blouse in some of the most commonly used colors like black, red and cream are a must-have in your wardrobe. Be it with work wear printed Sarees, or cotton Sarees, just team them up with these basic blouses and you're ready to flaunt their beauty.

2. Shimmery Gold Blouse
A gold, shimmery blouse looks extremely classy and traditional at the same time. You can also try out these blouses on your party-wear Sarees. And then you can team up your gold blouse with any saree that has gold borders or gold embellishments. You can use many fabrics and embellishments to make your gold blouse interesting.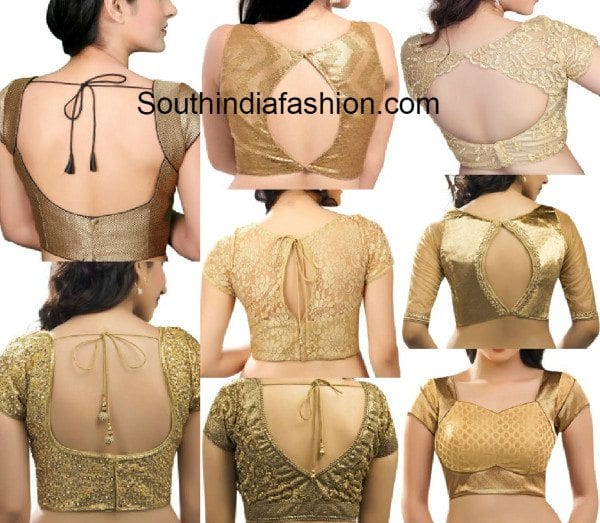 3. Shimmery Silver Blouse
Just like the gold blouse, silver blouse goes well with any saree that has silver zari borders or silver color embellishments over it. It also goes along with some plain Sarees as well and goes best with party-wear Sarees.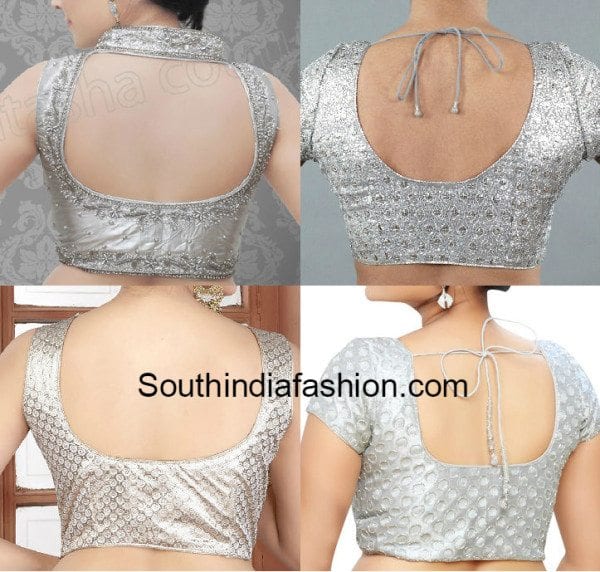 4. Sequins Blouse
There's no denying that you can accentuate the look of just about any saree with a sequins blouse. Not only will it add that zing to an otherwise plain saree, but it can literally make you dazzle! A sequins blouse can be worn with a georgette saree, chiffon saree and if you know how to wear it right – even with a Silk Saree.

5. Multi Color Blouse
The primary reason that you should definitely own a multi-color blouse is that it goes with just about any Saree you try to pair it with. In addition, it also helps if you have a plain saree and want to make it look stylish and bright, get a nice multi-color blouse and your look is complete. A printed or brocade blouse which is of multiple colours will go well with many sarees.

6. Net Blouse
Net adds a whole lot of beauty to a Saree and it is trending at the moment too. Need any more reasons to own a net blouse? From having the back of the blouse in net, to having sheer net sleeves and straps, there are many ways in which you can net-up your blouse. Add some beautiful work onto your net blouses to make them look all the more beautiful.

7. High Neck Blouse
High neck blouses are all the rage lately and you should have one of these in your wardrobe. Make sure you wear it right and get the right kind of work done on it for it to look its elegant best.

8. Boat Neck Blouse
A boat neck blouse is yet another very sophisticated blouse design that you must have in your wardrobe just for the reason that it is that beautiful and elegant. Chiffon designer Sarees with work on them are best when teamed up with boat neck blouses.

9. Elbow Length Sleeves Silk Blouse
Ever since the elbow length sleeves' blouse is back in vogue, people have been sporting it in a whole different range of designs and patterns. And among all these, a traditional elbow length sleeves silk blouse which is to be teamed with a Kanjeevaram is what you should own.
10. Full Length Sleeves Blouse
A full-sleeved blouse (preferably with transparent sleeves and work on them) is something that you should definitely team one of your sarees with. They add a whole lot of elan and beauty to the Saree you choose to pair them up with.