Winter fashion is what we all gear up for as soon as November hits. Even though anarkalis and shararas come handy during the winters, you cannot neglect the elegance of a saree even when it's freezing outside. If you prefer wearing a saree no matter what – then you here's how you can turn them into a winter fashion worthy. This winter, style your saree with these easy tips that will keep you warm and look sexy at the same time!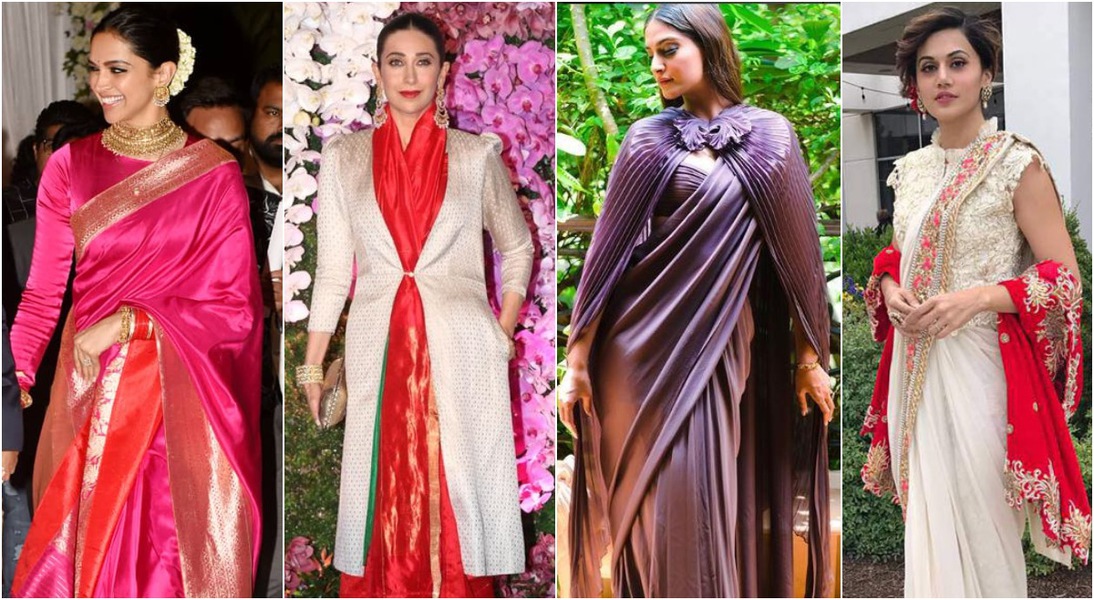 Here are 5 simple ways of styling saree this winter 2019 without looking boring –
Saree with Jackets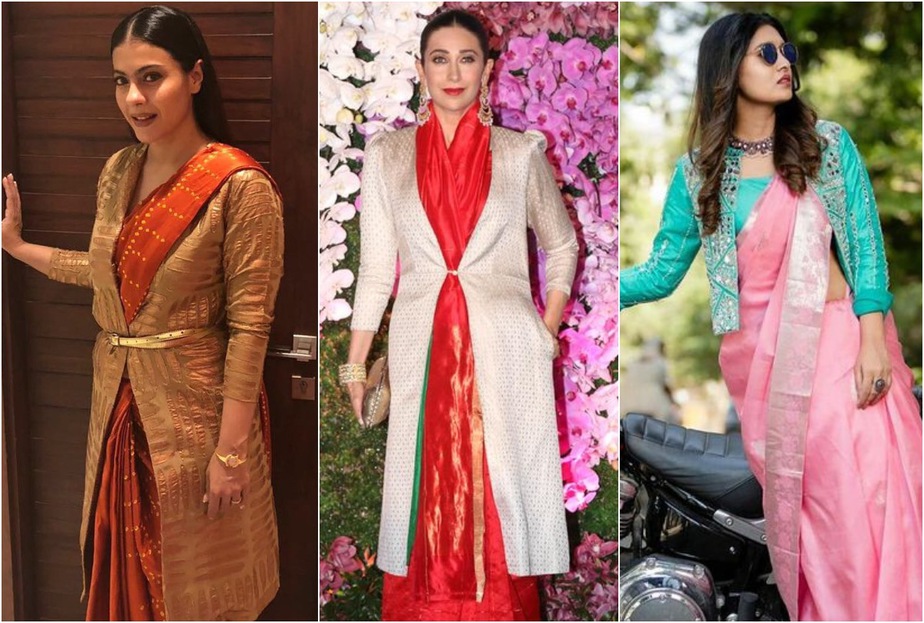 Styling your saree with jackets is the easiest and one of the trending fashions of winter 2019. Many celebrities have styled jackets with their saree and made it a go-to winter fashion! From blazers, trench coats, long jackets, and shrugs there is so much to pick from. Add a stylish belt over the jacket style saree and you are set for the breezy cold winter.
Cape Style Winter Fashion
Just like jackets, capes are another winter fashion that you need to try! Instead of opting for the usual sheer capes, pick something that will keep your warm instead. In other words, opt for thicker fabrics like velvet, silks, linens or cotton. Get them embellished with maggam work or embroidery to make it party wear. Nail the stylish saree look while successfully managing to keep those shivers away.
Full-sleeve Blouses
Want to keep your saree style effortless ad sexy whilst staying warm? Full sleeved blouses are your way to go! There are so many full-sleeve blouse designs that are effortless and stylish as it is. From bell sleeves, ruffle sleeves, to the elbow or long sleeves – there is so much to pick from. This trick works great as a winter fashion and makes you look elegant and stylish at the same time.
Double Pallu Saree
Double pallu saree styling can come handy during the winters. It is nothing but a shawl, dupatta or a drape to put on the other shoulder to finish the saree look. This trend has set some serious goals in 2019 with many celebrities opting for it. You can pick a shawl or drape made of velvet, pashmina, or soft wool. Opt for authentic handloom shawls as they certainly keep warm. This way, you can keep a stylish saree look while keeping yourself warm this winter.
High Neck Blouses 
Just like the full sleeve blouses, high neck blouses are a boon for winter fashion! High neck, boat neck or even turtleneck blouses are a great pick when it comes to styling sarees in winter days. They not only keep you warm but also make you look fashion-forward and chic when you style them with a saree. Just add a statement choker necklace and you are good to go. Simple, chic and stylish!
So, these are some saree styling tips to help you to decide your look for any upcoming winter wedding! Keep your winter fashion on and slay!