Traditional Jewellery for men, especially grooms, is a rising market in India due to which we see several new types of menswear jewellery hitting the trends these days. Grooms are not restricting themselves to simple chains, bracelets and rings anymore. Experimenting not only with materials used in making their jewellery but also with designs is being seen lately. Therefore, we have jotted our top picks for trending grrom jewellery this season.
Trending Indian Groom Jewellery:
Puligoru Necklace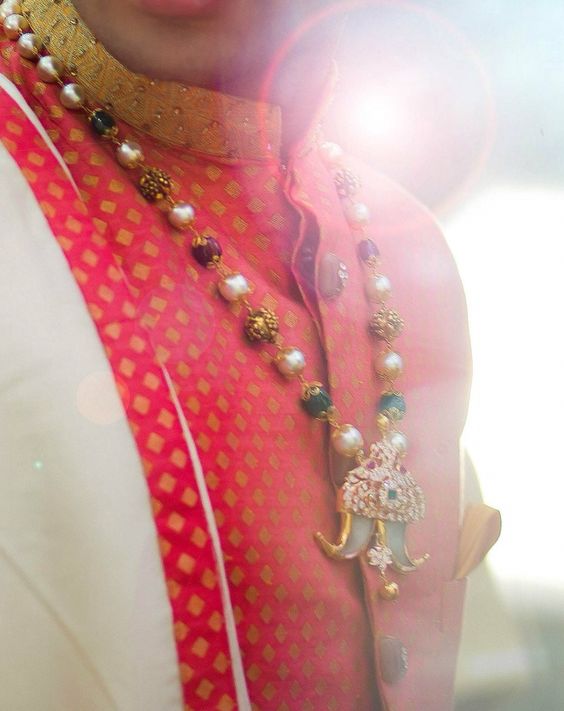 Puligoru, in other words, tiger claw jewellery is traditional South Indian jewellery , resembling the claws of a tiger. These designs generally consist of lockets made of gold and different types of gemstones embedded on them. The lockets usually look great on pearl and beads necklaces and recently large puligoru pendants were seen trending in mens wedding attire. 
Saathlada  Necklace

Saathlada means seven strands. It comprises of seven strands of pearls, each strands has its pendant made of gold and precious stone. This jewellery is traditional to the Hyderabadi Nizams and is being used excessively in both women and groom wedding jewellery nowadays.
 Temple Jewellery for men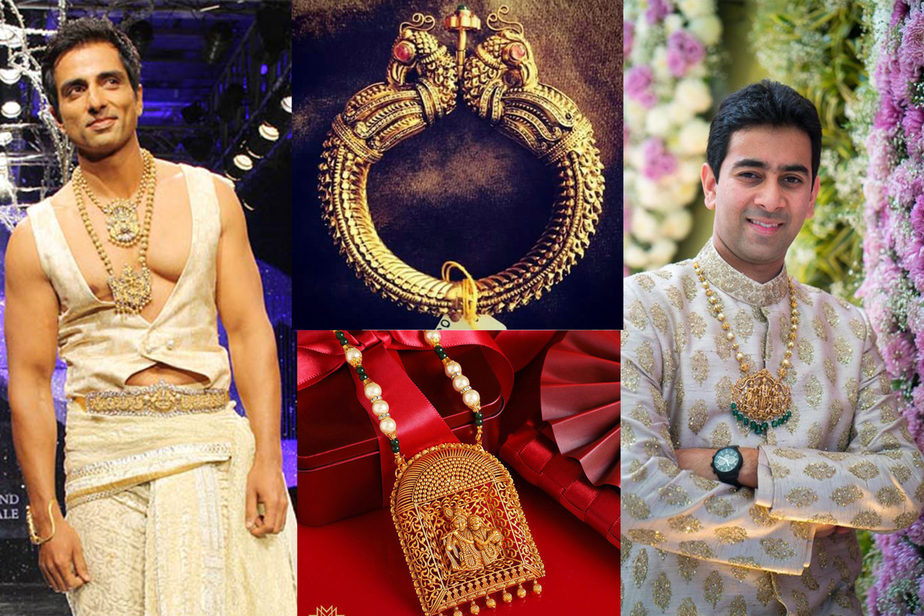 Temple jewellery is traditional south Indian style jewellery. This kind of jewellery is inspired by ornaments used to decorate the idols of Hindu gods and goddesses in South India. These are ornate and employ traditional motifs of peacocks, parrots, fishes or images of gods like Ganesha and Lakshmi. Nowadays,  Simple chains or gold beads strands with a big temple pendant are in vogue for grooms.
 Layered Pearls and Beads necklaces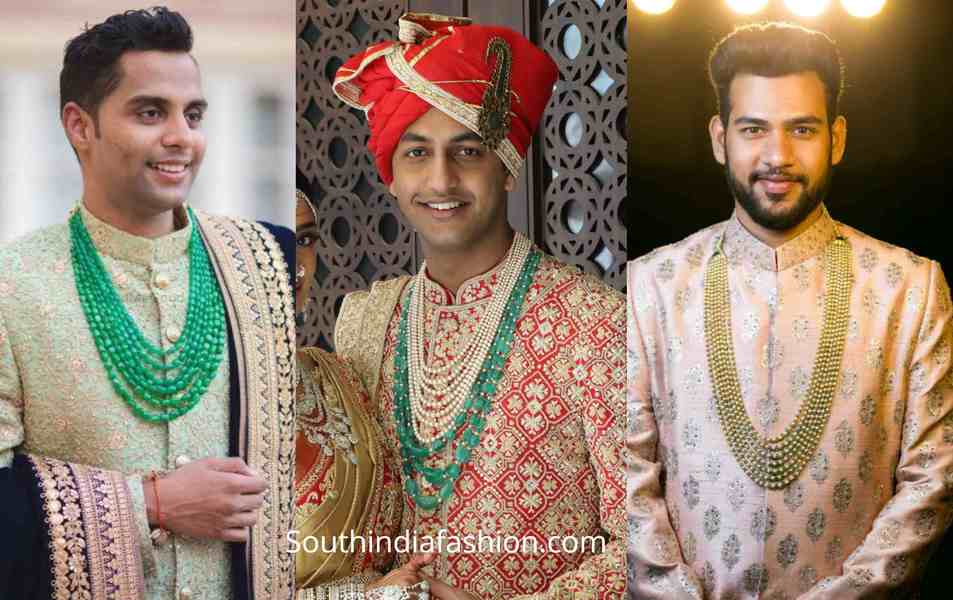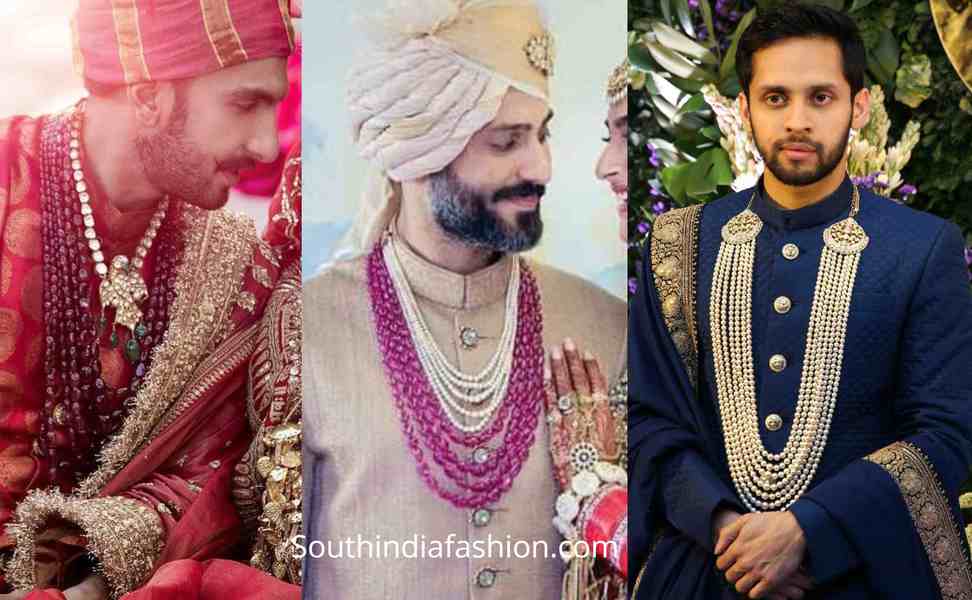 These are the most trending necklaces for grooms in the recent times. Generally, they are 4 or more layered strands of pearls, ruby beads or emerald beads without any pendants which is why they compliment any outfit like sherwani, kurta or even wedding suits.
Turban Brooch / Kalgi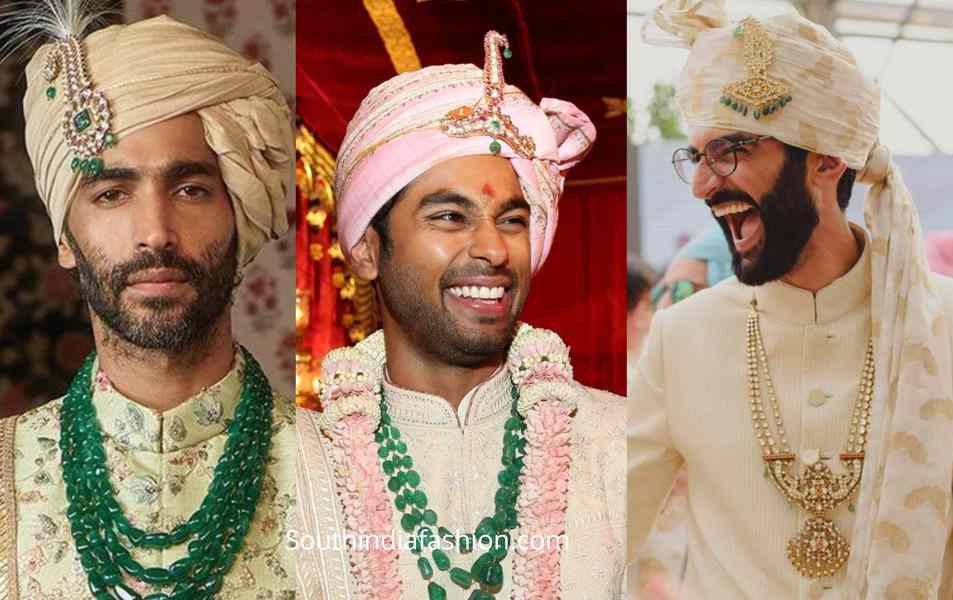 A turban is generally worn by men in North Indian weddings but nowadays we see grooms  in south India adorning turbans to establish a style statement in southern weddings as well. Therefore, a Kalgi is a perfect piece of groom jewellery to go with a turban. It is a form of brooch worn on the front of the turban. It is made from a variety of materials like pearls, kundans or gemstones.