Juttis and Mojris are the most common traditional footwear for men in India. However, a wide range of other shoe styles are also being styled to compliment Indian ensembles these days. Therefore, here are 5 footwear brands, made in India, that offer you a wide range of footwear  that do not sell just the conventional juttis, but other styles of shoes as well.
1. Oblum mens footwear
 Oblum is a bespoke handcrafted luxury mens footwear and small leather goods brand created by Tarun Oblum. It sells at Jubilee Hills, Hyderabad. They offer a variety of leather footwear like oxfords and loafers made in different colours and styles that go well with any look and occasion. Furthermore, their shoes made with Ikat handlooms perfectly blend with any western or Indian wear outfits.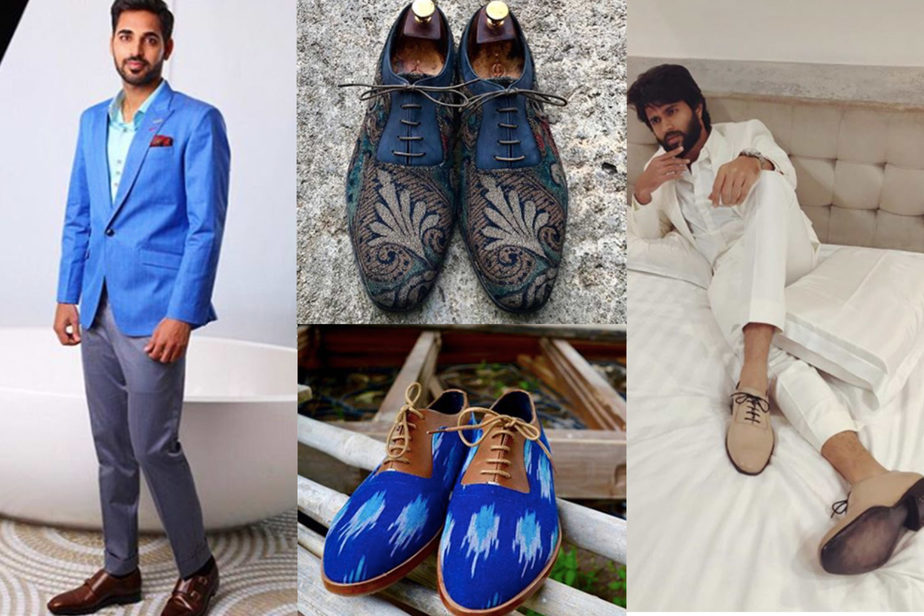 2. Trumpet shoes
Trumpet is an Indian label specializing in premium mens footwear. Their motto is  'classic reloaded' and the modern man is their client. They make absolutely stunning loafers and keats. Paired up with suits or sherwanis, these shoes are absolute stunners and must-haves in your wardrobes. 
3. Artimen mens footwear
This is a New Delhi based mens footwear store that crafts bespoke gentlemen's footwear. Artimen was established in 2015. They make unique products with a luxurious look and feel. Espadrilles, loafers, brogues and embroidered juttis are few of their listed formal products. In addition, they also sell casual mules and slip-ons. Not only are their footwear perfectly blend-able with Nehru jackets, kurta pyjamas and other outfits with an Indian touch but also are super trendy and in vogue.
4.The Monk Story
'The Monk Story' is a PETA approved eco-friendly, vegan fashion brand, therefore, it uses zero animal product usage. Their mens footwear product range includes slip-ons, loafers, luxurious mojri's, sneakers double monk shoes etc, made with faux leather, velvet and other non-animal based products. Details with embroidery and metal fringes, in conclusion, make them perfect for complimenting your traditional outfits.