Creating an Indo-western look isn't as difficult these days. With fusion look being in trend, this style is now merging into the blouse designs as well. And this style of indo-western saree blouse designs is definitely picking up pace. The fusion look is nothing but picking western-style and mixing them with the ethnic wear. And when it comes to a blouse, the indo-western saree blouses look stunning and worth trying out! When you want to look chic and edgy, indo-western blouses are what you should be styling your saree with.

Indo-Western Saree Blouse Designs:
Check out some off-beat indo-western blouse designs that you can try out –
Denim Blouses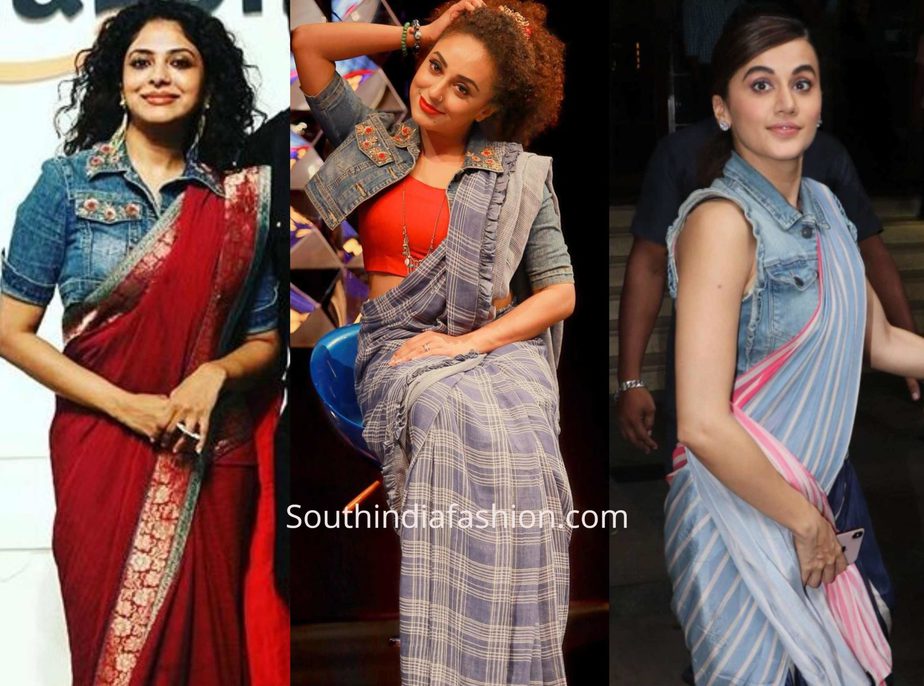 Denim is never out of trend and they are super cool and comfortable on the skin. If you want a trendy indo-western saree blouse, then pick a fancy denim top or a denim crop top and wear it instead of a blouse. Pair it with your linen, cotton or any handloom saree for a classy urban look. You can pull-off this ensemble even as work wear look!
T-Shirt / Crop Top blouse
We have often spotted actresses sport a saree with a crop-top or a t-shirt and it looks stunning! Start with the basic white or black t-shirt/crop top that you already own. They look stunning when you pair them with chiffon, georgette, crepe, cotton or linen. Create your indo-western look by pairing your saree with quirky, contrast colored tops.
Off-Shoulder Blouses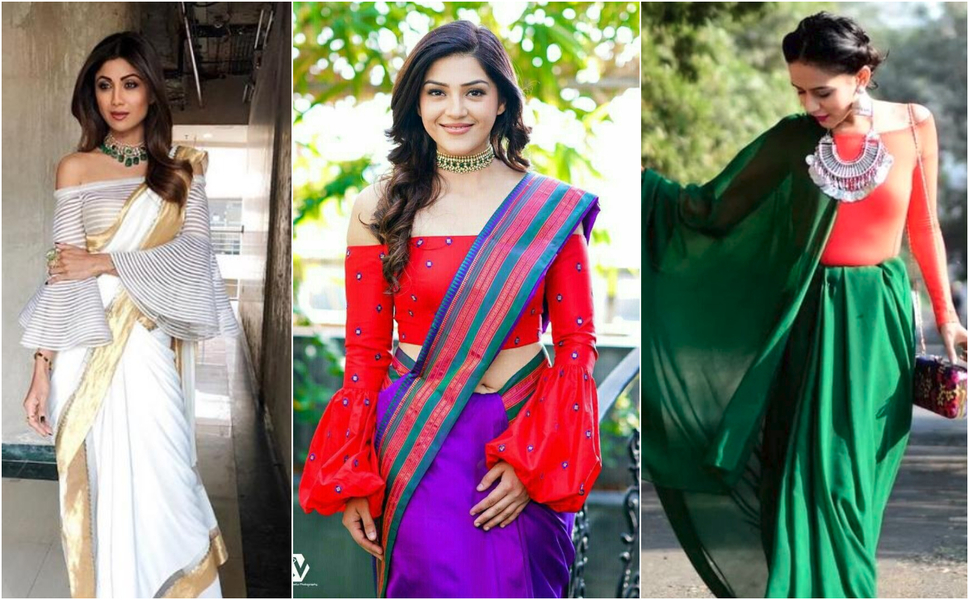 For those who love a bit of trendy and sassy touch to their indo-western saree look, try out off-shoulders! Pair your off-shoulder top or blouse and create as classy indo-western saree look. Pair this indo-western blouse with any simple or designer saree and you will rock it!
Formal Shirt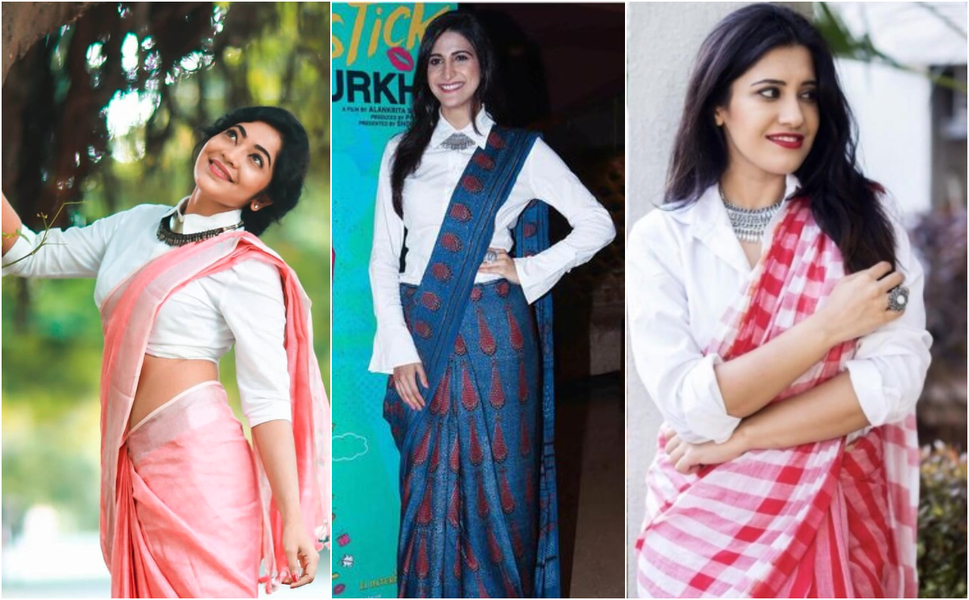 Formal shirts have a magical charm! You pair them with skirts, pants or even saree – they make you look stunning! No matter what color shirt you pick, pair it with any saree and throw on a statement jewellery piece. And you get an uber-stylish indo-western saree blouse look!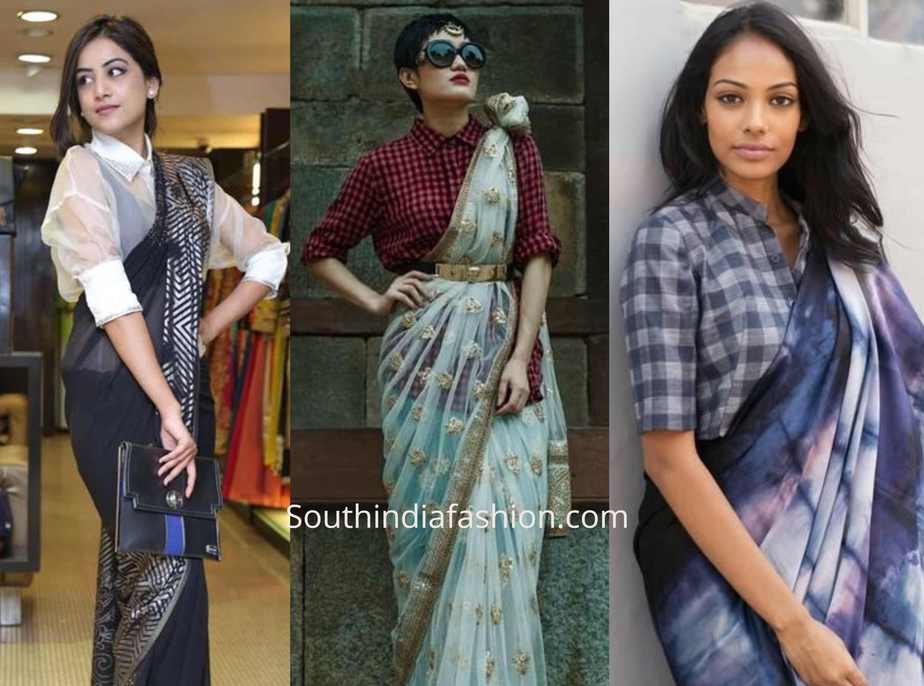 Cape Style Blouses
Capes are usually paired with a lehenga skirt, but they look fabulous even with a saree! Cape blouses are one of the most trending indo-western saree blouses that work great as a fusion wear. This fusion look is extremely grand and it definitely gives a very designer outfit vibe.
Long Top or Tunics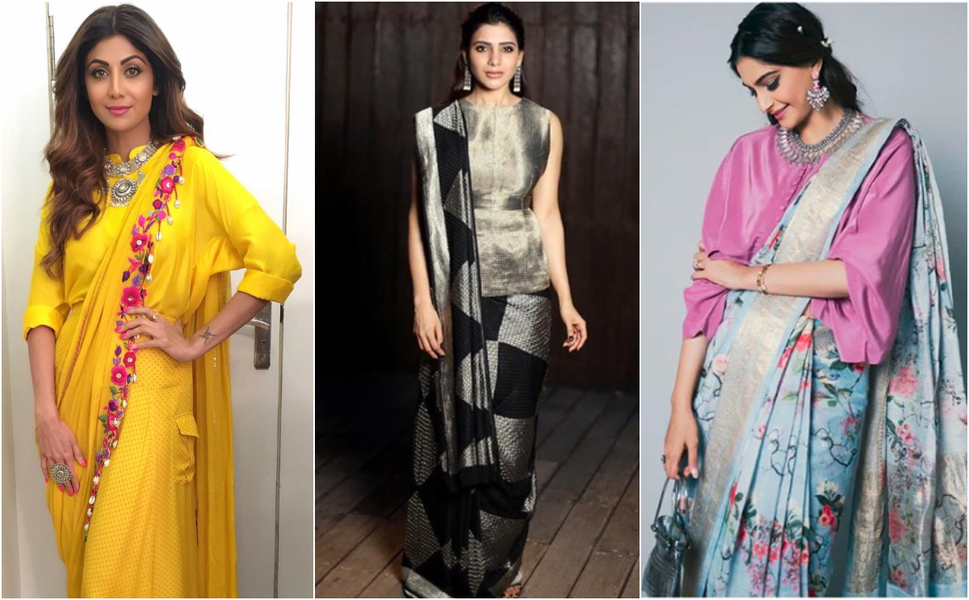 Tops that we wear with sarees, don't always have to be short or cropped. Pair your favorite asymmetrical tunic with a saree and it is sure to give you a stunning fusion look. Loaded with panache, indo-western blouse style gives a very elegant and graceful look. For a boho look, throw on some silver jewellery.
Jackets
Shrugs and Jackets have crawled their way into being a saree blouse to create a fusion look. We have seen many celebrities flaunting sarees with jackets or blazers. This trendy and latest blouse style is a revolutionary idea to revive the fusion saree look.
Which of these trendy indo-western saree blouses do you plan on trying out?