Label'M – Label Mannath came into existence back in 2007. Started by the two talented sisters-in-law Anu Tinu and Reshma Binu in Kochi. And since the launch, LabelM gained instant popularity for their opulent fabrics! Also, thanks to their designs that were loaded with unique colors, intricate handwork. Label'M has a fancy twist to their collection each time yet they stay close to their roots. One such fabulous collection that they recently launched as an Onam Special collection is 'Pushpaka'.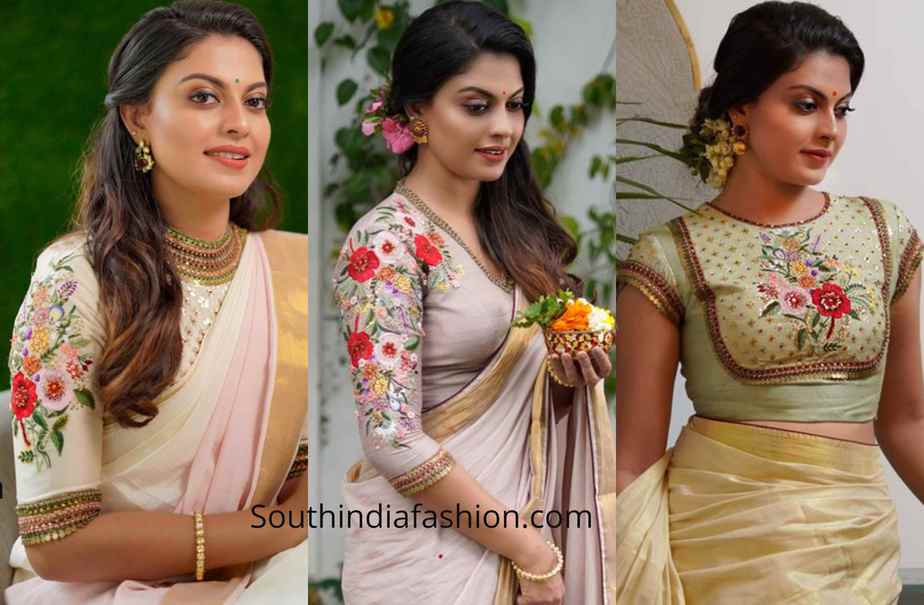 Check out the 5 fabulous looks from their collection –
About 'Pushpaka' Collection
LabelM's Pushpaka collection is exclusively an Onam collection. It consists of Onam sarees and blouse designs with a subtle but gorgeous twist. They presented the traditional Onam sarees in pastel colors and ombre shading details. Paired with these sarees are some classic pattern-cut blouses. The collection's highlight is its stunning flora-fauna embroidery. These flowers are something that they celebrate during this time of the year. Along with that, they have included various sartorial elements from their glorious regional art forms.
Look 1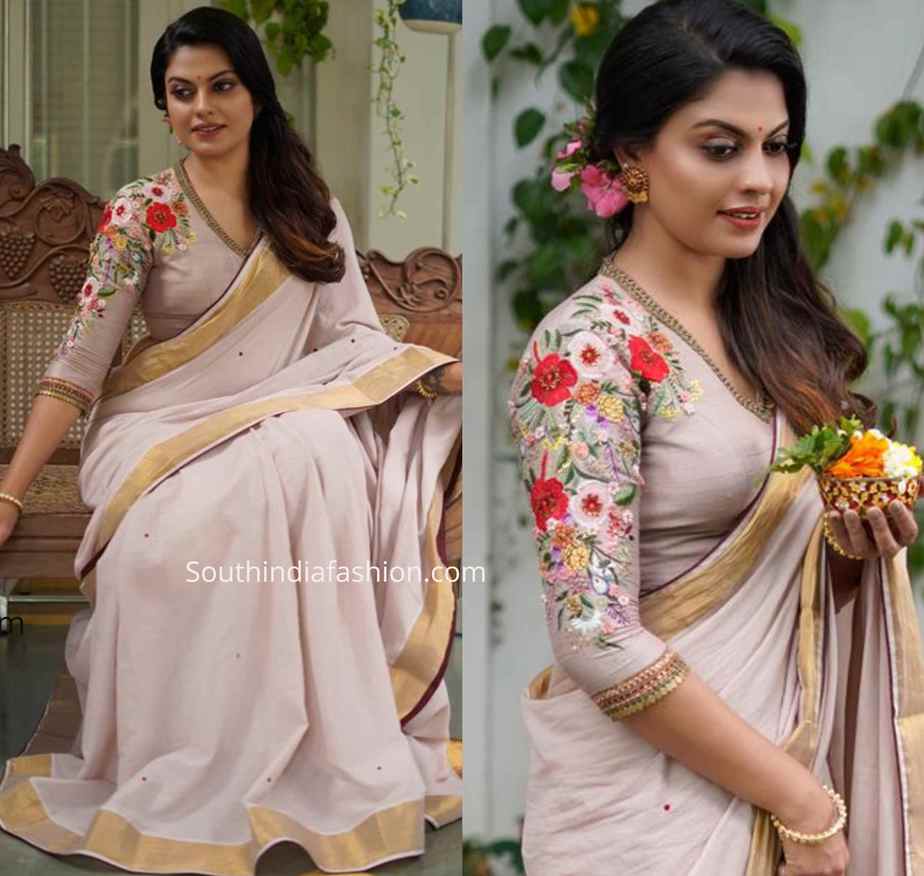 LabelM's Onam saree blouses have beautiful vibrant floral embroidery. It is intricate and in sync with rustic metallic borders along the blouse neckline.
In their 1st look, they have paired a pastel powder pink saree with powder pink blouse. The thread embroidery done on Onam saree blouses has a variety of vibrant and pop of colors.
Look 2
In the 2nd look, Label'M has kept the Kasavu or Kerala saree in its basic beige color with golden border. But Label'M have paired it with a beautiful pastel Tulsi green Onam saree blouse made of brocade and raw silk.
The antique metal and thread border details on the front of the blouse look elegant and rich. And the statement floral bootis all over add character to the look.
Look 3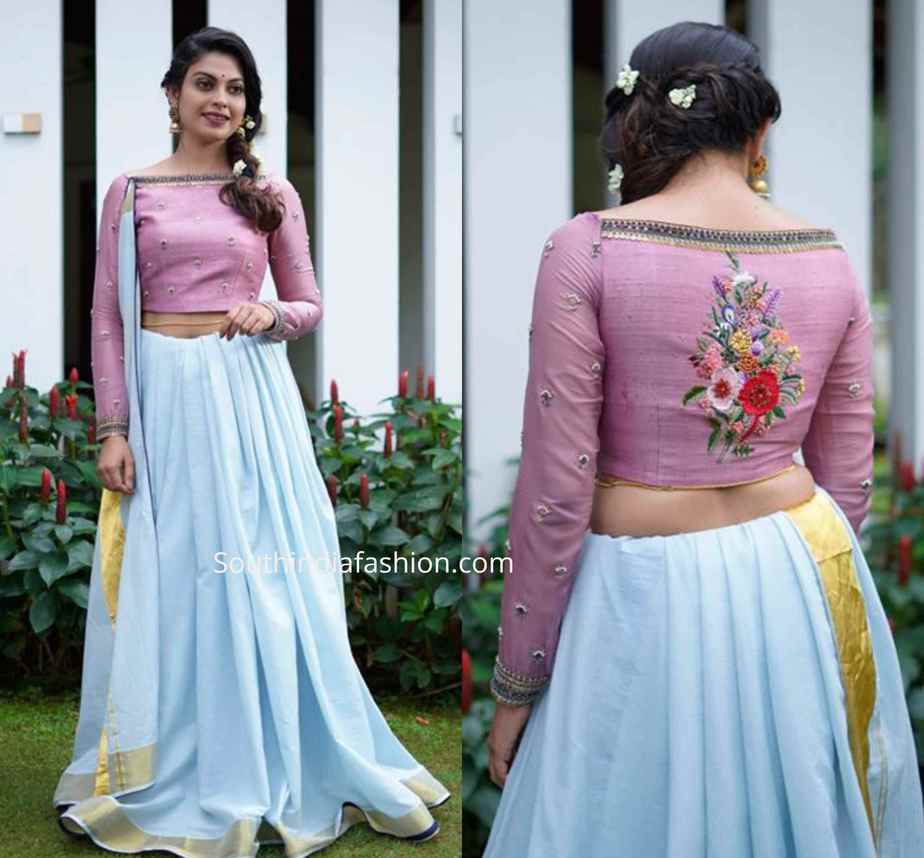 What an underrated and unique combination this is! This light blue saree from their collection is famous as a Shankupushpam saree. Label'M paired the saree with a stunning wild lavender blouse for the 3rd look.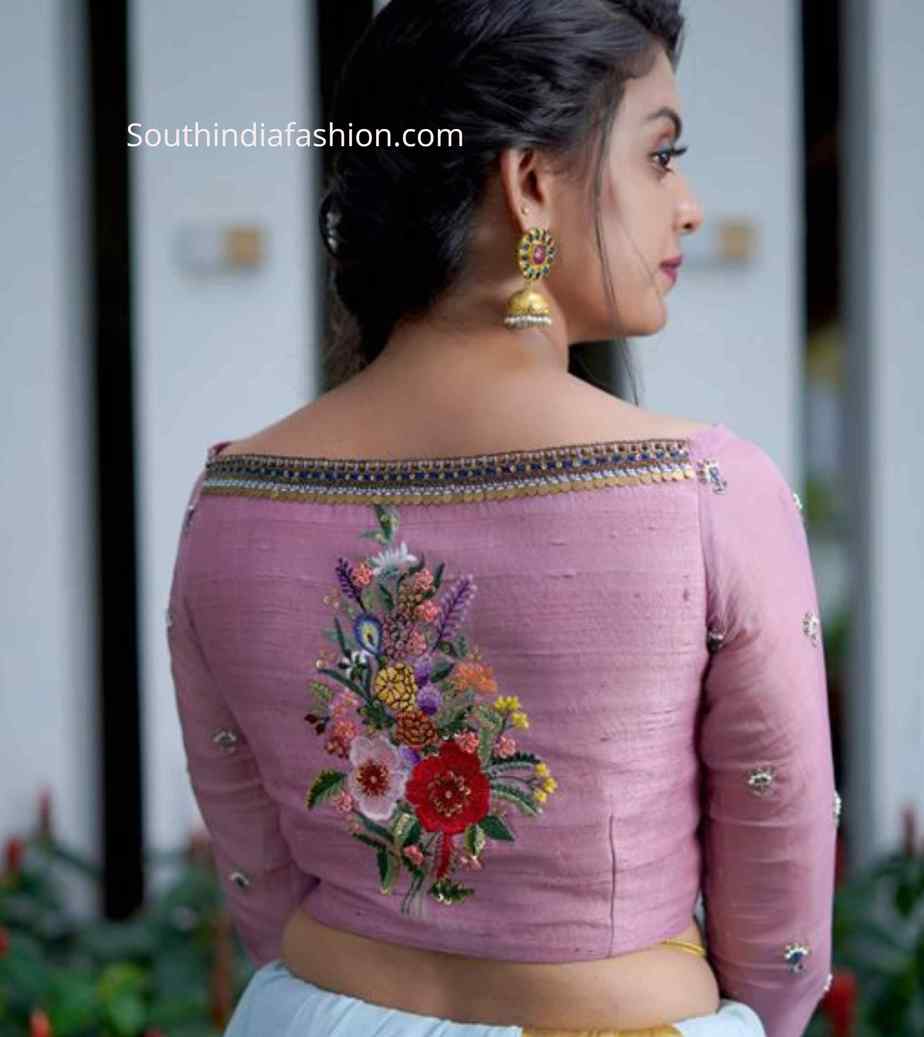 The straight square shoulder of this Onam saree blouse adds an oomph factor. The blouse has floral motifs all evenly distributed throughout the body with a floral bunch at the back.
Look 4
The 4th look consists of a beautiful Chanderi brocade blouse. An ivory-colored blouse with a vibrant multi-colored threadwork embroidery on its sleeves. The high collar blouse has elbow-length sleeves covered in floral embroidery.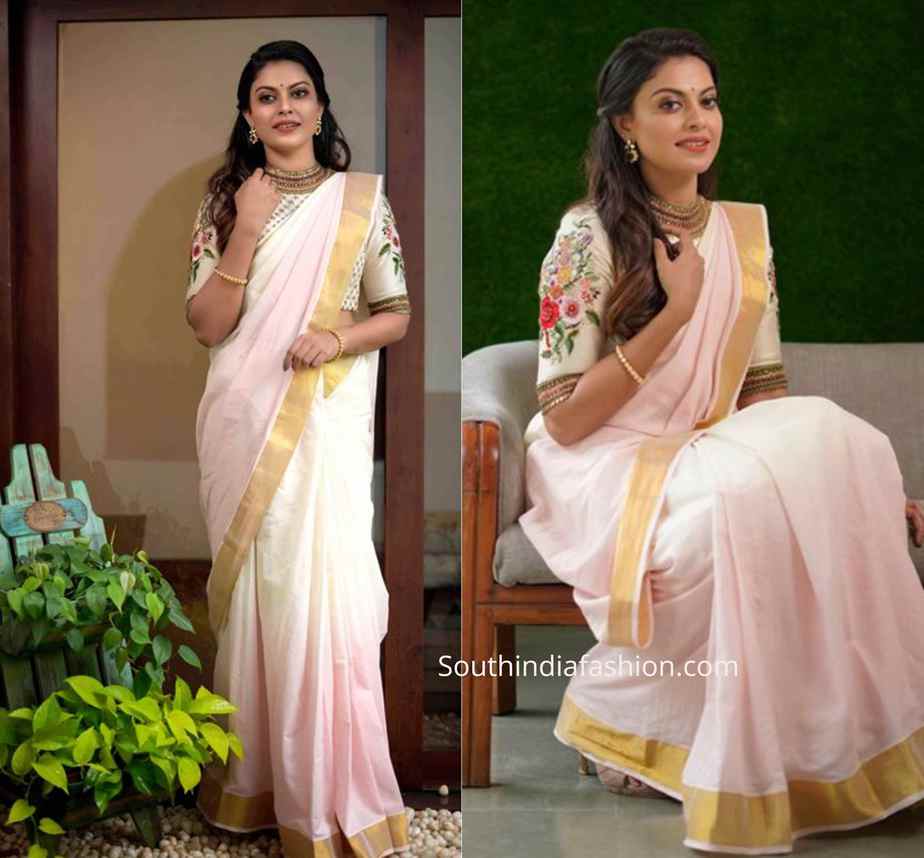 To highlight the blouse, they paired it with a classic Onam saree but with an ombre effect of ivory and 'arali' pink. Simply stunning, isn't it?
Look 5
In the 5th look, Label'M has teamed a classic Kerala saree with a Kanakambaram peach low-cut blouse. This vintage low-cut Onam saree blouse has contrast border details.
With the contrast colored border, the blouse has small floral motifs all over the sleeves. There's no denying that LabelM's has a peculiar sense of heritage and innate of traditional roots.
Label'M has kept it 100% traditional but simply polished it with their creative magic wand. And we are sure they have inspired you for a stunning Onam look this year.
For outfit inquiries contact: 04844011607
Facebook: https://www.facebook.com/LabelM.cochin/