Comfortable yet stylish clothing is what everyone craves for! Neeraja Kona, a renowned celebrity stylist saw herself etching towards comfy and handmade fabrics. Subsequently, she introduces kaluva, a contemporary clothing brand. Kaluva by Neeraja Kona is for men, women and children. Also, the brand doesn't just have clothing but also alluring jewellery collection. Ever since Tollywood celebrities are flaunting kaluva brand, people are stalking the website for its elegant collection.
Kaluva clothing has wide range of outfits from breathable fabrics like cotton and muls. Moreover, the clothes are handmade with precision by artisans across the country. Take a look at the unique collection this clothing line offers before you head out to purchase.
Women's Wear By Kaluva
Though the store offers limited collection, they are simple and elegant in their own way. The women's section has the categories ranging from dresses, kurtis, sarees, bottoms and dupattas. Have a glance at some of the latest collection from this Neeraja Kona boutique.
This stunning maxi from Kaluva by Neeraja Kona is entirely made of cotton. Also, the pink block printed cape enhances your style. Above all, the outfit is light in weight and has other colour options too. The outfit costs about 6000/-.
Yet another masterpiece from Kaluva by Neeraja Kona brand is this appealing flower print saree. Costing 7500/-, the saree is made of mul cotton. It is feather soft and easy to carry. Give this saree a touch of ethnicity by adorning a good pair of jhumkas.
For more women's wear collection shop online- Kaluva women's wear
Men's Wear from Kaluva Brand By Neeraja Kona
Neeraja Kona is well-known for designing costumes for celebrities for movies and also for events. She has come up with enticing men's shirts which are sure to grab your attention. Take a look!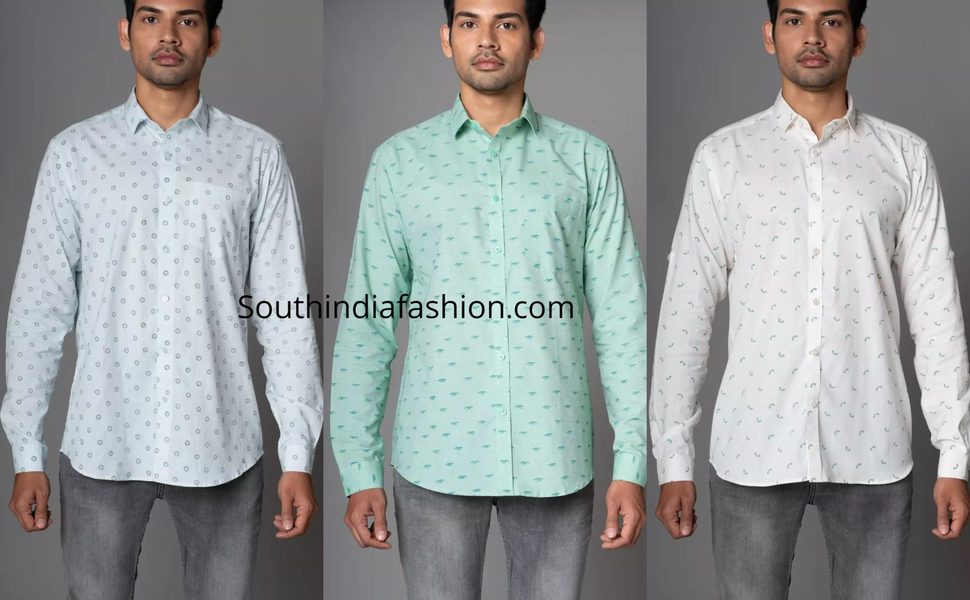 Kaluva has finite collection of shirts for men in various colours. The price ranges from 3500/- to 4600/-. The shirts collection from kaluva brand is formal and trendy and the same time.
Check out their collection now- Kaluva men's wear
Kid's Wear Collection from Kaluva Brand
Kaluva by Neeraja Kona online provides trendy kids wear for boys and girls. The designer print shirts for boys are meticulously handmade from cotton and mul. Go for this exquisite collection today for utmost comfort for your kids.
The stunning frock collection from Kaluva by NK for girls is a worthy purchase. If you are looking out for comfort along with fashion, these frocks are for you. Moreover, the frocks are available in myriad of colours.
Costing 3500/-, this white Navina frock with sporadic red hearts is sure to attract your kid. Also it is hand-dyed and printed manually to perfection.
For more such amazing kids collection, shop here- Kaluva kids wear online shopping
Trendy Silver Earrings From Kaluva by Neeraja Kona
Kaluva, as the name indicates, is known as lotus in Telugu language. Also, each earpiece has lotus symbol embedded within. The beautiful jhumkas are a perfect match to the Kaluva outfits.
Made of pure silver, all the earrings from Kaluva brand range from 3500/- to 10,000/-.
Check out more jewellery options from kaluva brand here- kaluva Jewellery
Kaluva by Neeraja Kona Website: https://www.kaluva.store/