Mehendi is a very important ritual at Indian weddings. In fact, a bride is incomplete without the beautiful designs of henna tattoo on her feet and hands. The thing, however, is that Mehendi is still quite restricted to just the hands and feet. Wouldn't it be wonderful if henna could adorn other body parts as well? Well, let us introduce you to this new trend of full body mehndi designs.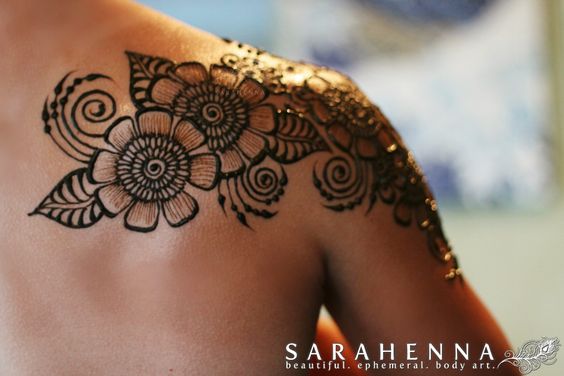 There are various kinds of brides, one who likes applying henna and going overboard with all the traditional designs and one who enjoys the tradition but keeping the application minimal.  There are lots of full-body mehndi designs which looks as beautiful as the henna applied on feet and hands.
While it may sound weird but actually it looks really beautiful; when the right designs are applied to the different areas of the body.  It is just like a tattoo but will look more beautiful, not permanent and painless. Many of these full-body mehndi designs are just an extension of the foot and hand mehndi designs only. Some of these are back mehndi, Bajuband mehndi, thigh mehndi, collarbone mehndi, hip mehndi and many more.
Let us look at some of the beautiful designs we have shortlisted for you to make you fall in love with this trend:
Shoulder Mehndi designs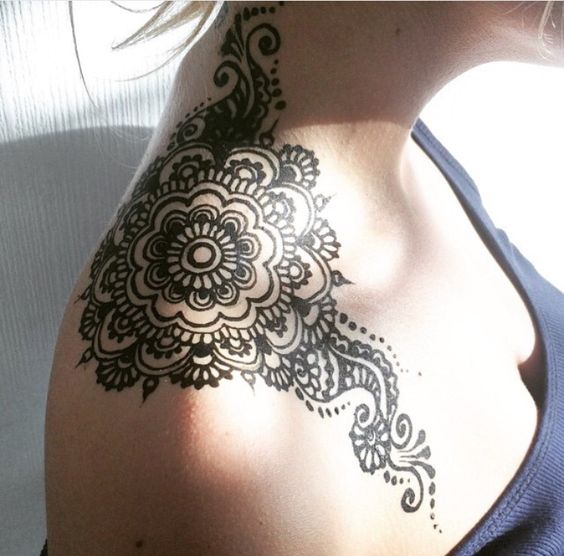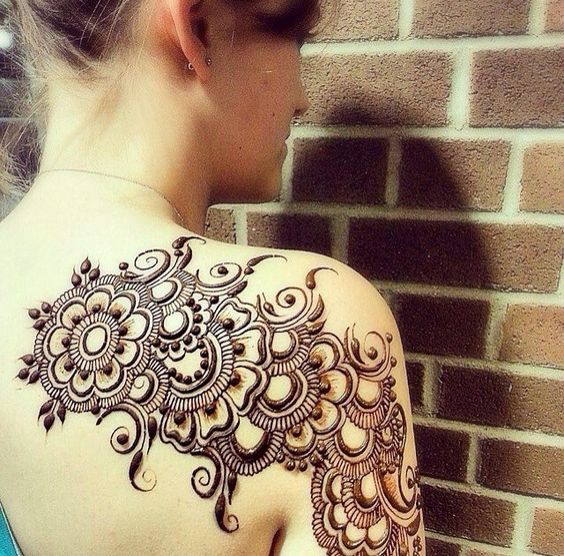 These are such dainty and beautiful designs for one side of the shoulder back. It really enhances your shoulder blades giving you a beautiful look. If you are planning to wear a one-shoulder blouse or gown for any functions, this mehndi design will look wonderful.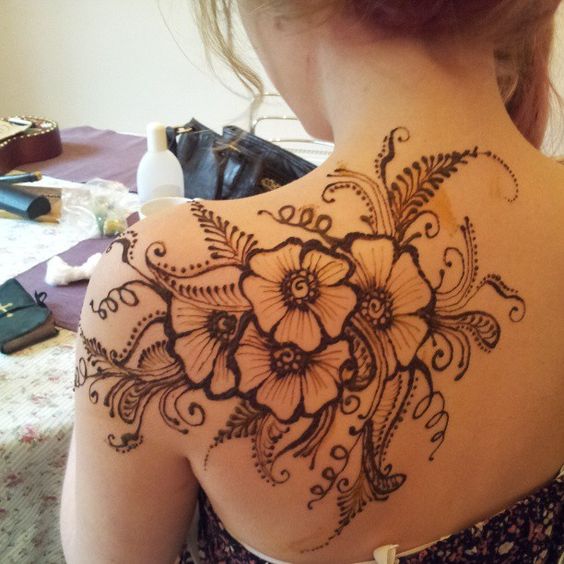 This one is much more elaborate for a body mehndi design and we love it for the bride.
These minimal shoulder mehndi designs will look wonderful on a minimalistic bride and you can even flaunt it on your honeymoon with all the strappy tops. The last one looks just like an extension of the hand mehndi design without looking over the top.
Front and Back neck Mehndi designs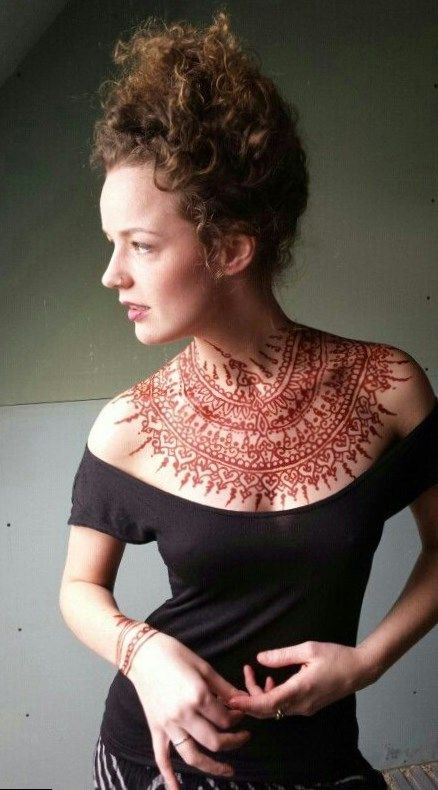 This magnificent neck Mehndi design does not even require you to wear a heavy neckpiece. If you are planning to go bare neck, this front neck mehndi design would be perfect to pair with your off-shoulder blouses and tops. It is such a modern look for the brides today and will make her look like a princess.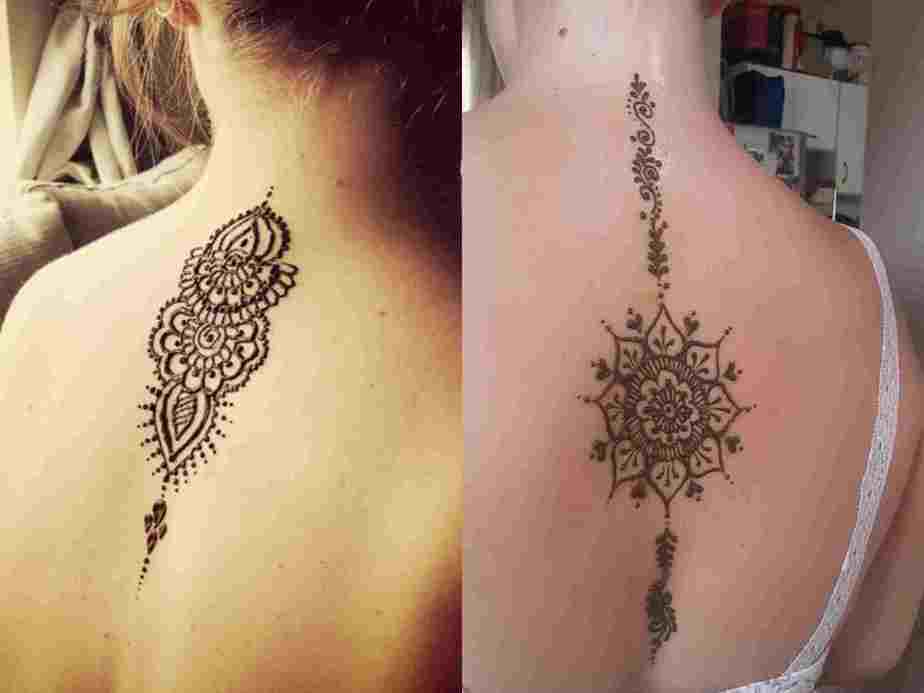 Want to get a tattoo but do not want to go through the pain and long term commitment? Well here is the design for you. Deepika Padukone started the trend of getting inked at the back of the neck(though you do not need to get the initials of your love *wink*). These minimal designs will look so cute on your neck on a casual day out.
This design of the front neck mehndi design is again great to wear with a strapless outfit.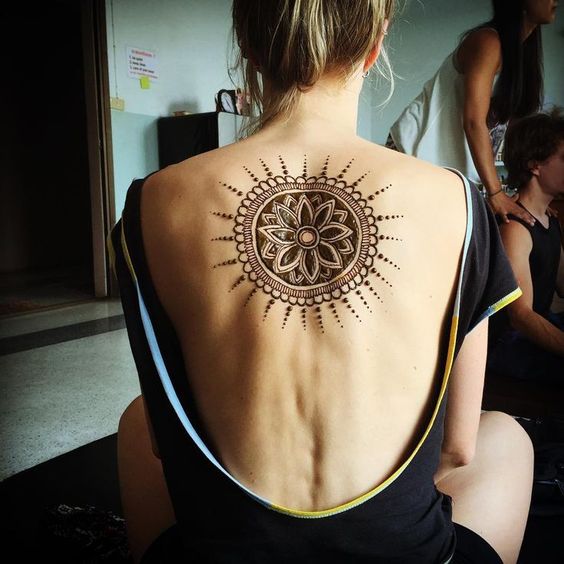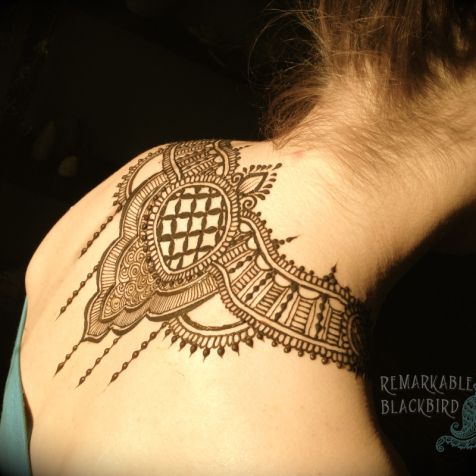 These back neck mehndi designs with jaali and floral patterns will look great on any occasion.
Let us take a moment to admire the last design. This mehendi design almost looks like jewelry.
Full Back Mehndi designs
If you are daring enough, you can go for these Full Back Mehndi designs. Do not forget to wear a low back top and flaunt the beauty of the full body henna tattoo design. Prepare to get stared in admiration by people around you.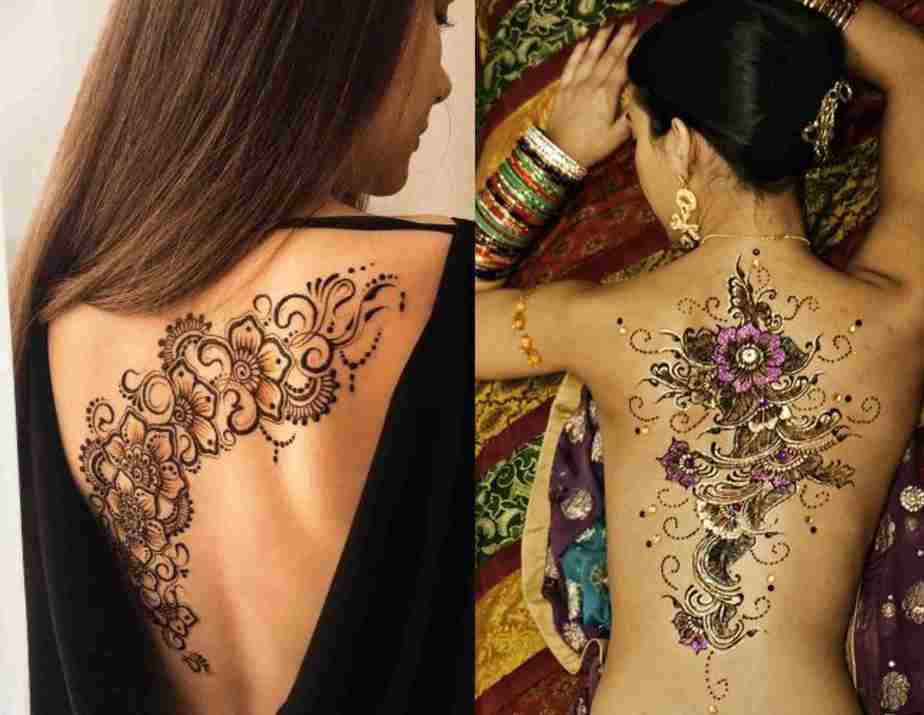 Some of these back mehndi designs can be worn by bridesmaids wearing backless blouses.
Waist and Hip Mehndi designs
These delicate waist and Hip Mehndi designs featuring paisleys, intricate patterns with florals and jaal will look fabulous on bridesmaids and bride when they are wearing a saree. The size and location of the henna tattoo design will depend totally on the length of the blouse though.
Thigh Mehndi designs
These thigh mehndi designs are truly the gem of the full body mehndi designs. Most of these henna tattoos go high to the thigh hence you cannot flaunt it in ethnic outfits. Brides can get this done as a surprise for their groom and flaunt it boldly in all those honeymoon OOTDs.
Now that we have given you enough information about the trending full body mehndi designs, would you be willing to try it? Make sure to get it done in sync with the design on your hands and feet. Do comment about which design is your favorite one?