Unlike other clothes of yours, a silk saree never gets old. You never have to worry about getting rid of your old silk saree because it can be reused in many different ways to create interesting and stunning looks. So, if you have a bunch of old silk sarees, use creativity and some help from the tailor to get yourself brand new outfits. Read on to learn some easiest ways to recycle old silk sarees..
Here are some ways in which you can recycle old silk sarees –
1. Designer Blouse 
The most simple, and elegant way to wear an old saree is wear it as it is. Just get it dry cleaned, ironed and it's good to go. The ever shiny and regal saree will need a designer blouse. Get a fancy blouse and your look will be completed. The blouse can have heavy work, it can have beautiful embroidery or it can just be a simple sleeveless blouse. As the old blouse may not fit you or the current trends, you need to get yourself a nice blouse to wear the old silk saree.
2. Dress and Skirts 
Blingy and shiny silk skirts are an in-thing, especially at weddings. You can recycle old silk sarees to be made into a long flowy skirt or a simple gown to look mesmerizing at any event. The silk dress can be made using only the saree or some extra plain material to add in contrast. The long skirt can be matched with a plain casual top or an off shoulder crop top to get an indo-western outfit. This outfit is best suited for occasions like mehendi and sangeet.
3. Salwar Suits 
Salwar suits are desi and traditional just like a saree. If you want your saree to take a different form, then get it stitched into a salwar suit. A salwar made of a grand silk saree will look absolutely magnificent. Add in some large earrings and that is all you will need for the look.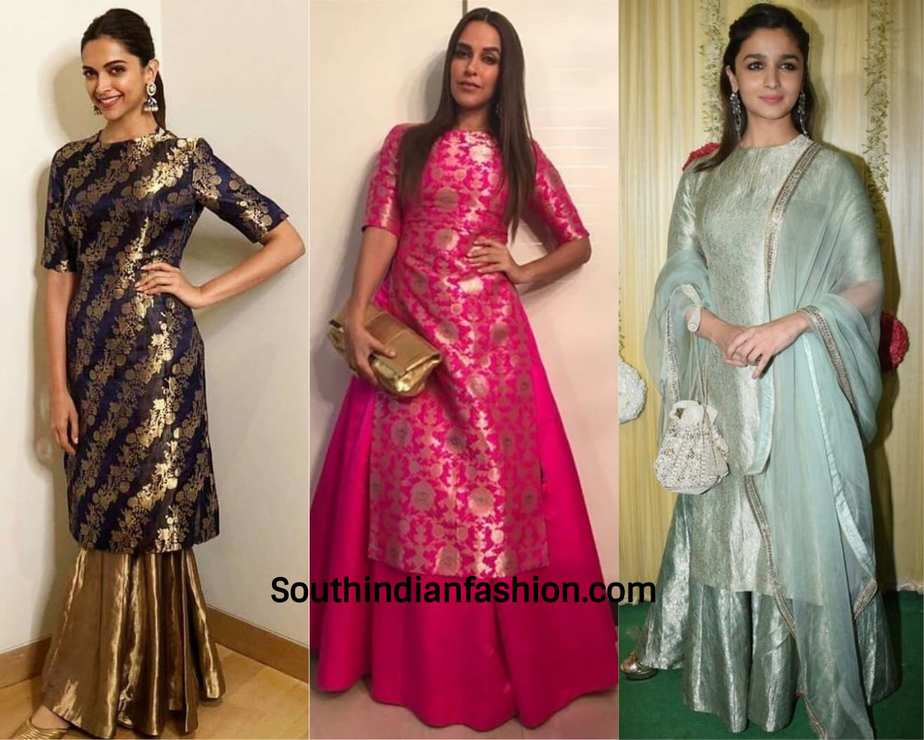 4. Dupatta 
If you do not have time or the energy to make your saree into something complicated, there is a simple solution. Just get two or three dupattas made out of one saree. You can use one and gift your friends that other two. The golden, colorful dupatta will attract spotlight at any event when you wear it with a simple salwar suit.
Lehenga 
If you want your saree to look as majestic as it was earlier, you can just turn it into a lehenga and it will be the talk of the town. The lustrous lehenga made out of the pure silk saree will be over the top, which is what is necessary at weddings. You can get the lehenga and choli stitched from the saree and buy a matching dupatta to go with it.
These are some ways in which you can reuse your old silk saree with a new twist.