Dupatta is a major essential part of ethnic wear. Women wear it for decades as a matter of humility and pride. And now, as a fashion statement! It is an indispensable part of a woman's ethnic wardrobe. A dupatta can literally glam up your outfit in a jiffy & that's why it's a wardrobe essential. There are many handlooms and heritage fabrics available in India. And these traditional art forms are woven on these dupattas for years! This way, the traditional value of a heritage dupatta is intact for years.
These days' people are going back to the roots of handlooms and heritage dupattas and sarees. With changing styles mixing and matching them up with different attires is fun. Play the game of mix and match!
Check out some of the most loved Heritage dupattas of all time below. These need to make their way to your wardrobe –
Ajrak Dupattas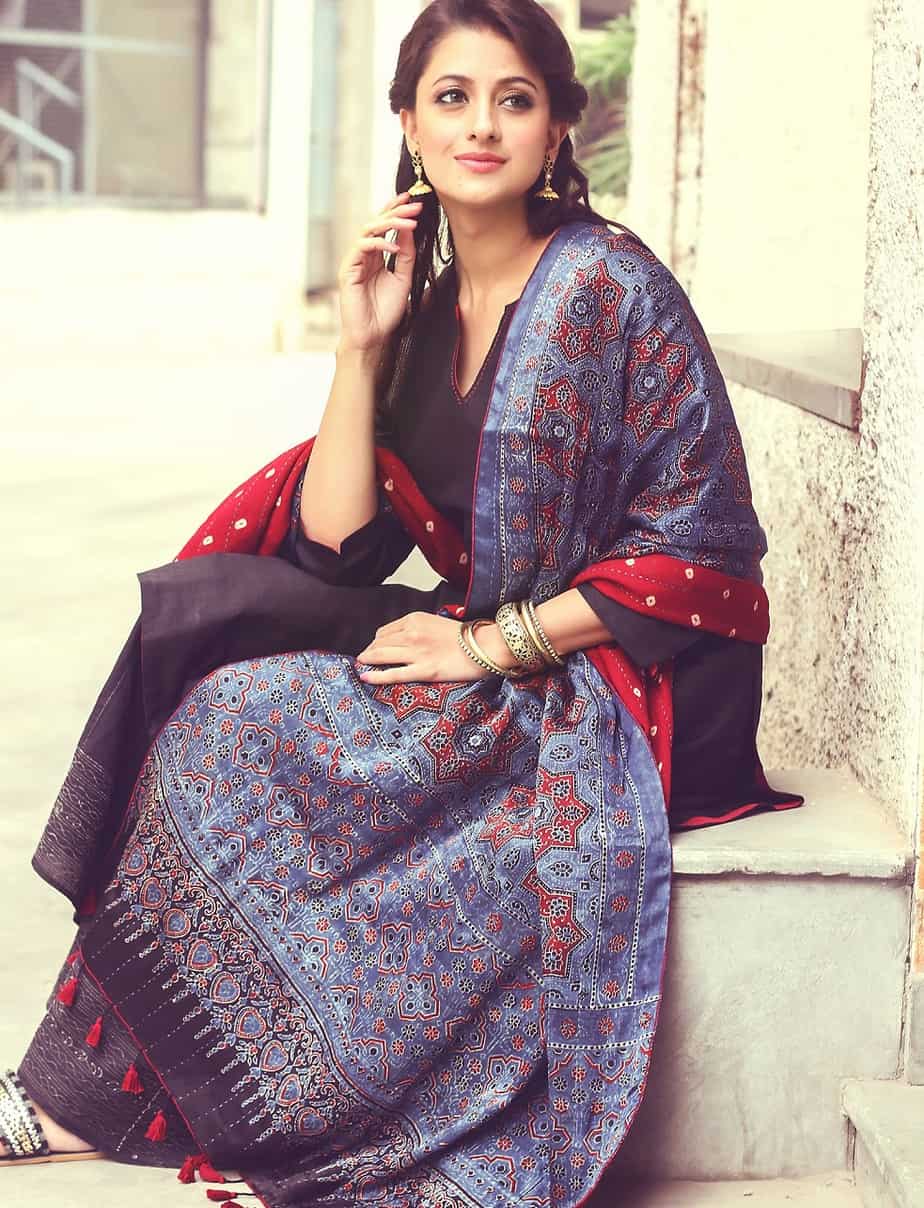 Ajrak is a Hand Block art in tones of red and blue that finds its roots in the Sindh Province of India. It consists of figures and motifs like florals, jharokhas, and geometrical elements. This heritage dupatta is of a lustrous satin fabric that has a rich, boho-chic vibe. You can pair it with almost any of your outfit! (BUY HERE)
Phulkari Dupattas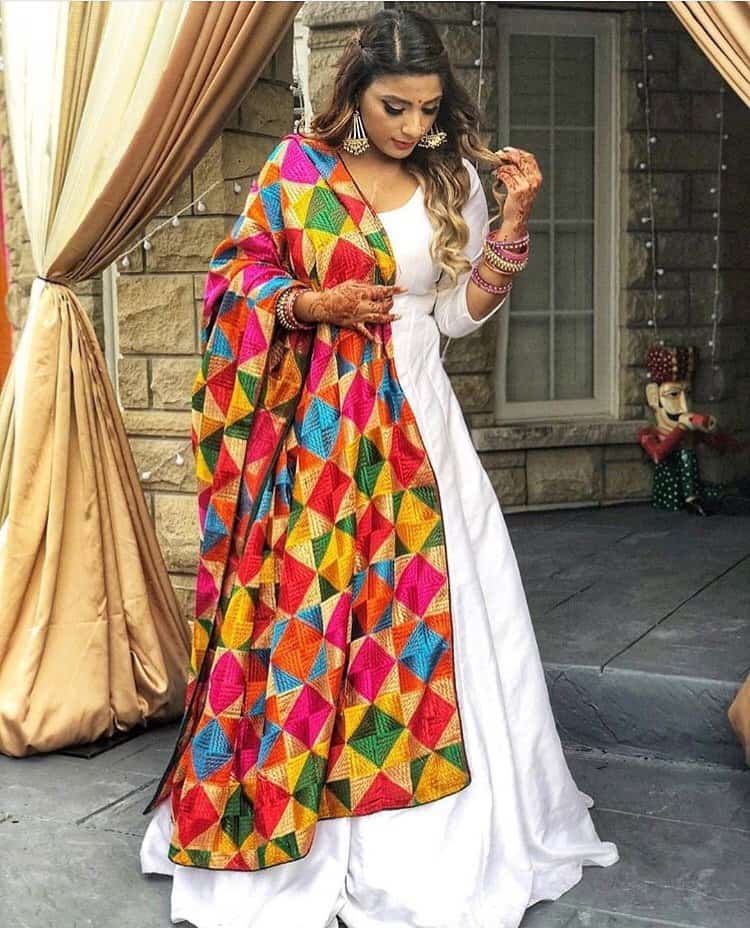 Phulkari dupattas stand out proudly as Punjab's heritage dupatta! It has a splash of vibrant colors and intricate embroidery. Phulkari Dupattas consists of geometric and floral motifs. It adds fun, tradition and a vibrant appeal to your look. Want to add a pop of color to your pastel outfit? Get this beautiful Phulkari dupatta and you won't regret! (BUY HERE)
Banarasi Dupattas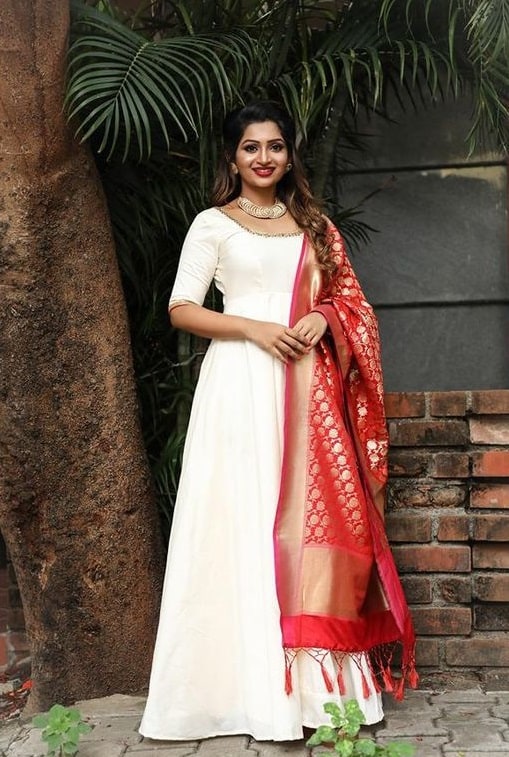 The hot trend this season! A must have heritage dupatta in any girl's wardrobe. Donned by the Mughal royalties, Banarasi Silk is a treasured craft of its time. The fine embroidery on the rich silk patterns adds on to the grace of the attire. Pair it with any outfit and you can look royal! Glamorous and rich, it is suitable for all kinds of celebrations! (BUY HERE)
Chanderi Dupattas
Cotton or Silk – Chanderi Dupattas are must haves in your heritage dupatta collection. Embellished or a traditional Kantha or zari embroidery – both look exceptional. These dupattas are lightweight and easy to carry! It is a great way to add a traditional touch to simple outfits. Definitely, a must have! (BUY HERE)
Kalamkari Dupattas
Hand Painted or block-printed, Kalamkari is a unique art-form Andhra Pradesh and Telangana. It has motifs flowers, animals, paisleys, and tales of Mahabharata and Ramayana. It comes like Mangalgiri Cotton and Cotton Silk. And looks great on all of them! And they are trending in dupattas and in sarees. (BUY HERE)
Ikat Dupattas
This heritage dupatta – ikat is famous for its colorful and abstract blurry patterns! Its technique of tying and dyeing yarn and weaving it into a final fabric is exceptional. Designers these days are experimenting with ikat too. And Ikat is making its way to the ramp! Ikat Dupattas have the charm of pairing up with ethnic and fusion wear outfits. (BUY HERE)
Each of these dupattas have a rich culture and heritage behind it. And it's time you add them to your wardrobe! Folksy and traditional, these heritage dupattas look stunning.
Let us know how many of these do you already own?