What are Latest Kurti Designs 2019? Are you one of those fashion geek women who always want to mark presence with your styling? If yes, SouthIndiaFashion brings you the glimpses of the latest fashionable Kurtis collection to give your imagination wings of creativity. Moreover, these trending designer Kurtis can compliment your ethnic style as well as indo-western fashion sense. So, you can try all these latest styles of modern Kurtis and become the trendsetter of the season in your group in this season.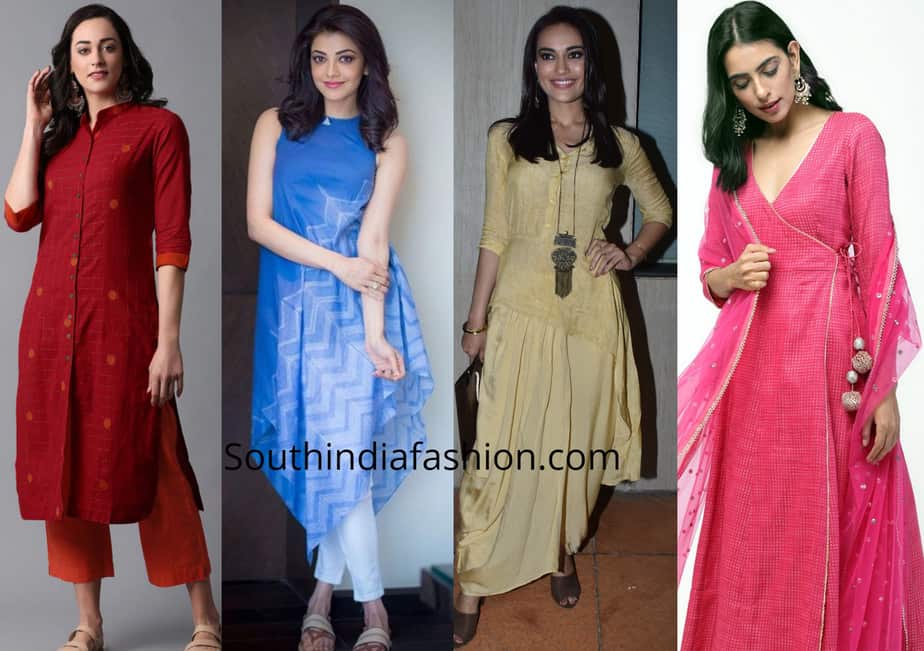 We all love Kurtis and that makes it the most required and adored Indian women outfit. Further, there are several ways to style Kurtis in really awesome ways as per the requirements and preferences. And, this convenient customization helps in making designer styles of Kurtis for every season.
Kurti is comfort clothing suitable for daily casual wear, formal wear to special occasions and that makes it so popular. However, every year some experimental designs come to rock the regular designs. In 2019, the focus of the market is to style short and long length of Kurtis with a variety of shapes and cuts of necklines, length of sleeves, and border or hemlines.
1. Front Slit Shirt Kurti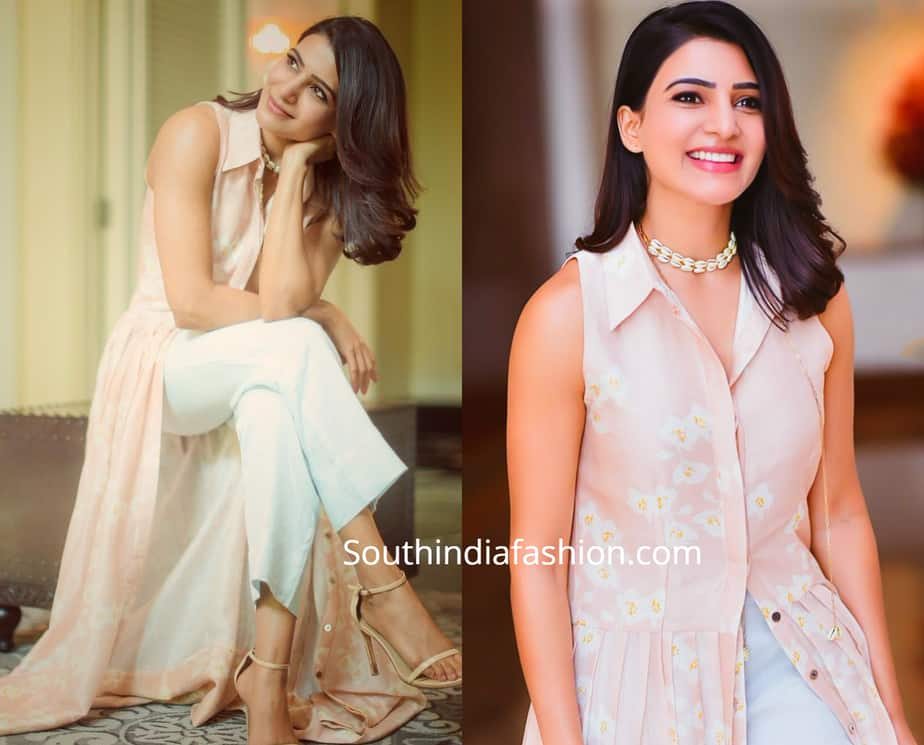 The core of the latest Kurtis fashion comprises of having a chic and feminine feel with a strong focus on wearable styling. This modern front slit shirt style Kurti offers all these potential quality with a stand out design that can turn many faces.
2. Asymmetrical Kurta
How you can turn your Kurti into high-end fashion clothing? These trending asymmetrical Kurti designs have the edge of styling you are looking for. These Kurtis for girls have unique fashion quotient to serve with the lower backside and higher front side cut. Moreover, with unique stuff these High low Kurtis are the perfect option for college going girls as well as for small gatherings. The design looks beautiful and can be styled in many ways. This design is suitable for kaftan Kurtis, Anarkali Kurtis and simple A-line Kurtis. You can team up this type of Kurtis with palazzos, chooridar and pencil cut pants to round off your complete look.
3. Handkerchief Hemline Kurti
The handkerchief hemline Kurti is one of the latest Kurti designs in trend and is being seen a lot more these days due to its flirty yet elegant flowy cut. The Kurti is ideal for a breezy summer look and makes you look slim and stylish. You can opt for this look for a casual day outing.
4. A-Line Kurti With Tie-Ups At The Waist
An A-line Kurti is one among the trending Kurti designs that are a must have in your wardrobe as the ethnic ensemble will never let you go wrong and will ooze elegant style. The latest trend in A-line Kurti is tie-ups on the waist to give you a slender look and bring up the ethnic quotient.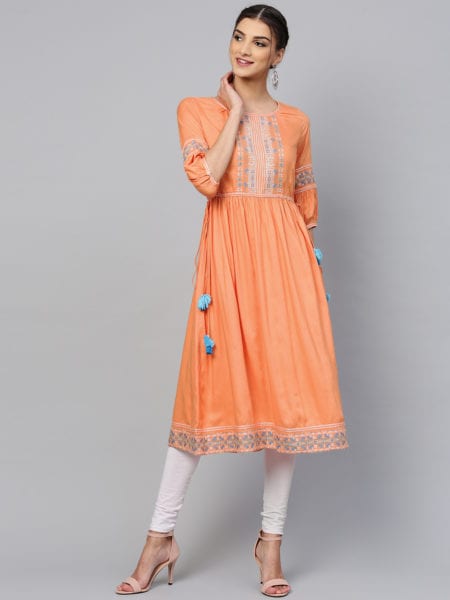 5. Anarkali Kurti
One of the most preferred Kurti designs for 2019, the Anarkali style is liked by women of all ages due to its flares and frock-ish pattern. It can be worn at any formal function and by women of any figure. The Anarkali Kurti is a good choice for any wedding or formal occasion as it looks regal and ethnic.
6. Cold Shoulder Kurti
This latest Kurti design is the cool and trendy cold shoulder sleeve design that looks good with elbow and 3/4th sleeves. The sleeve style complements almost all trending Kurti designs like V-neck, handkerchief hemline or a straight cut Kurti and is good for casual or day outings.
7. Front Slit Kurti Design
A very happening and trending Kurti design, the front slit Kurti has become a favourite due to its lightweight yet full frame. The look accentuates the waistline and looks great when paired with the right footwear and accessories.  The front slit Kurti is an idea for weddings or formal occasions.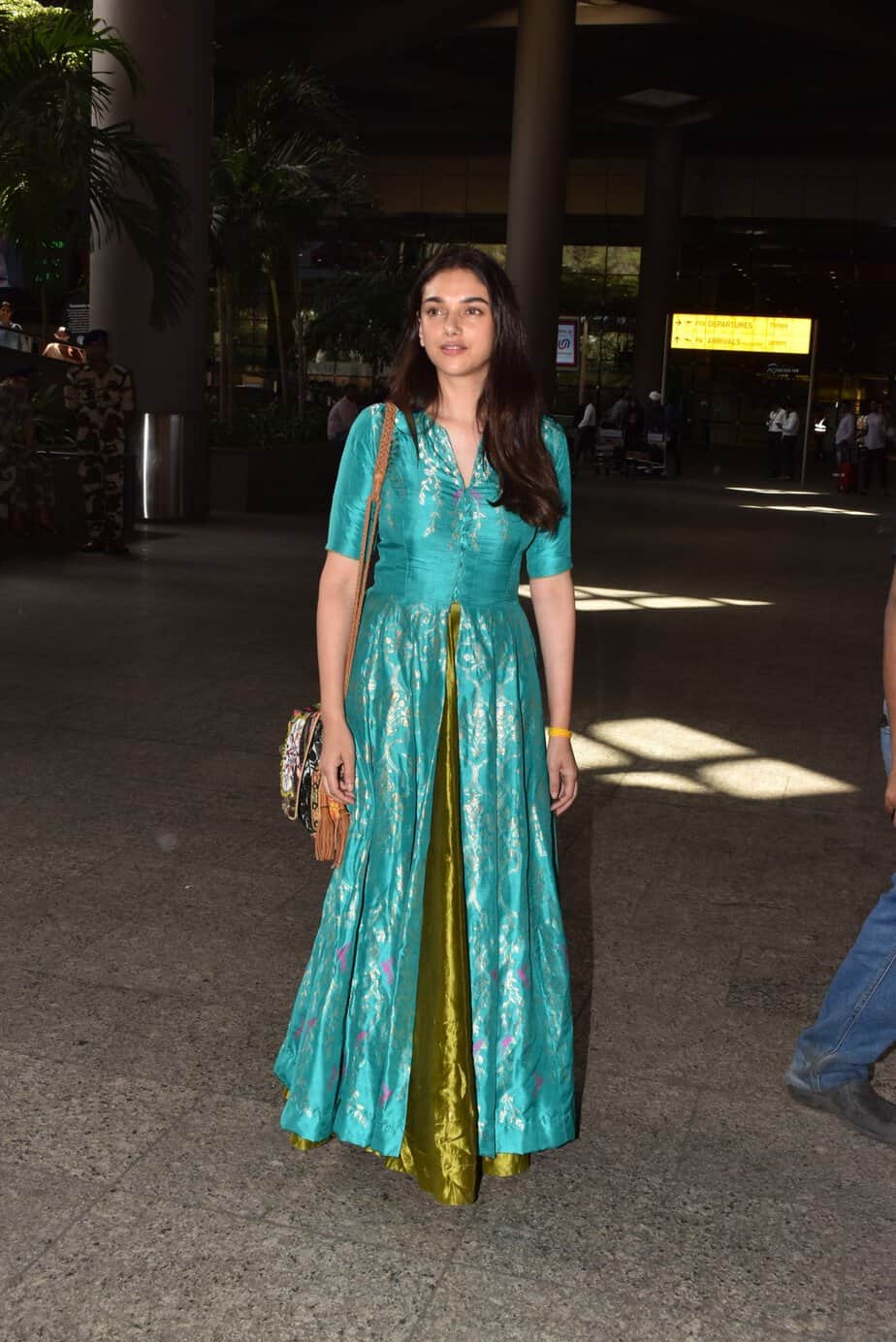 8. Short Peplum Kurti
This is one of the indo-western and modern Kurti designs for 2019 which is adorned by women who like classy and chic styles. Short peplum kurtis can be paired with dhoti pants, long skirts or jeans.
9. Kurti With Statement Sleeves
This is a style of Kurti that looks very happening at any social gathering and accentuates the panache of the wearer. The latest Kurti design is highlighted by the statement sleeves and is great for formal or informal outings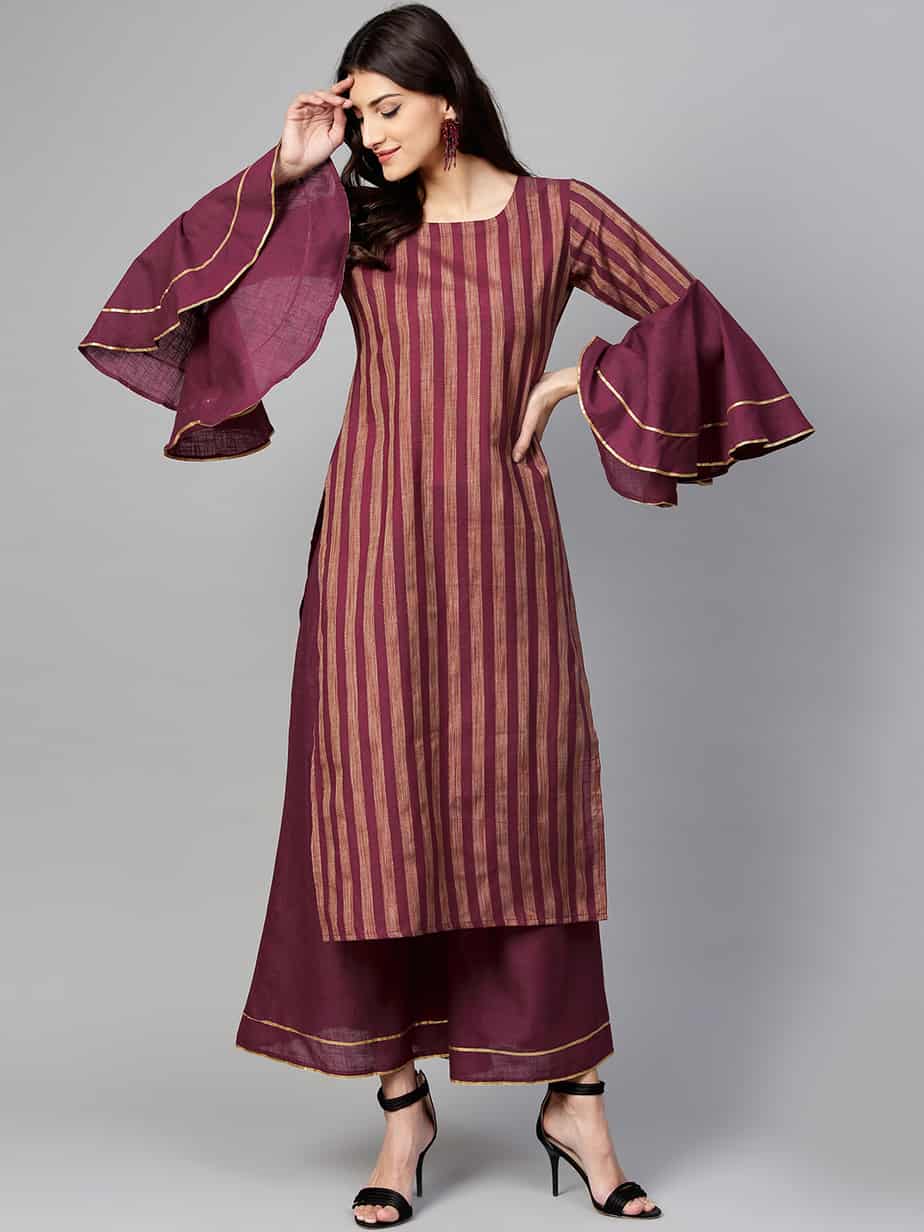 10. Layered Kurti
The trendy Kurti style has a very fashionable feel to it and looks great on tall women. The look works especially well with palazzos and indo-western skirts and gives a layered multi-coloured look. The trending Kurti design is great for formal outings.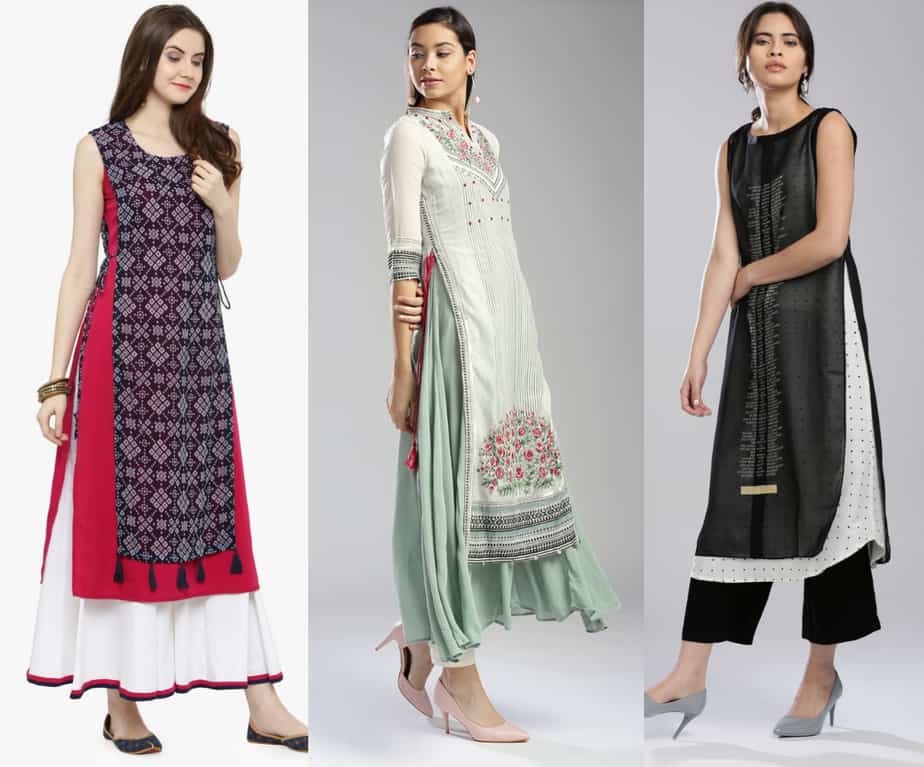 11. Sleeveless Kurti
A very casual and simple look, the sleeveless Kurti is never out of style and gives a statement of a fashionable look without much investment. This is a summer look that can be worn at casual events as well as parties.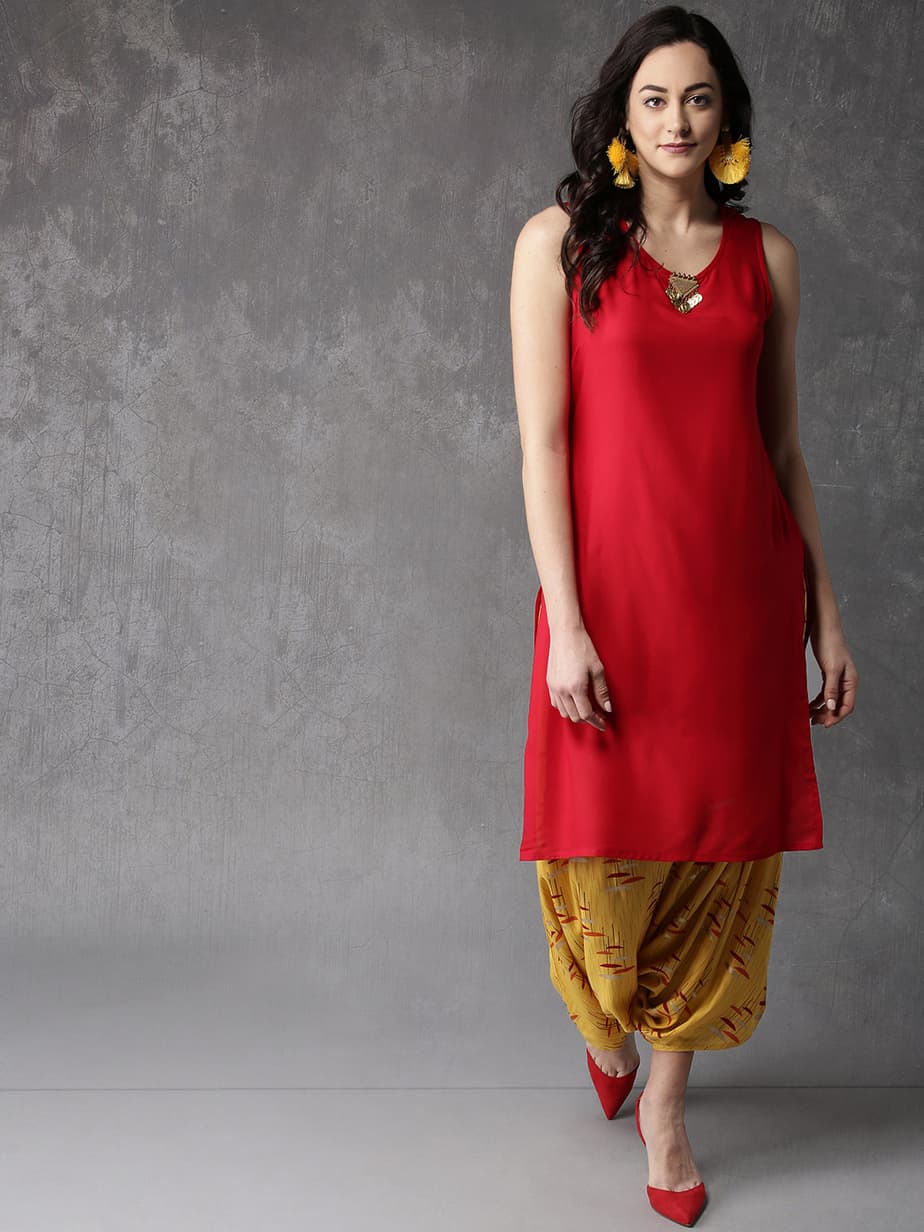 12. Kurti With Shrug
A shrug is the latest accessory that accentuates the overall style of the women and looks classy on any formal occasion. The shrug gives a flare to the Kurti and gives a crafty feel to the overall ensemble.
13. Angrakha Style Kurti Design
The Angrakha style of Kurti is among the trending Kurti design that reminds of the 90s and is a very classy and fashionable Kurti that is preferred by women who want a heavy and classy look.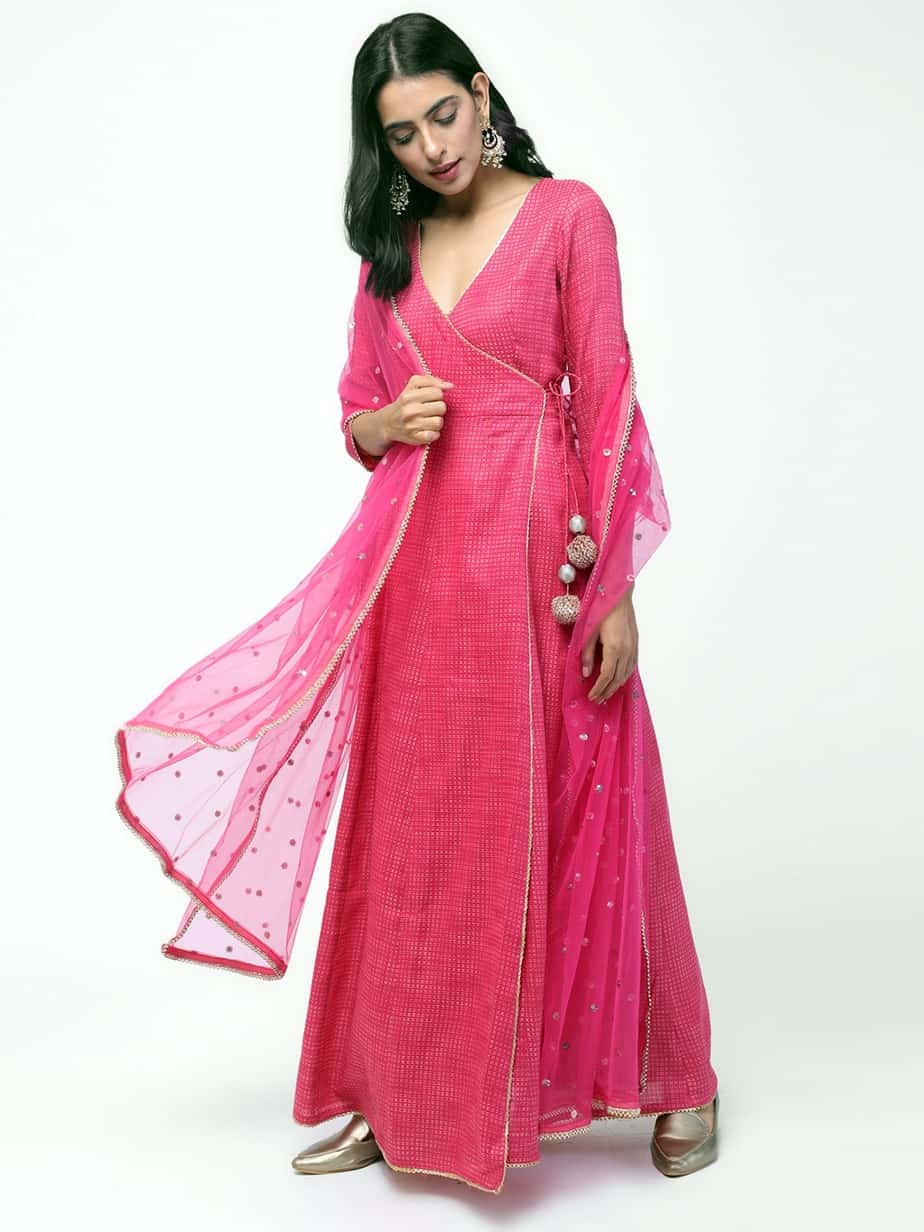 14. Shirt Kurti
Shirt style kurtis are versatile and can be worn as casual wear as well as formal wear. You can pair them with palazzos, jeans or leggings.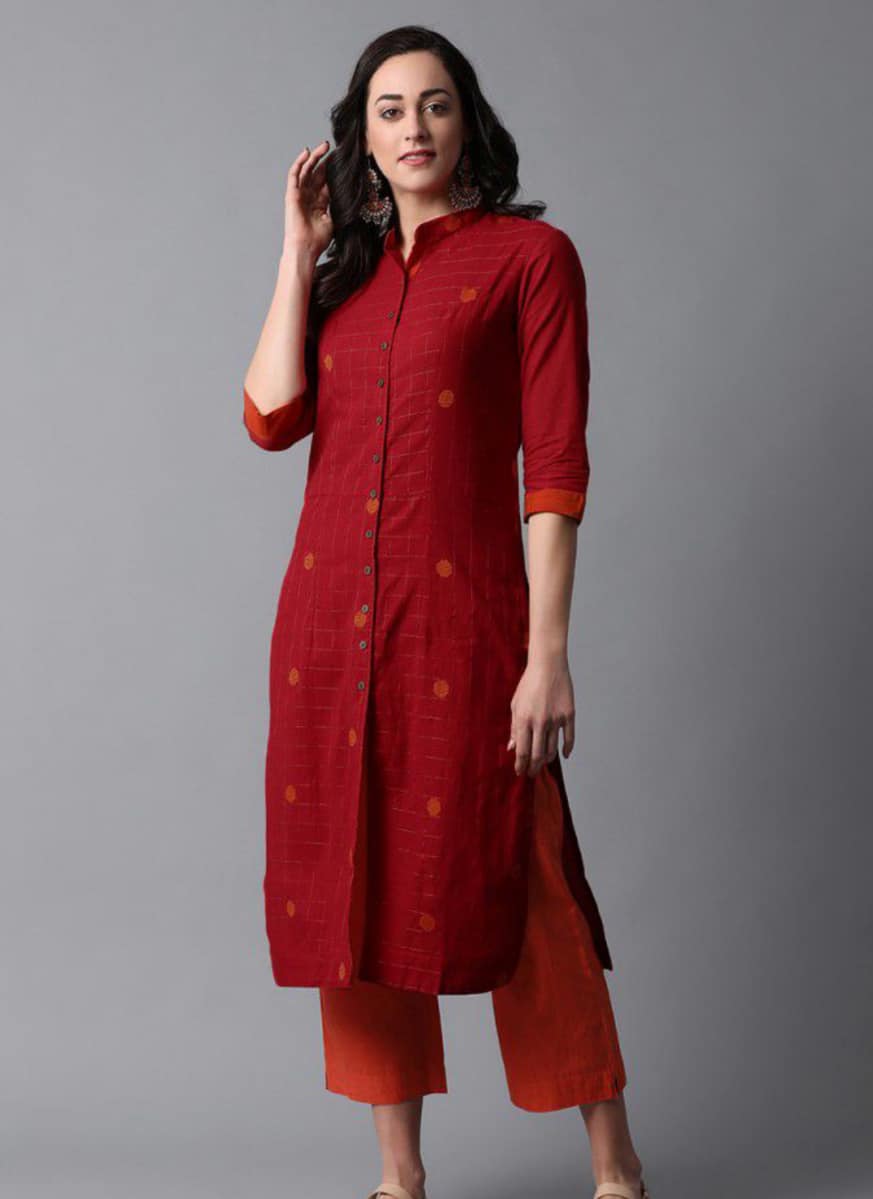 15. Pocket Kurti
An ethnic and handy Kurti design of 2019 that gives a professional look and ideal for women on the go, the pocket Kurti is ideal for formal and everyday waer. The style is simplistic yet casual. Pair it up with leggings, pants or jeggings.
16. Overlap Kurta With Button Detailing
The overlap kurta  is a chic and classy style that is one among the trending Kurti designs for young and professional women who want to add a twist to their daily look. Pair it up with leggings or palazzos.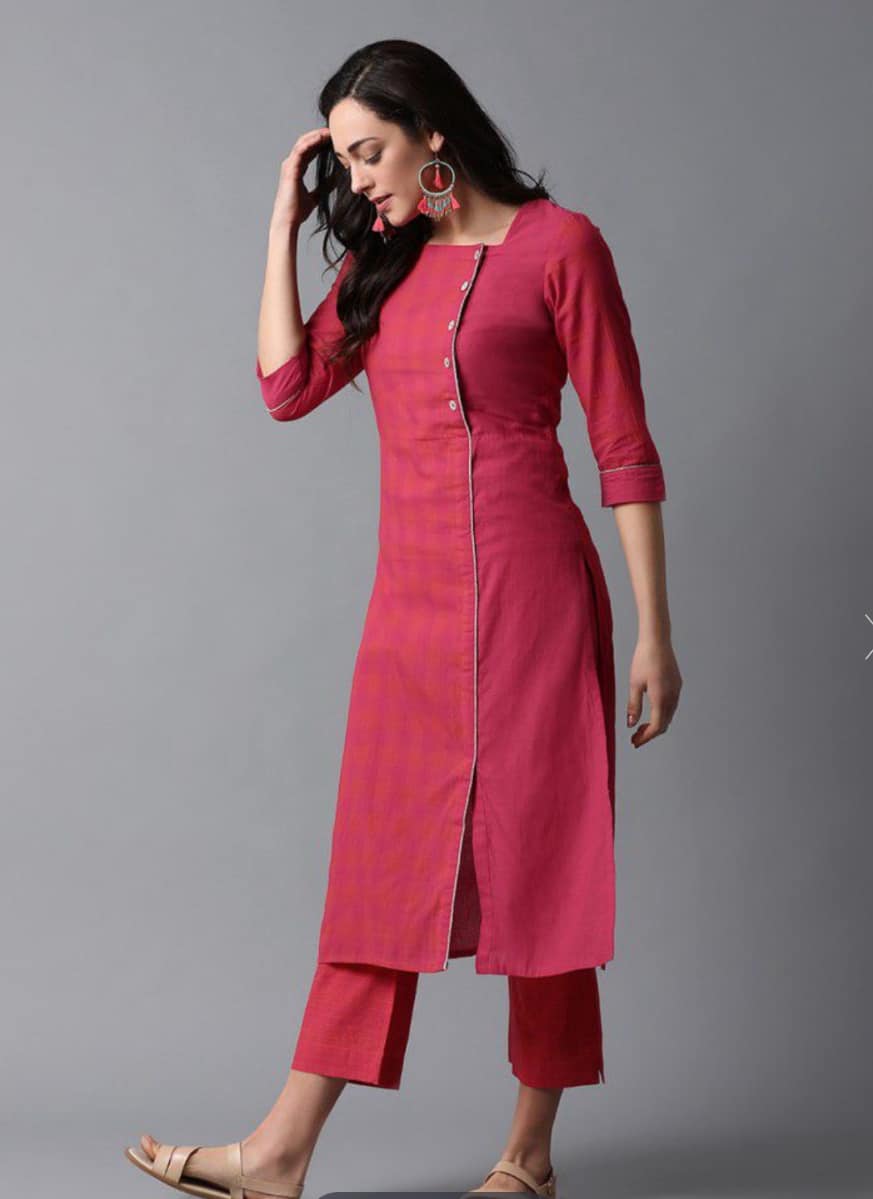 17. Spaghetti Strap Kurti
The spaghetti strap is something that turns any simplistic look into a sexy and sensuous style. Pick this Kurti design for cocktail events or parties. It makes you stand out in a crowd. Use heavy earrings with the look.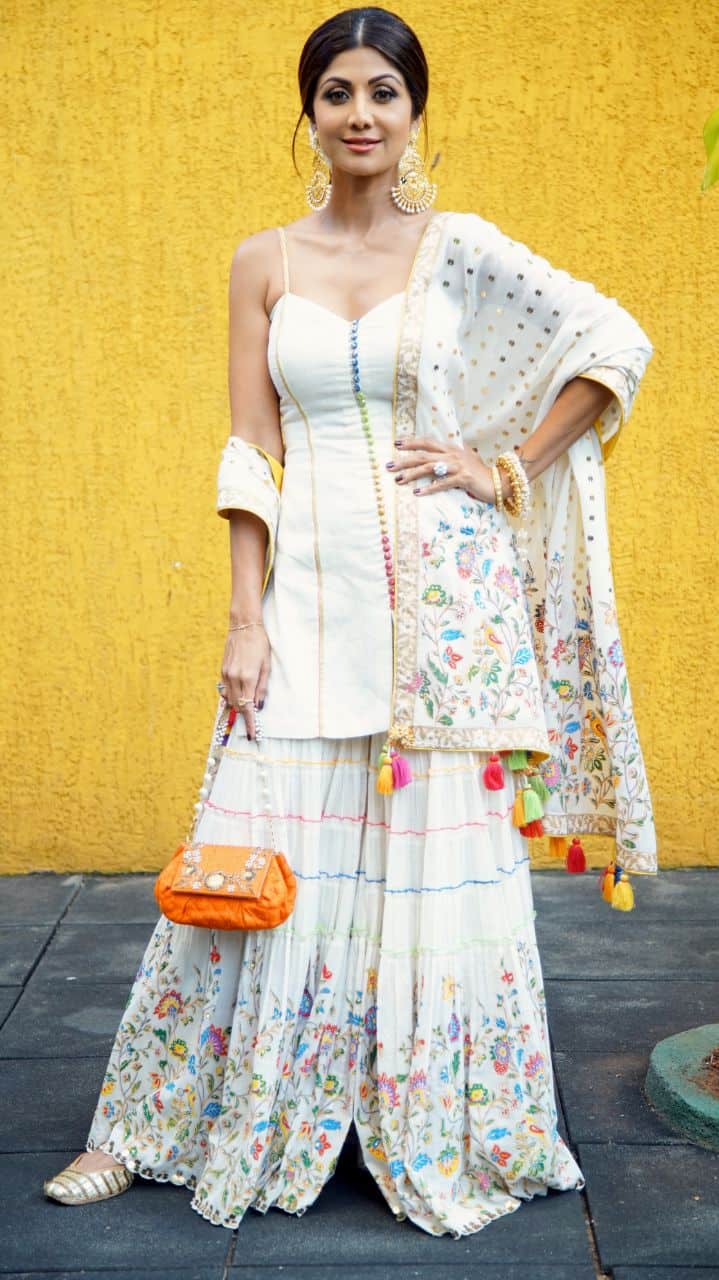 18. Kurti With Waist Coat
The Kurti with waistcoats or jackets holds its place in the list of latest Kurti designs 2019. It looks very sophisticated and gives a classy look. The design of Kurti is ideal for any social gathering. It does not need much accessorizing and gives an attractive look.
SHOP LATEST KURTIS ONLINE HERE!
Contemporary women prefer trending Kurti designs. They give a very classy and elegant twist to the everyday look. Pick any of the above Kurtis for any formal or casual occasion. With the right accessorizing, it will work wonders.