Amazon Prime's original series Made in Heaven caught our attention from the very first episode and for the right reasons! From blatantly honest stories, unapologetic and beautifully-flawed characters to gorgeous styling – the series is not to be missed. One of the protagonists – Tara Khanna played by the extremely talent Sobhita Dhulipala is fierce and so strong that she is our current favorite! Apart from her viciously strong character, her styling and dressing throughout the episodes have got us drooling!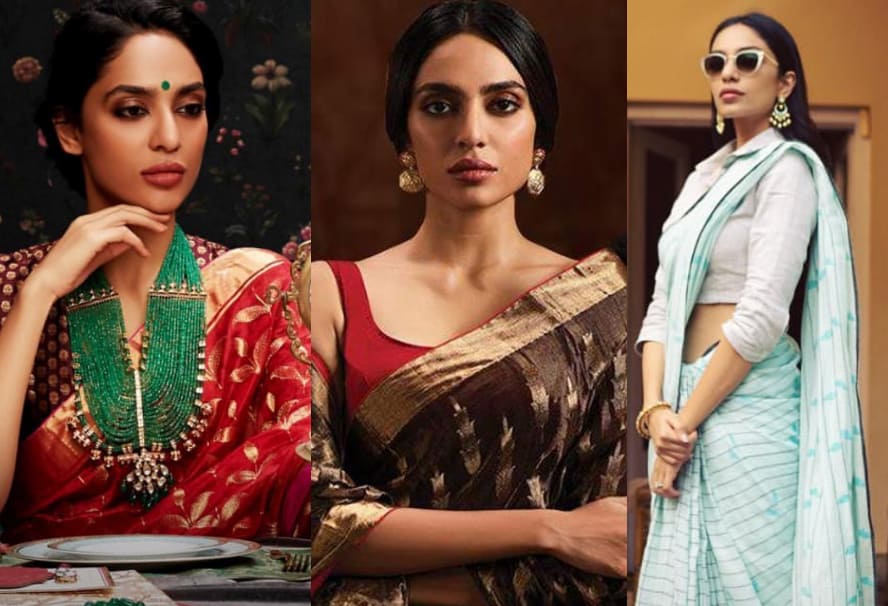 Tara Khanna's character is giving major fashion goals for work to casual wear and glammed up wedding look. It is an ultimate guide we should currently be scrolling through! And that's exactly what we'll be doing –
What we can't wrap our heads around Tara's wardrobe. She pairs the suit with a gold multi-studded choker set! Her clothes make a statement that she is bold, chic and sharp.
The Linen Look
We saw Tara Khanna's individual style develop through the series. From a kurta-and-jeans-clad middle-class girl to the sophisticated, polished sleek entrepreneur that she worked her way up to become.
She wore a basic button-down shirt blouse with a pastel linen saree like Tara did in this beautiful piece of Galang Gabaan collection.
The Regal Look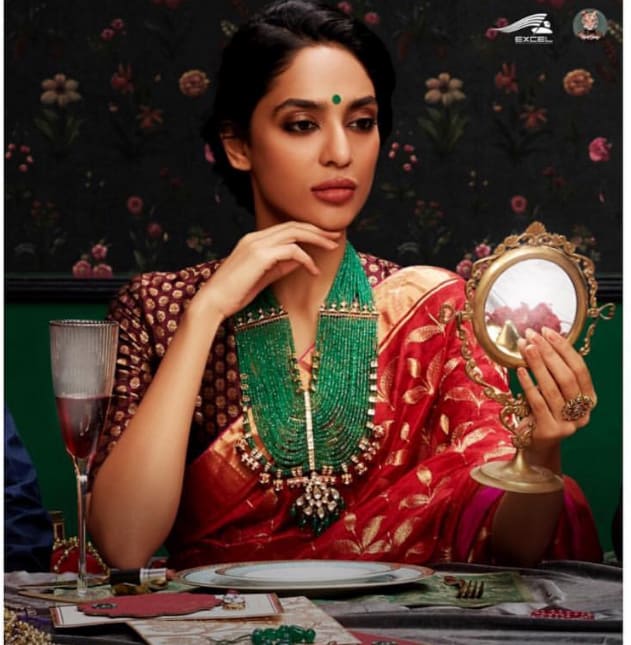 We're going crazy over the gorgeous two-toned red sari by Raw Mango and contrast green layered-neckpiece by Jaipur Jewels. Royal and sophisticated -something that her character always craved to become!
The Costume Designer behind creating this amazing strong ensemble for Sobhita Dhulipala's character is Poornamrita Singh. She has styled for many more movies like Gully Boy, Dil Dhadakne Do, Baar Baar Dekho, and The Reluctant Fundamentalist.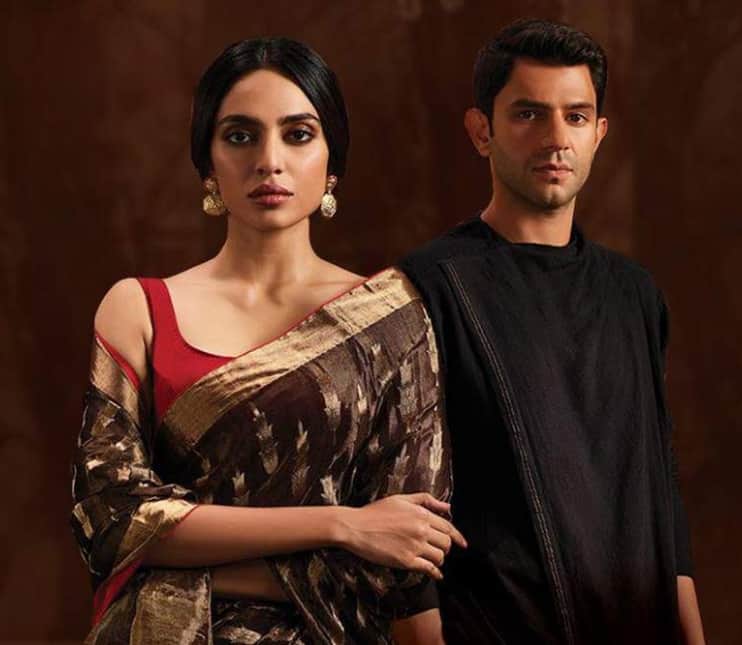 You can totally raid your mom's closet to steal this look! A silk sari with gold zari paired with a contract sleek sleeveless red blouse. And the yellow and turquoise striped saree by Ekaya Banaras is so elegant!! Totally worth a try, right?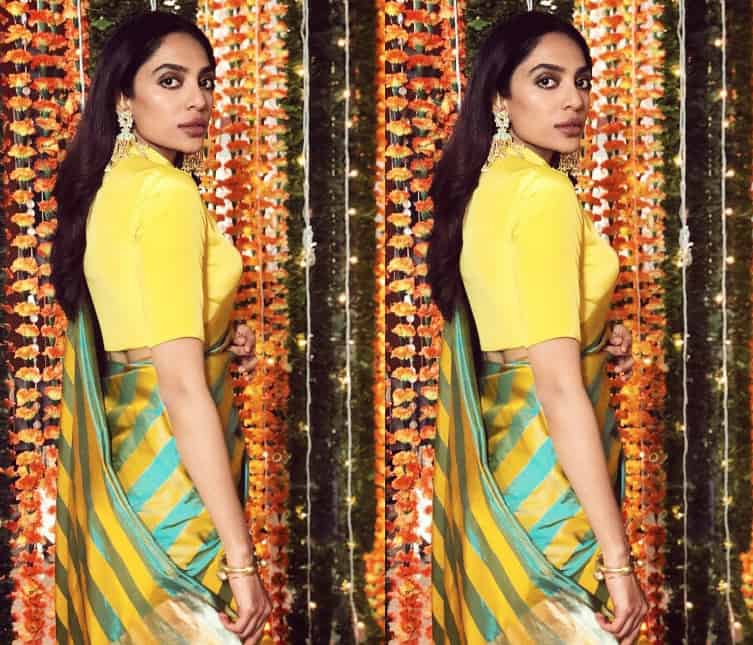 Director Zoya Akhtar had briefed customer designer Poornamrita to keep the look polished and stylish. And looks like she did a perfect job! From linen saree looks to monochrome stylish sarees, Tara Khanna's character was chic and dripped every bit of elegance and charisma.
Tara Khanna's Contemporary Style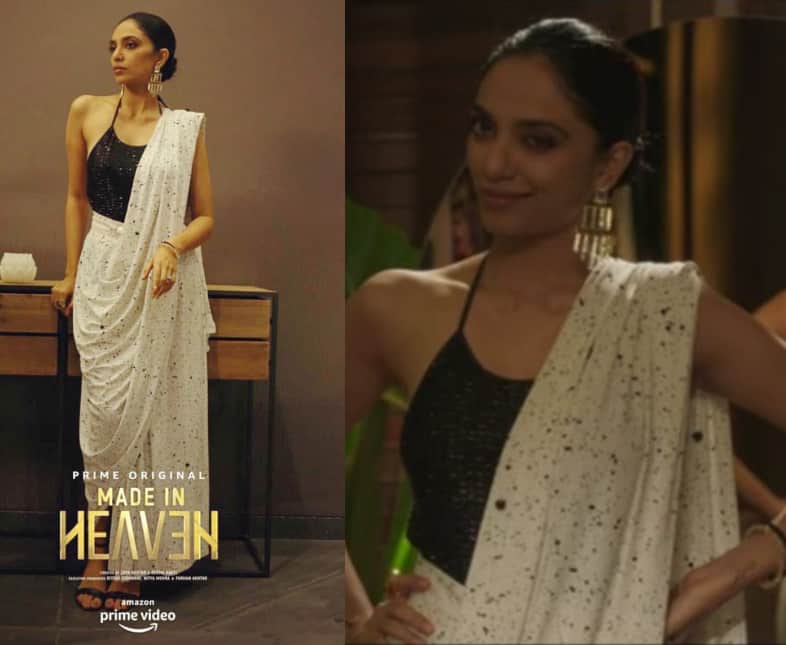 Take some more cues from Tara Khanna – check out this monochrome contemporary look. A pre-draped modern sari with a paint splatter print by 431-88 by Sweta Kapur with a gorgeous pair of danglers in her ear. Tara makes us stare at her in awe!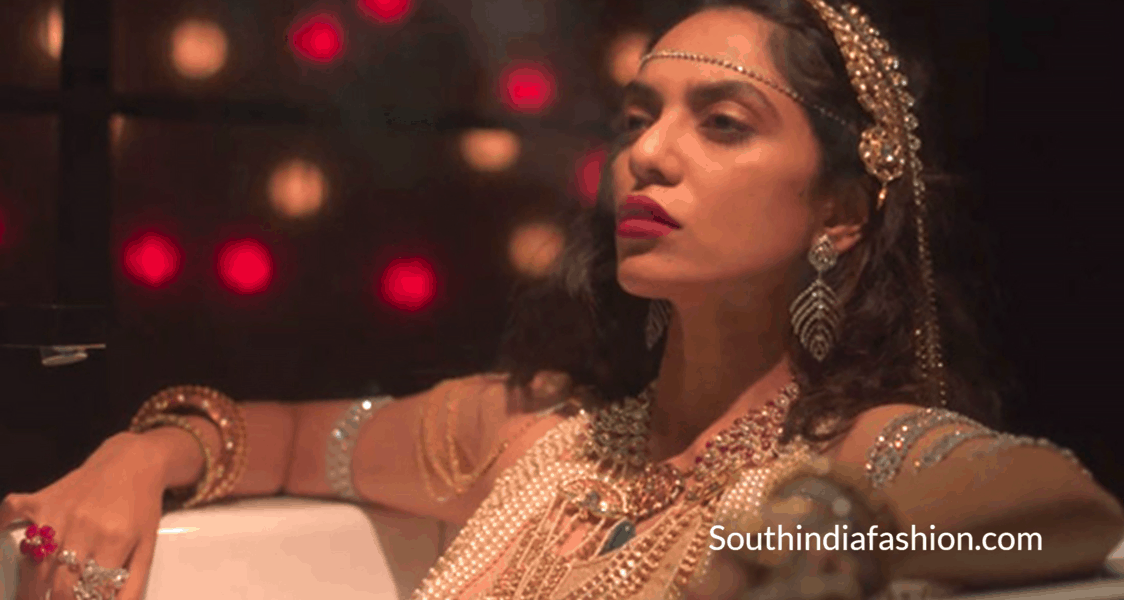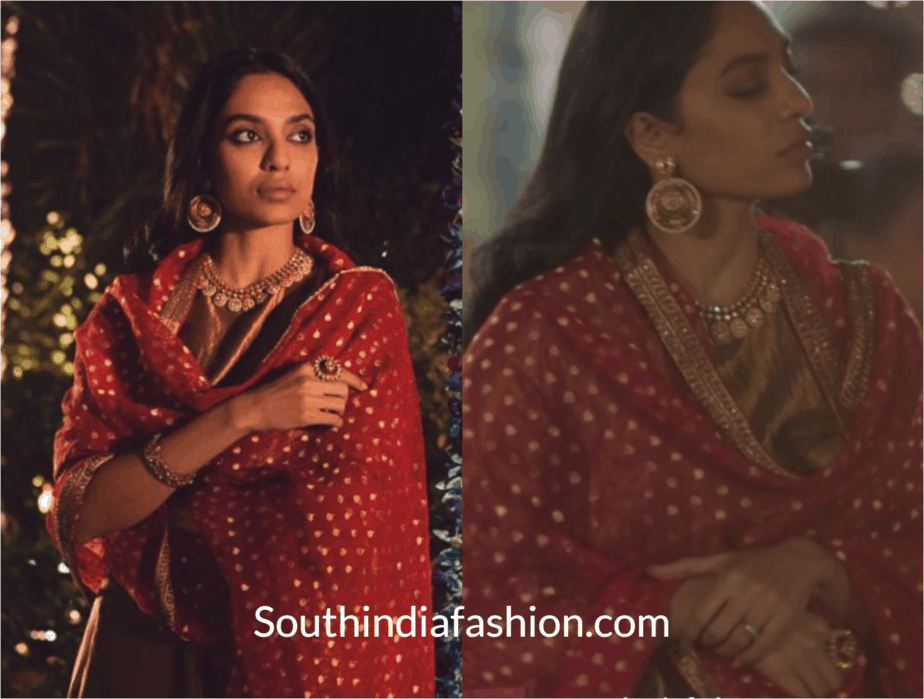 Tara Khanna's character appeared as hard and polished as the diamonds she was seen wearing. Her progressive styling as the story-line proceeds as an overcompensation for the life that she had left behind as she became stronger each day. This fashion transformation marks a major change in her social and economic status.
The gorgeous looks and outfits for all the weddings in the series is something we are dying to experiment! An earthy tissue silk kurta paired with an exotic maroon Banarasi dupatta by Raw Mango was a killer ensemble. Keeping the look subtle yet sublime valiant, Tara finished the look with gold jewellery and bold-kohl eyes.

Plain kurta sets are back in trend. And layering them with regal layered neckpieces and bold studs can give a bold dramatic look. For all the fashion lovers who like to keep it simple yet statement-making – this look is for you!
Traditional Charm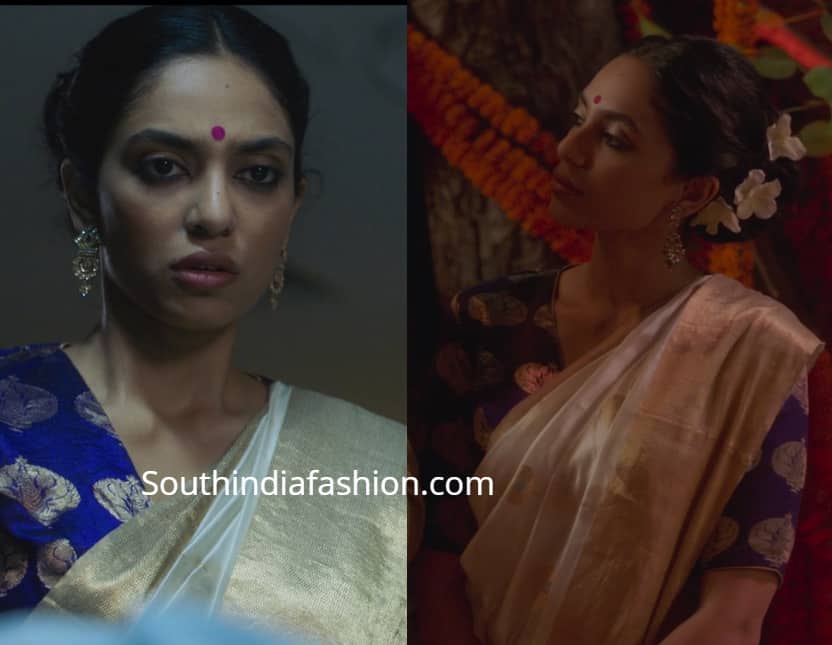 This golden with off-white bhuttis saree that she paired with a contrast blue blouse by Raw Mango was extraordinary! To add drama to the look, she decorated her bun with flowers. Simple and breath-taking!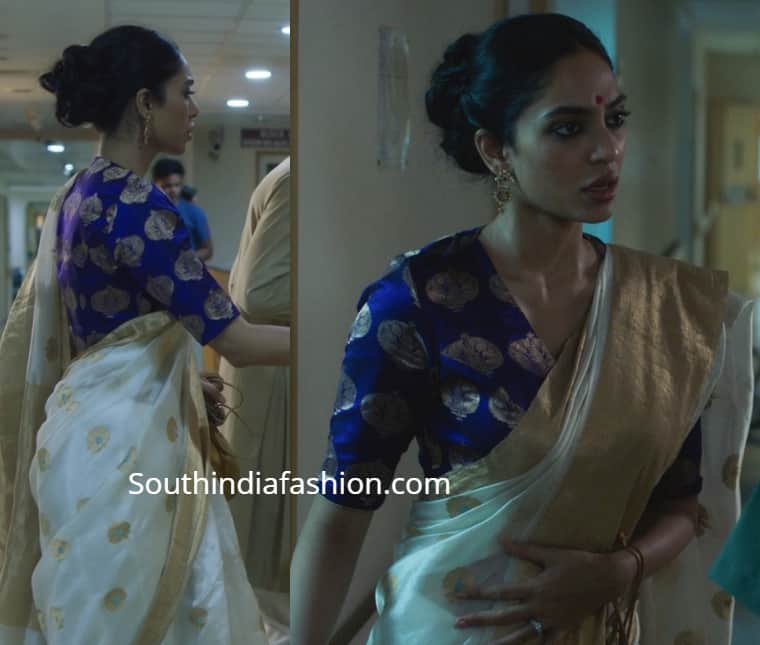 Tara wore quite tacky and flashy gold earrings in the flashback scenes. And as the show proceeded, she wore solitaires and classy jewellery through the rest of the series.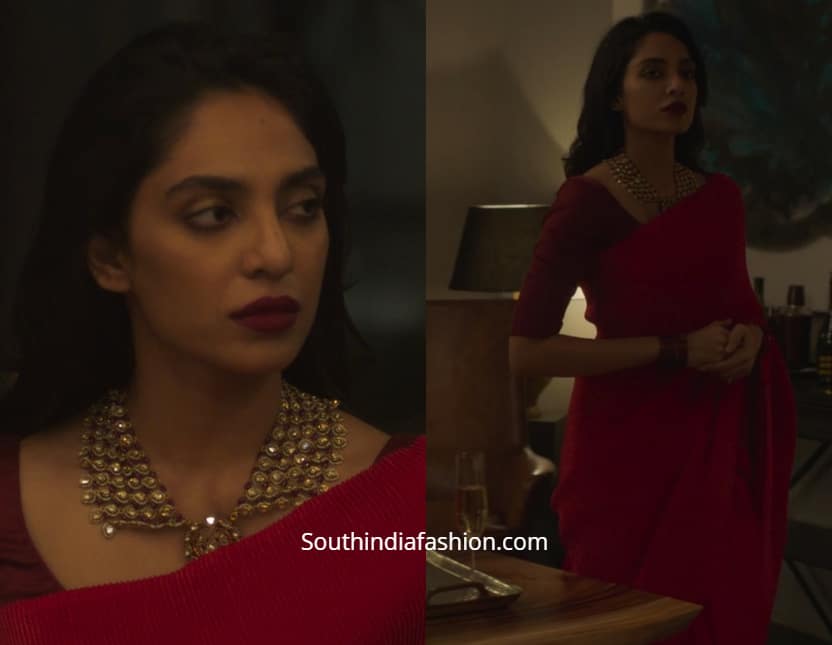 The closing scene took the take away! Tara Khanna's look in this scene was something we can never recover from. The occasion is her wedding anniversary and again, her life is about to change for good.
Dressed in a red saree by Faabiiana and a bold kundan statement neckpiece by Jaipur Jewels, she is a stunner. Portraying that she's fierce and ready to take on the world.
Tara had worked up to become sophisticated and strong. And the Costume Designer's hard work came across flawlessly through the extravagant styling of Sobhita Dhulipala's character.
The wedding season is about to start, hope we inspired you enough to try out Sobhita's looks!