As the wedding season is upon us, all of us are looking for outfit options. Most of you may be thinking of going for the classic option, i.e., a saree. There are also many people who avoid wearing saree, especially in the younger crowd just so they do not get mixed in the crowd. Anyways we have some inspiration here from none other than the famous host Kiki Vijay.
Lately, we have been majorly crushing upon her fusion saree looks. Kiki Vijay shows us how to wear a saree and yet look different from the rest of the crowd. We have shortlisted our favorite fusion saree looks of Kiki Vijay and this will surely help the young ladies who are looking to switch up their ethnic game.
Kiki Vijay's Fusion Saree Looks:
1. Saree With Belt
We are totally loving the vibe of this outfit. Whoever said saree had to be boring was probably wrong. Kiki Vijay has worn a yellow ombre saree with a thin scallop border  paired with an off white blouse here. We love the floral embroidery detailing on one side of the shoulder here. The metallic belt adds character to the entire look making it so young and fresh.
So if you want to achieve this look, all you got to do is get a blouse with a modern round neckline stitched. It should have minimal embroidery.  Wear any ombre saree in a bright color and wear a metallic belt to highlight your waist.
2. Pant Style Saree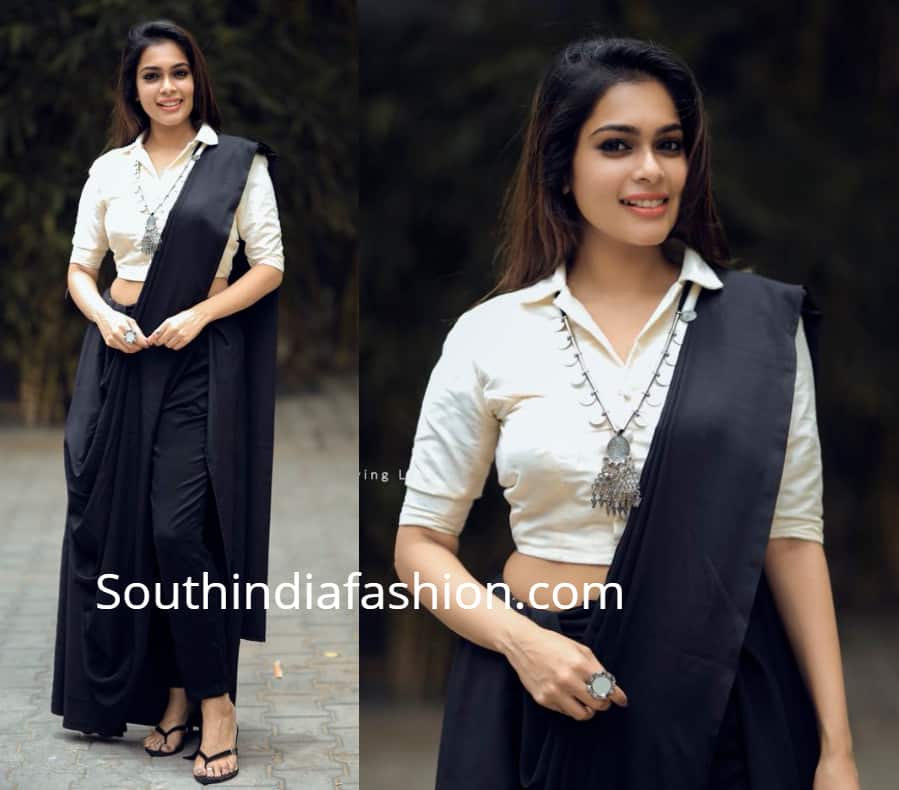 This edgy outfit worn by Kiki Vijay is probably the easiest to achieve. This is such an easy and casual outfit. She is wearing a plain black pant saree with a white collared blouse and a silver neckpiece.
To get this outfit all you need is a black trouser, a black saree or a black dupatta and a white collared blouse. You can even wear a white collared crop top instead. Go easy on the accessories with just a long silver necklace and a ring.
Here is an easy video on how to drape a pant saree:
3. Saree With Long Top
If you do not want to show your tummy then go for this look of Kiki Vijay. Here she is seen wearing bell sleeves full top with a beige checked saree. We just love how this simple outfit looks great. The important detail here is on how the saree is draped. Look carefully at how the saree has been pleated and the palla style.
You can totally wear this look for work parties. All you need is a patterned saree and a full sleeves top in a similar hue.
4. Experiment With Drape
This is such a fresh twist to the floral saree. We have not seen anyone in Bollywood too carrying the floral saree with such sass like Kiki Vijay. Everything in this look has to do with the drape of the saree. Instead of placing the palla directly on the shoulder, it has been taken to the back and brought from behind the shoulder.
The saree is draped beautifully so as to flatter the figure and give a slim look. We also love the statement embroidery on the blouse almost looking like a necklace.